Photos courtesy of Chris Davis
ST. PETERSBURG – There's no better way to kick-off the MLK Day of Service projects than with a performance that salutes and integrates the past and brings us to present?
The Dream for America theatrical production celebrated and reflected on the past 50 years since the Civil Rights Movement. The production featured some of the community's most talented actors, singers and musicians.
The Palladium Theater was filled to capacity Sunday, Jan. 13 to witness an original production from the creative minds at Arts Conservatory for Teens (ACT). Not only did the play feature a lineup of fantastic local talent, Lamman Rucker of "Greenleaf" and a slew of Tyler Perry films fame, also graced the stage.
ACT is an organization that provides education, empowerment and enrichment through arts education within the community. It seeks to inspire youth and teens by giving middle and high school students access to discover their best self through the arts and critical thinking initiatives.
With narration provided by Senator Darryl Rouson, who's responsible for bringing the MLK Day of Service initiative to the Tampa Bay area, local elders and activists were also featured in the production.
Rev. Alvin Miller, community activist, James Oliver (Men of Yesterday, Today and the Future), Gwendolyn Reese (president, African American Heritage Association of St. Petersburg), Winnie Foster (Sojourner Truth Center), Dr. Ray Arsenault (John Hope Franklin Professor of History) and James Randolph (security officer City of St. Petersburg) all provided historical reflections and background on St. Pete during the civil rights era.
Set in a diverse modern classroom with Rucker as Professor Marvin Baku, the play explored highly charged, real-life dramatic situations that are currently taking place in high schools across America today.
Music was interspersed between the scenes as well as African-American history. Well known historical and modern-day figures such as Rosa Parks, Malcolm X, Dr. Martin Luther King, Jr. and President Barrack Obama were brought to life, as well as lesser-known figures such as filmmaker Oscar Micheaux, Hattie McDaniel, the first African American to will an Oscar and Dr. Patricia Bath, creator of Laserphaco Probe for cataract treatment.
Kindergarten teacher Queen Harris particularly enjoyed the history lesson.
"The experience of taking my 11-year-old cousin Jayla and her mother Chaka was a great family learning experience," said Harris. "To learn about the first African-American woman to get a patent for eye surgery was a great reminder of who we are and who we can be with no limitations."
Dr. Alex Harris, ACT co-founder and CEO, said the production is not just a vehicle to reflect but to also inspire into action and bring a work to the community that reflects Dr. King's spirit of equal and equitable access to opportunity for all.
"This was also a look at how we have failed to keep American history–the good, bad and ugly–present in our classrooms," Harris said, noting that the lack of history breeds ignorance. "Education and exposure to the truth can help to shine a bright light on systemic racism."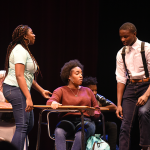 The production was made possible by an MLK Day of Service award, MLK Day of Service Committee and St. Petersburg College. Sponsoring partners included Rubenstein Law, American Stage and Florida CraftArt.
For more information on ACT, log on to artsconservatoryforteens.org or call 727-201-8377.
To reach Faye Tippy, email ftippy@theweeklychallenger.com