FAMU students Cortney Steward and Kiera M. Walker apply for Organizing Corp, a training and outreach program initiative that will employ students of color in voter engagement and participation in Florida and other 2020 battleground states.
STATEWIDE — Florida Democrats will invest millions in the future of the Sunshine State by engaging its diverse youth looking for change. The goal is to train college students to deliver victory to Floridians. The party's plan to recruit student organizers is just one piece of the larger plan for victory in 2020.
The Florida Democratic Party also announced it would spend $2 million on voter registration, commit to registering 200,000 voters and working with Andrew Gillum and partner organizations to increase voter registration by a million voters.
Organizing Corps will pay and train students to create a pathway to victory in Florida by creating a new electoral voter registration, and outreach that will change Florida. Juan Penalosa, executive director of the Florida Democratic Party and an advisory board member of the Org Corps 2020, called the organizing program "crucial in turning Florida Blue in 2020."
Corps members will be flown to Chicago for a week of training with national experts, and then return to Florida to take part in an eight-week program while receiving a $4,000 stipend.
Students must be juniors to apply at https://www.organizingcorps2020.com  by the April 8 deadline.
According to Penalosa, "Florida Democrats saw record youth involvement and turnout in 2018, and the FDP Organizing Corps will allow us to build on youth outreach and engagement. It is key to expanding our base and ensure that Florida Democrats have a strong field program ready to support our presidential nominee on day one."
Organizing Corps 2020 is a national program led by the Democratic National Committee (DNC). Groups working on the project include the Human Rights Campaign, Victory Fund, Disability Action for America, Asian American Action Fund and Pay Our Interns.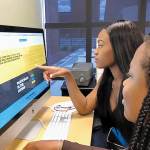 The party wants to engage communities of color and the LGBTQ community because they are the face of the future. The Florida program seeks to recruit college students who reside in or around Fort Lauderdale, Miami, Orlando and Tampa.
The national program will also have students working in Phoenix, Atlanta, Detroit, Charlotte, N.C., Fayetteville, N.C., Philadelphia and Milwaukee.