BY RAVEN JOY SHONEL, Staff Writer
The Black Pearls are a membership of young ladies affiliated with NCNW. Members are allowed an opportunity to develop the finer qualities of womanhood, share and exchange personal ideas and goals, support academic achievement, encourage high ethical standards and provide various community services.
On Saturday, however, the conference was opened to all young ladies between the ages of 10 and 18 to learn about health and beauty and experienced hands-on, interactive robotics training at a STEM (Science, Technology, Engineering and Mathematics) workshop.
And not to leave the adults left out, the NCNW ladies also attended a few informative and inspirations workshops in another room.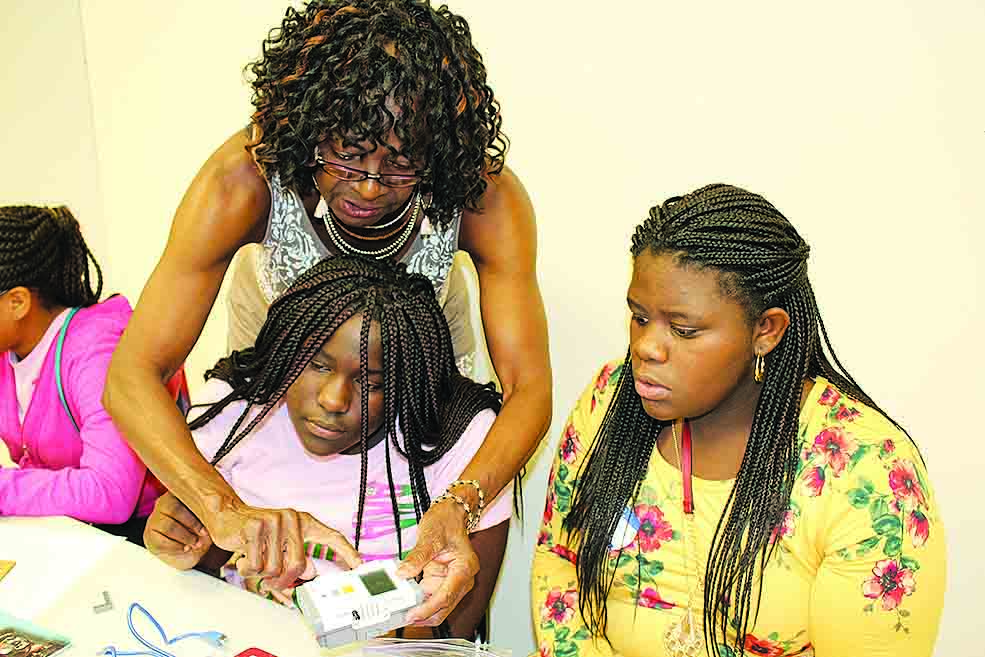 Sandra Gibson, youth director of the Black Pearls, said NCNW's main focuses for the girls is to ensure that they have an understanding of the topics that are near and dear to the organization. They push health, economics, STEM, public policy, and especially, community service.
"To get them understanding what community is about and get them involved with different organizations to serve like the Ronald McDonald House…or the Literacy Festival," said Gibson, noting that the Pearls are active with both organizations.
After a breakfast full of the young ladies' favorites, Yolanda McGill-Fintak, fashion and beauty consultant, jumped right in with skincare, haircare and how proper nutrition ties into both of them.
She suggested the ladies shun many of the items on the a la carte menu and try eating more salads and fruit. She stressed eating a well-balanced lunch can make a difference in how they will feel in the morning, midafternoon and before they head home.
McGill-Fintak is also a teacher at Azalea Middle School and revealed that every single day her students are eating Cheetos, particularly Cheetos Flamin Hot®.
"You have to be mindful what's in your food," she said, adding that if you set Flamin Hot Cheetos on fire, they will continue to burn much like a torch.
"Remember, your beauty starts inside out. What you are putting in your body is going to show. If you feel lethargic, if you feel like you can't concentrate, headaches or stomach aches you can't explain, you might want to consider the food you are eating."
McGill-Fintak also stressed the importance of drinking water.
"The best thing for your skin is water," she said, suggesting that they only drink water for 30 days straight and they will see a marked difference in their skin.
The workshop covered different skin types and skincare products, haircare, exercise routines and oral and nail health.
STEM Workshop
K-12 STEM advocates Emma Alba, director of Robotics Florida, and retired educator Rose Mack showed the aspiring STEM goddesses how to assemble and properly code a robot from scratch in half the time it usually takes their other workshops.
For 10 years now, Alba and Mack have organized and hosted

RoboFest Robotic Annual Competitions

throughout the state of Florida. Last year, however, they took it to another level and went international. Four hundred fifty children from 10 different counties descended on St. Pete Beach for the competition.
But Saturday, Alba and Mack showed up to teach the young ladies that anyone can learn to code, and it's up to the parents to get the children interested.
"If I can't get to the parent, whether they're white or black, I cannot get to the child," sighed Alba. "It's got to be parent involvement. They just cannot drop their kid…I need the involvement of the parent for it to succeed."
She suggests starting the children off as young as kindergarten with STEM programs because, by the time they reach middle school, it's too late.
"They are no longer interested," she said, remarking that black parents put too much emphasis on sports instead of academics.
Mack retired a few years ago from a 35-year career in Pinellas County Schools. At one point, she was a STEM coordinator for a Saturday morning enrichment program called Youth Engineering Society, which was a consortium between the University of South Florida and Pinellas County Schools.
For 22 years, there were a tremendous amount of minority students that matriculated through the program, and Mack contributes its success to having an informal curriculum. The children didn't have the challenge of earning a good grade looming over them and were able to relax and learn.
"When they went to high school, then they would take the classes that would help them matriculate into engineering or medicine," she said.
Mack witnessed how informal educational opportunities translated into formal engagement in curriculum. The program came to an end 2008 after funding was cut.
A STEM darling her entire career, Mack stresses to younger folks that STEM is in everything they do, whether it's that new phone or video game they want. Where are you in that spectrum, creator or consumer, she asked?
"At what point can you no longer consume because you don't have the resources to create the income to acquire? At some point, you don't have the resources to acquire the technology that you want to consume. Where are you on that spectrum to prepare yourself for that?"
By the looks of things, the 13 girls attending the Black Pearls Conference are well on their way to becoming creators.
Next week, we'll take a peek at what the grown folks were doing in the other room.