ST. PETERSBURG — The premise for "PIPELINE" is timely and serious, especially in a town where many of the predominately black schools are nationally known as "failure factories." The play's title refers to the school-to-prison pipeline, which disproportionately affects children from disadvantaged backgrounds by targeting them with harsh school and municipal policies.
The prison link unreasonably affects black and brown students, particularly males. Its root causes are numerous and can be traced back to the zero-tolerance policies that set predetermined consequences or punishments for specific offenses, often ending in arrest or expulsions. These policies are referred to as the discipline gap, which in turns feeds the achievement gap.
"PIPELINE" calls attention to the limitations of our educational system and the legacy of violence confronting black and brown youth in America. I thought I had a grasp on the situation, but I was woefully underinformed.
The production got my attention and awakened some sensitivities and exposed nuances I was utterly unaware existed. Also interestingly, it demonstrates that not only poor black and brown males are subject to this situation, and that middle-income students can face the same stigmas in elite schools resulting in the same conclusion.
Written by playwright Dominique Morriseau, a 2018 recipient of the MacArthur Foundation "Genius Grant," the play, which was commissioned by Chicago's Steppenwolf Theater, premiered in New York City in 2017 at the Kennedy Center. The American Stage performance run is the Tampa Bay area premiere.
Director L. Peter Callender, who was available after the performance to speak to audience member, sums up the story this way: "'PIPELINE' is a work that solemnly wails a mother's grief and anger, shares a father's heartbreak, shouts a teacher's dogged determination to inspire, grapples with young love yearning to be realized, and most importantly, insists we hear the cries of a brilliant young man with two strikes against him simply begging to be listened to, to not assume he is a criminal based on the color of his skin; asking that we treat him fairly, and have someone show up for him, understand his righteous rage."
I could not have framed it better. The intimate setting of 148 seats at the theater lent itself perfectly to finding me leaning in as to not miss a single word of this exceptionally well thought out, well written, exquisitely acted play. It is a fast-paced 90 minute one-act play. The interchanging mobile sets kept the action and drama on pace.
It was thought-provoking and left the viewer with more questions. This work is definitely for our times. It is a reflection of what's happening in our school systems all across the country. Teachers, parents, community leaders and students should definitely make plans to attend.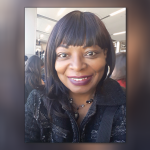 'PIPELINE' runs through Feb. 24 with matinees and evening performances. Don't forget to stay for chats with the actors after the performance, and ticket holders are invited to arrive early for an exclusive prologue presented by American Stage apprentice Rose Hahn 30 minutes prior to each performance.
Call the box office for more information at 727-823-PLAY (7529), or log on to americanstage.org.
To reach Faye Tippy, email ftippy@theweeklychallenger.com