Robert Smalls
Black history is always interesting, and there's always more to be discovered.
I just found out that one of my friends is related to Robert Smalls! What? You don't know who he is?
Smalls was an enslaved seaman, and on May 13, 1862, he commandeered a Confederate supply ship in the Charleston harbor, freeing himself, his shipmates and their families. As a result, he became a Union pilot and captain for the duration of the Civil War.
Interestingly, he helped found the Republican Party in 1867, and later became a state senator in South Carolina and eventually served as a United States Congressman.
I always find inspiration in history. I wonder if I had been born during those times would I have survived. Would I have had the courage to be like Smalls or Underground Railroad conductor Harriet Tubman?
All the more, it shows me why we have to stay involved in politics by voting, running for office and developing coalitions and partnerships of voting blocks to harness our power. We must hold our representatives accountable and participate in the process beyond just voting.
Frederick Douglass once said, "Power concedes nothing without a struggle. It has and never will." We have to educate, encourage and engage the next generations and the disenfranchised.
The recent election here in Florida has shown how vital voting still is and the shenanigans that are being used to suppress certain groups their rights. It is imperative that we are watchful. We must remain diligent to preserve our rights and fight for our communities to be heard.
A clear majority of Florida voters passed amendment 4 last Nov.. Desmond Meade, president of the Florida Rights Restoration Coalition, has a story to tell. He went from being homeless to graduating from the Florida International University School of Law. His dream was to vote, and now that dream has become a reality.
Meade had been convicted of a non-violent felony, but after paying his debt to society, he like one million other Floridians had been denied the right to vote. Last year's election changed that.
I encourage everyone to attend Eckerd College next Tuesday, Feb. 19 at 7 p.m. in Fox Hall to listen to Meade discuss how he and his group organized, canvassed, petitioned and drew national attention to his shared plight that led to the ballot initiative Amendment 4, which allows people convicted of non-violent crimes to have their right to vote automatically restored upon completion of their sentencing terms.
Also coming up is "Let My People Vote," a bi-partisan discussion on Amendment 4. Senator Darryl Rouson, Rep. Wengay Newton, Rep. Jennifer Webb, Pinellas County Supervisor of Elections Deborah Clark and Ken Burk, Clerk of the Circuit Court and Comptroller for Pinellas County, are slated to speak.
The forum will focus on the implementation of Amendment 4, voter suppression and intimidation, election cybersecurity and more.
Don't miss this critical discussion Tuesday, Feb. 26 at the Rock of Jesus Missionary Baptist Church, 3940 18th Ave. S.
The recent election showed me how much work we still have to do to educate our communities and engage our young. These days, civics in school is not widely taught. We have dumbed down generations or people, and social media, which is where they get their information, is too easily corrupted.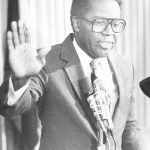 I first remember being engaged in politics in high school in Gary, Ind. My best friend got us gigs as gofers for Richard Gordon Hatcher, the first black mayor of Gary, Ind., and one of the first two black elected mayors of a city of with more than 100,000 people.
We couldn't vote, but we could work as volunteers.
Hatcher was our modern-day Beowulf. Everybody came to Gary, Ind., to get a glimpse of our mayor, and we were the beneficiaries of that pride and accomplishment. Pride sent us to college, and I've been involved with politics ever since.