By Gypsy C. Gallardo, CEO, The 2020 Plan │ September 21, 2017
Last week, on September 14th, the U.S. Census released its newest data on poverty in St. Pete. Again this year, the federal agency registered a rapid decline in African Americans in poverty, pacing well ahead of non-blacks in the city, and blacks elsewhere in Florida.
Last September, the Tampa Bay Times reported a sharp drop in Pinellas County's black poverty rate in 2015, per a Census release that month. Follow-up analysis showed African Americans in St. Petersburg leading the trend with an 8.5 point reduction in their poverty rate, down from 35% in 2014 to 26% in 2015.
The rate fell to 18% in 2016, according to figures published last week by the feds, which is the lowest black poverty rate on record for the city's black community.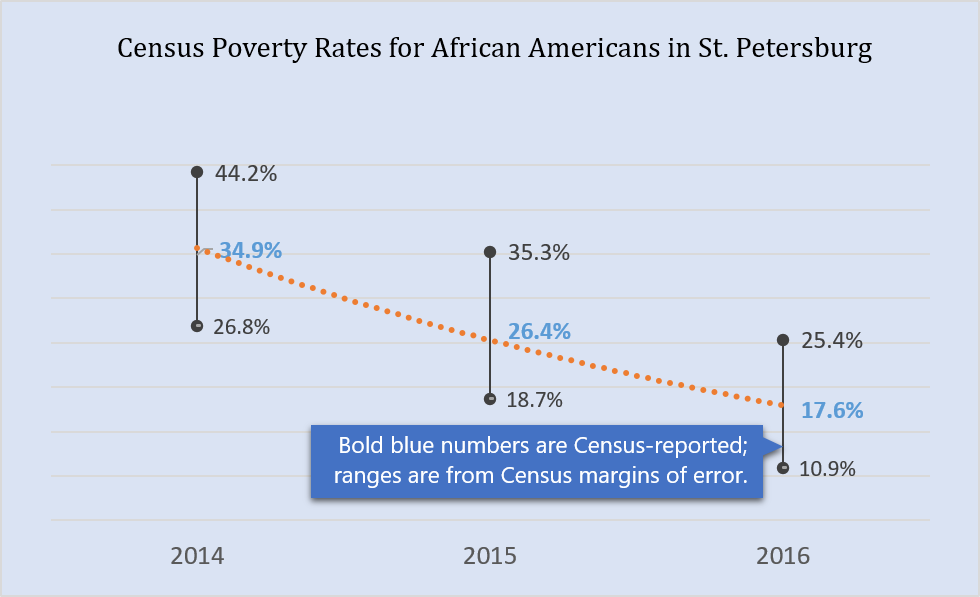 Census officials are 90% certain that the number of African Americans in poverty in St. Petersburg fell below 13,251 by the end of 2016. The most aggressive reduction was among families with children.
Census reports also show blacks continuing to outpace non-blacks in the city and blacks across Florida. This September's data show a 17 point drop in black poverty in St. Pete since 2014, versus a 1 point drop for non-blacks here and a 4 point drop for blacks statewide.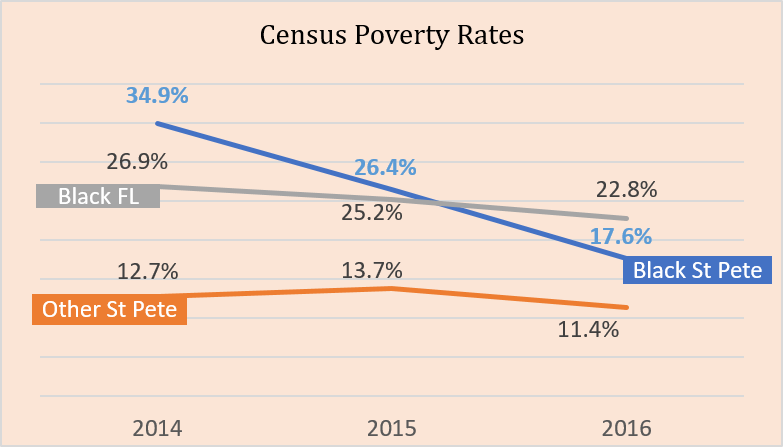 African Americans' pace of progress made a big dent in St. Petersburg's overall poverty rate. It fell from 18% in 2014 to 13% in 2016. It also marks a major shift in the face of poverty. African Americans were nearly half of the city's poor in 2014. New numbers say they were less than a third of the poor in 2016.
Analysts credit the two-year poverty trend to three major drivers: one, a sustained rebound of the local job market; two, a surge in college enrollment, with more people qualifying for better paying jobs; and three, a rapid rise in poverty-exit programs available to help families increase employment and earnings.
In 2013, there was only one program serving South St. Pete with a specific goal to help families exit poverty – Pinellas Opportunity Council's Family Development Program, along with a handful of programs helping low-income people "improve self-sufficiency," and dozens of outlets helping the poor cope with emergency needs such as food and evictions.
Since then, the community has seen 10-fold growth in programs explicitly designed to help people exit poverty. Much of it stems from efforts tied to the 2020 Plan. It launched in 2014 with 100 partners supporting the goal to reduce poverty by 30% by 2020 in South St. Petersburg where 74% of the poor are black.
The 2020 team has raised funding for a half-dozen new programs. Eleven funders have so far invested in the push to give more families a path out of poverty. The City of St. Pete is the largest investor to date, not counting Duke Energy's $1 million investment via the United Way Suncoast last year.
Other funding came from Allegany Franciscan Ministries, United Way Suncoast, CareerEdge Funders Collaborative, the Rays, Bon Secours, Florida Blue Foundation, and the 2020 Fund. Seed grants came from Smith & Associates, Impact Pinellas and Catholic Charities.
Agencies revving up services include Pinellas Opportunity Council, with five new poverty-exit programs since 2014; Pinellas County Urban League, which added two programs; and Pinellas Ex-Offender Re-Entry Coalition, with a new office on 16th Street that offers several new work-related programs.
In addition to this cohort of poverty-exit programs, other initiatives sprouted up to help people across the income spectrum to grow their earnings (from people-in- poverty to low-and-moderate income people who fall below "living wage" quality of life).
The St. Pete Chamber and Tampa Bay Black Business Investment Corp. tag-teamed over the past year to support 72 African American entrepreneurs to launch or grow firms through intensive training and seed capital. Thanks to the Foundation for a Healthy St. Pete, the programs offered stipends of $2,500 to $3,000 for entrepreneurs completing action plans.
Added to this, some employers have raised their minimum wage, boosting the pay of about 200 people since 2014. Mayor Rick Kriseman's hike to a $12.50 minimum for city workers increased the pay of 70 employees, many of them South St. Pete residents. R'Club Childcare – the county's largest preschool provider – raised its minimum to $10.10.
Local 2020 leaders are preparing a request to the Census to help pinpoint poverty changes for South St. Petersburg. Currently, data for census tracts aggregate poverty over five years, making it difficult to track yearly changes.
In the meantime, the 2020 team continues to pursue funding for poverty-exit programs next year. The most current group working to exit poverty are 20 parents enrolled in the Urban League Success Training & Empowerment Program (STEP). They will finish a six-month training and coaching series in December. The project is funded by the City of St. Petersburg.
A few have already secured higher paying jobs since starting STEP in July. Many are still completing job skill training programs to qualify for better paying jobs.  
"We all owe thanks to the employers and agencies pitching in to reduce poverty faster," says Cory Adler, Executive Director of the 2020 Plan. "They are doing the hands-on work of helping people enter new jobs and earn pay raises that start their journey to exit poverty."
The 2020 team has recruited over 30 local employers to the vision of increasing community employment and earnings.
For more info on the 2020 Plan:
Cory Adler, Executive Director
The 2020 Plan
727-742-1757 / Coryadler.2020@gmail.com

SOURCE: U.S. Census, American Community Survey, Poverty Status in the Past 12 Months by Sex and Age, 1-year Estimates, 2014, 2015, & 2016, for City of St. Petersburg and multiple geographies