Last year, the City of St. Petersburg awarded $250,000 in grants to 35 local non-profit organizations that provide services to at-risk youth. Photo was taken last year on steps of City Hall
BY FAYE TIPPY, Columnist
ST. PETERSBURG — Youth development programs are always needed, and outreach to the youth community takes shape in many ways. The City of St. Petersburg is making strides to help established groups reach their goals in this endeavor. The city is currently accepting applications for this year's cycle of Youth Development Grants.
Starting in the summer of 2016, the Youth Development Grant program is the fourth component of the My Brother's and Sister's Keeper (MBSK) initiative. Other programs beneath the MBSK umbrella include Not My Son community canvass intervention efforts, the Cohort of Champions training initiatives and the Just Girls Talk conference.
Mayor Rick Kriseman had this to say, "I remain fully committed to the young people of the Sunshine City. My administration will continue to develop innovative, creative ways to provide opportunities for young people, especially those at-risk. Through the My Brother's and Sister's Keeper initiative, we will help young people develop marketable skills and expand job training opportunities. And we will do all of this while collaborating with our community partners. I hope you will consider joining us."
The purpose of the Youth Program Development Grant is to provide support and build the capacity of non-profit organizations engaged in projects and programs that seek to improve the lives of at-risk children and youth within the municipal boundaries of the City of St. Petersburg. The grant is designed to offer funding to non-profit organizations in good standing that have developed specific projects or programs to address the following areas of concern:
Entering school ready to learn
Reading at grade level by third grade
Graduating from high school prepared for, life, college and career
Accessing and completing career-relevant training
Addressing the health and well-being
The targeted population of the project or program must be youth who are less likely to successfully transition into adulthood and achieve economic self-sufficiency or academic success.
The funds will be available in the minimum amount of $1,500 up to the maximum amount of $15,000. There are no restrictions on the scope of the project or program for which support is requested as long as it fits within the goals of the grant. The amount distributed to successful applicants is within the sole discretion of the mayor based on the budget submitted for the project or program.
Only one application per organization will be accepted. Organizations that offer multiple projects or programs may submit one application with multiple individual descriptions and budgets for each project or program. Proposals may range from requests for funding of entire projects or components of a larger project.
A variety of organizations have received funding in the past such as Keep St. Pete Lit, which celebrates and promotes St. Pete's literary community through the arts and education.
Last year they received the Youth Program Development Grant to pilot a creative writing program in local schools. Right now, they serve 120 children a week and have two teachers that go to different schools and community centers to teach poetry and writing.
Founder and Executive Director Maureen McDole feels that by them creating a safe environment where children are valued and empowered, they will keep coming back again and again.
"I'm grateful that the city gave us the opportunity, and I absolutely recommend that other people apply for this grant," McDole said.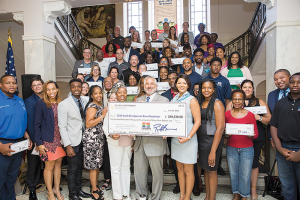 Applications for the program are available online now at stpete.org/MBSK. Applicants should register at mbsk-ydg.smapply.org.  Applications are due Tuesday, April 23.
For more information about the Youth Development Grant, contact Leah McRae, director of Education and Community Engagement at Leah.McRae@stpete.org.