Ranking the 25 best running backs in college football heading into the 2016 season:
25. Ray Lawry, Jr. Old Dominion
The star of an improving Monarch attack, he's an ultra-efficient machine running for 1,136 yards and 11 touchdowns in 2015 despite missing most of the last three games. When he's right, he's a 100-yard machine.
24. Tarean Folston, Sr. Notre Dame
Josh Adams will help form one of the nation's better 1-2 rushing punches, but it's Folston who should be the main man returning healthy after suffering a torn ACL in the 2015 opener. He might not be flashy, but he'll be effective pounding away.
23. Jamaal Williams, Sr. BYU
Back after missing a big part of his career hurt, and then being suspended last season, the 6-2, 220-pounder is a threat for 1,500 yards as the real star of an offense with a spotlight on the quarterbacks.
22. Justin Jackson, Jr. Northwestern
He's not all that big, and he's not a blazer, but he's athletic, tough, and productive with two straight 1,000-yard seasons. He's been all the Wildcat offense has had.
21. Kareem Hunt, Sr, Toledo
Terry Swanson will get his share of the workload, but Hunt will still hit the 1,500-yard mark if all goes according to plan. His big problem is staying healthy, but when he's in one piece he's a powerful 100-yard machine.
20. Brian Hill, Jr. Wyoming
The Doak Walker semifinalist is big, fast, and able to hit the home run from anywhere on the field. He'll split time a little more this year with more options returning, but he'll be a 100-yard machine.
19. Joe Mixon, Soph. Oklahoma
Samaje Perine is the best running back in the Sooner backfield, but Mixon has the talent to be a superstar if he ever has to be the No. 1 back. He's 6-1 and 226 pounds with tremendous quickness, and is more than just a complementary runner.
18. LJ Scott, Soph. Michigan State
The stats aren't going to be there as part of a fantastic running back rotation, but the 238-pounder will be the goal line back and the one the O goes to.
17. Marlon Mack, Jr. South Florida
One of the biggest keys to the program's turnaround, Mack ran for 1,381 yards and eight touchdowns as a 100-yard machine for an offense that didn't have too much else.
16. Jalen Hurd, Jr. Tennessee
The power of power backs, he's built like a defensive lineman with the freakish toughness and athleticism to blast his way for yards coming up with 1,288 yards and 12 scores in 2015.
15. Marcus Cox, Sr. Appalachian State
One of college football's most productive running backs over the last three seasons, he came up with his finest season yet running for 1,423 yards and nine scores as the signature star in the program's rebirth last season.
14. Elijah Hood, Jr. North Carolina
One of the Power 5's best-kept secrets after working in the same backfield as Marquise Williams, now the offense is his coming off a 1,463-yard, 17-score season.
13. Mike Warren, Soph. Iowa State
The Cylcones needed an offensive star last year, and the freshman came through with 1,339 yards and five scores, averaging almost six yards per pop. He'll get even more work under the new coaching staff.
12. Jeremy McNichols, Jr. Boise State
The Bronco attack should be unstoppable, and it starts with the veteran running back coming off a 1,337-yard, 20 touchdown, 51-catch season. Smallish and compact, he's a dangerous all-around runner who should grow into a national star.
11. Larry Rose III, Sr. New Mexico State
He's built like a slot receiver, but he's a workhorse running back, rushing for 1,651 yards and averaging close to seven yards per carry with 14 scores, while also catching 30 passes. He's devastating with just a little bit of room to work.
10. Bo Scarbrough, Soph. Alabama
The next star back up, the 6-2, 230-pounder has the skill set to be another workhorse running back for the Crimson Tide attack. He showed this offseason that he's ready to handle the work.
9. Nick Chubb, Jr. Georgia
He might be the best back in college football, but from all indications he's going to need a while before his knee heals up after getting hurt in the middle of last year. When right, he's a talent who can carry the offense.
8. Wayne Gallman, Jr. Clemson
Deshaun Watson might be the star of the show, but Gallman was a key part of the show, running for 1,527 yards and 13 touchdowns while showing off occasional big play ability as a receiver.
7. Donnel Pumphrey, Sr. San Diego State
Even though he split the workload, Pumphrey still managed to crank out 1,653 yards and 17 scores. He's only 155 pounds, but he's tough, and he can fly.
6. Corey Clement, Sr. Wisconsin
He was supposed to be the next Melvin Gordon, but he couldn't stay healthy. Now he appears ready to make the Badger ground game a dominant force again, and if he can stay in one piece, he might just be the most talented of all the great Bucky runners.
5. Royce Freeman, Jr. Oregon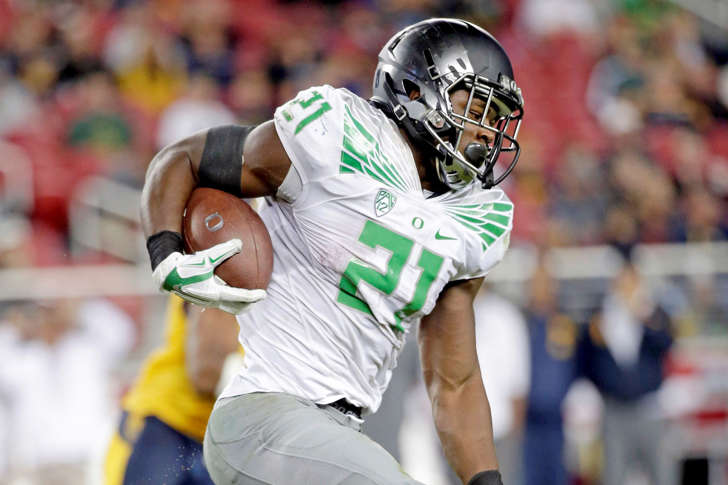 Oregon has had some terrific running backs over the years, but Freeman could be the best of the bunch. At 5-11 and 230 pounds, he brings more power than most Duck runners, and he's got the flash, rushing for 1,836 yards and 17 scores last season.
4. Christian McCaffrey, Jr. Stanford
The nation's best all-around running back, he's a devastating receiver and kick returner to go along with his 2,019-yard 2015 resume. He had to do it all last year, and he'll have to do even more on a rebuilding Cardinal team.
3. Samaje Perine, Jr. Oklahoma
Baker Mayfield got most of the love, but Perine was a key part of the Air Raid offensive style following up a 1,713-yard first year with 1,349 yards and 16 scores. He'll have to split time with Joe Mixon, but he'll be the workhorse in key games.
2. Dalvin Cook, Jr. Florida State
As long as he can stay in one piece, he'll be in the hunt for 2,000 yards as the centerpiece of the Seminole attack. The 6-0, 203-pounder has power, agility and breakaway speed.
1. Leonard Fournette, Jr. LSU
The rare NFL franchise running back, Fournette was 47 yards away from 2,000 yards and blew away the rest of the nation's backs in yards per game. He had one bad game against Alabama – like every running back does – and that was it; he dominated everyone else. He's the best player in college football, and this year he'll show it.