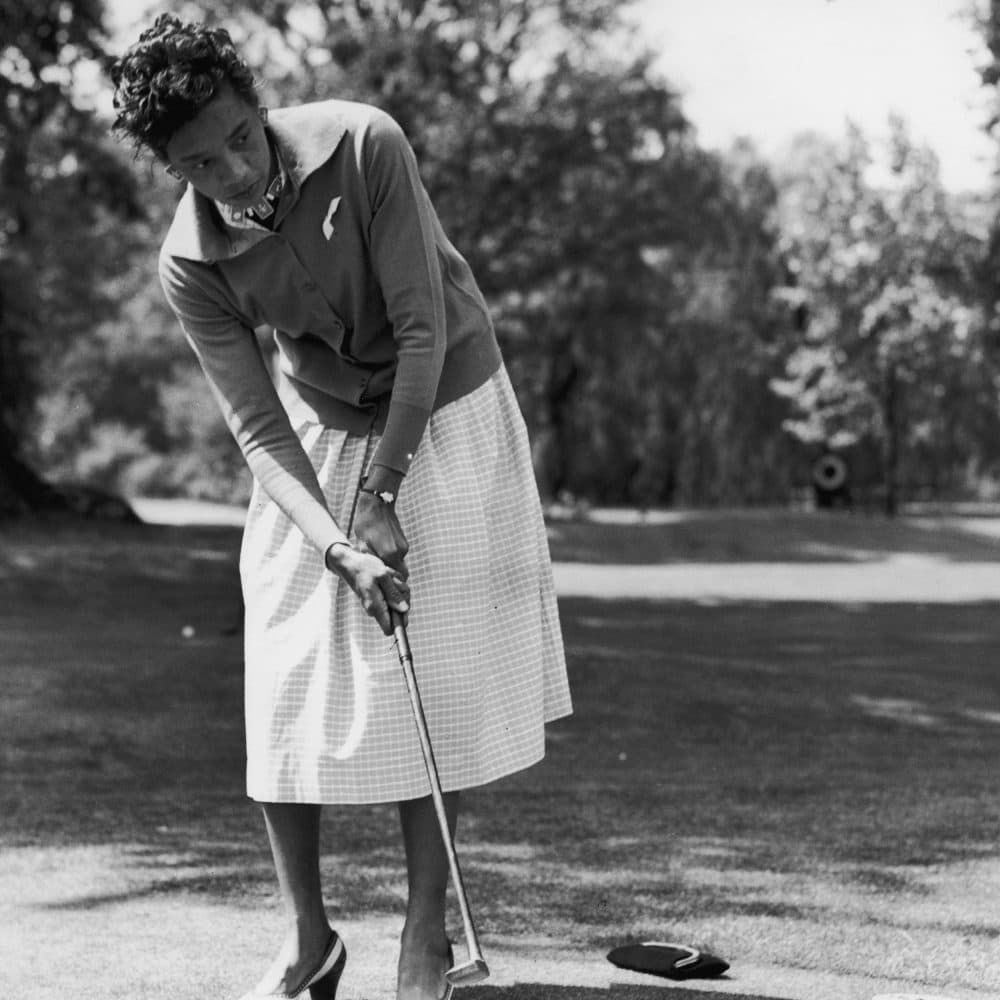 In 1959, Renee Powell was a teenager in Canton, Ohio. Her sport was golf, not tennis. But even she appreciated just how big a deal it would be to meet theAlthea Gibson.
Gibson was one of the most famous athletes in the world. In 1950, she became the first African-American on the U.S. tennis tour. By 1959, she'd won Wimbledon and the U.S. Open. She'd shaken hands with the Queen of England — even had a ticker tape parade in New York City. And now she was stopping in Powell's hometown for a table tennis exhibition.
Powell's parents took her to the event, hoping their daughter might get to meet the tennis star.
"And by the time we went backstage, she had already gone," Powell says. "And didn't meet her. I was so disappointed."
A year later, Powell traveled to Boston to play in a tournament arranged by the United Golfers Association. (The UGA was an organization for black golfers.)
At first it seemed like any other UGA tournament — and then Powell learned the name of her playing partner.
"I was paired with Althea Gibson," Powell says with a chuckle. "So it was like, 'Really? Wow. Here she is on the golf course.' "
The world famous Althea Gibson had left tennis in the prime of her career and turned to golf.
More Hard-Knock Than Country Club
Althea Gibson was born in 1927. She was the daughter of sharecroppers from South Carolina.
But Althea grew up in Harlem — on 143rd street. Back then, 143rd was classified as a play area for children by the Police Athletic League. Here, Althea's love for sport was nourished, but so was her penchant for trouble.
"So her upbringing was literally on the streets of Harlem," says filmmaker Rex Miller, who has made a documentary about Althea's life.
Her father, Daniel Gibson, believed Althea could become a great athlete — and he was tough.
Some days, he would take her up on the roof to box. He thought she could someday make a living fighting.
But it was Althea's street cred at paddle tennis — a sport popular with New York City children — that caught the attention of Buddy Walker, a man who played in the house band at Sugar Ray Robinson's bar in Harlem
"And he saw her ability, and he brought her out of the play streets and took her to the Cosmopolitan Club," Miller says.
This was a black tennis club in Harlem that catered to lawyers, doctors and professors.
Althea, whose life was more hard-knock than country club, had a hard time fitting in.
"As they like to tell the story, she was a little rough around the edges," Miller says. "But a lot of folks at the Cosmopolitan Club mentored her, not only in tennis, but also just how to conduct herself in this new group of people that she was being exposed to."
Althea's favorite word, according to those close to her? "No."
Still, Althea excelled on the tennis court. She was so dominant that she caught the attention of two black doctors from the South.
"They were both self-described 'Race Men,' interested in breaking barriers, early participants in the Civil Rights movement," Miller says. "They saw in her the Jackie Robinson of tennis. So when she was 18, they came to her, and they said, 'We think that you could get into Forest Hills,' which was the U.S. Nationals, the precursor to the U.S. Open. 'We think that you could play Wimbledon. And we'd like to help you get there.' "
'A Reluctant Icon'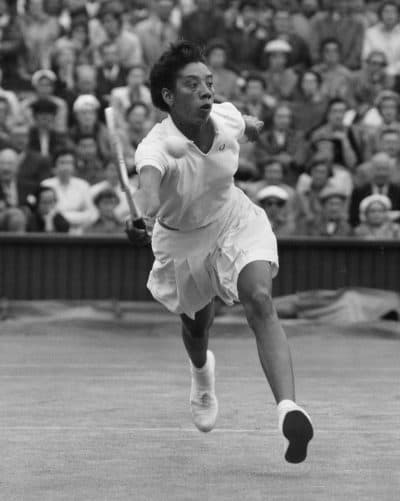 Althea agreed to move to Wilmington, North Carolina, to train. Over the next four years, she attended a local high school and practiced tennis on a court behind the house of one of her sponsors. In 1949, she enrolled at Florida A&M University on a full athletic scholarship. A year later, at the age of 23, she became the first black woman to play at the U.S. Open. In 1957, Althea won Wimbledon, becoming the first African-American to do so. Soon after, she won the U.S. Open. She had become the No. 1 player in the world.
But against the hopes of the doctors who had supported her, Althea didn't speak out about race relations in the U.S.
"She was very much a reluctant icon," Miller says. "She was just used to saying 'no.' Plus, it's one thing in the late '60s when the civil rights movement was embraced more by mainstream America. But in the '50s, I mean, you're talking about Emmett Till and Brown v. Board of Education. Speaking out was not only something that could get you ostracized, but it could also get you killed."
And despite Althea's success on the tennis court, she struggled financially.
Back then, there was no prize money in major tennis championships, and the opportunity to earn a check competing in open tournaments did not come until 1968.
Althea lived with roommates, she had no real income, and she survived off the generosity of others.
In 1958, Althea decided to move on from tennis.
"She was clearly the most dominant player of that era," Miller says. "And she would've kept going — she could've won multiple titles over the next few years, but she quit because she had to go make a living."
Althea signed a deal to play tennis before Harlem Globetrotters games.
After a year with the Globetrotters, she tried singing.