LOS ANGELES — For six dramatic seasons, he was the first true shining symbol of Los Angeles Clipper hope.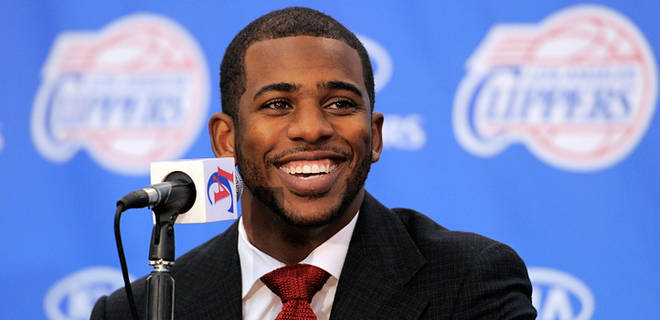 In one stunning moment Wednesday, he became just another monument to Clipper devastation.
Chris Paul has bolted town, and the Clipper Curse lives.
The best player in Clippers history has forced his way to the Houston Rockets, and the Clippers are suddenly in danger of becoming the Clippers again.
Shortly before the beginning of a free-agency period during which the Clippers were expected to re-sign their leader, Paul abruptly turned his back on the team, the town, and millions in immediate money for what he perceives is a better chance at a championship.
Paul told the Clippers he was going to walk to Houston once he became a free agent, so the Clippers avoided losing him for nothing by sending him to the Rockets on Wednesday for a bunch of players and a 2018 first-round pick that will be ridiculously low.
In a star-driven town, the Clippers were forced to give up their biggest star for no stars, some nice players but nobody even guaranteed to be on the team after this season. This was not a basketball deal, it was damage control. This was not a trade made with promise, but in pain. If Chris Paul was indeed the face of the Clippers, his final expression was a sneer.
Yes, the Clippers needed to reshape the roster after six consecutive early playoff failures. Absolutely, they should have broken up the All-Star threesome of Paul, Blake Griffin and DeAndre Jordan in order to create a better chemistry and stronger culture.
But Paul was the guy they were going to keep. Paul was the guy they viewed as their cornerstone. He's 32, he's still one of the best players in the league, and he was universally loved throughout Clipper Nation.
They had already dangled Jordan in a trade. They had already resigned themselves to losing Griffin. They were focused on keeping Paul.
But the headstrong Paul obviously had other ideas, even if that idea will cost him $10 million this season as he now has to wait a year to receive the five-year max contract from the Rockets.
From all reports, Paul didn't like the idea of playing with Griffin, no longer loved playing for Doc Rivers, and generally didn't think the organization was moving in the right direction. Paul reportedly complained that Doc Rivers showed favoritism to son Austin Rivers, and was perhaps mad last season that Rivers wouldn't trade for Paul's buddy Carmelo Anthony, but this was bigger than that.
Bottom line, Paul apparently just didn't like playing here despite six years of statements to the contrary, and what does that say about the future of the franchise?
Think about it. A great NBA player has just walked away from a team whose brain trust includes one of the NBA's richest owners in Steve Ballmer, one of the league's greatest minds in Jerry West, and a championship coach in Rivers.
If all this is not good enough for Chris Paul, how is it going to be good enough for other stars? Now that he's scorched the earth behind him, how many top free agents would be dying to take his place?
And what does all this do to Rivers' reputation? And his desire to remain mired in this muck? How much longer will he want to stick around a place where he apparently couldn't connect with his best player?
There is some thought that the Clippers had received hints that Paul might leave, and perhaps that's one reason they're paying West nearly $5 million a year for two years. They knew that a storm was coming, and they needed West to limit the damage.
Their first job will be to re-sign Griffin. He's injury prone, he doesn't possess the three-point shooting skills required of forwards in today's NBA, and he's not the kind of leader that a team can rally around. But without him, they have little chance of being even remotely interesting.
Next, they start planning on shedding salary and clearing space for the glittering free-agent class of the summer of 2018. But again, by then, what was once an attractive championship-caliber destination could once again be an embittered basketball wasteland.
The Clippers had their chance at greatness. As of Wednesday, that window is now slammed shut, with the team forced to press its nose against the glass while watching Chris Paul scurry off into a hazy sunset.