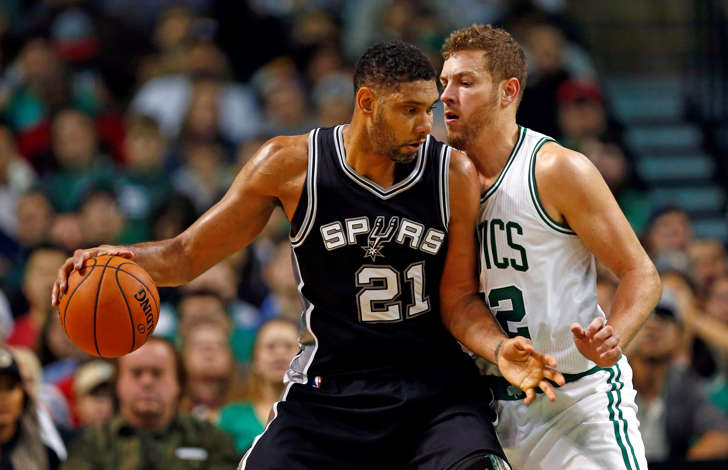 © Mark L. Baer/USA TODAY Sports San Antonio Spurs forward Tim Duncan, left, dribbles as Boston Celtics forward David Lee defends during the first half at TD Garden on Nov. 1 in Boston.
Lost in the noisy, nostalgic and nonsensical Kobe Bryant farewell tour is the handiwork of a silent, selfless star nearing his curtain call.
Of course, nobody expects Tim Duncan to leave the game any other way but slip out unsuspectedly through a side door.
He is under contract with the San Antonio Spurs through 2016-17, but at 39, he could leave after this season ends.
Tough to plan a going-away a party for him.
This is quintessential Duncan: It would surprise no one if he calls it quits one day next summer from an island resort and disappears for good, having dodged all the hoops hoopla.
Unlike Kobe, Duncan doesn't need parting gifts, unrelenting fanfare or shot attempts by the dozens as his playing days wind down.
As contemporaries, Bryant and Duncan have played their entire careers with the same team, earned five NBA titles apiece and each will coast into the Hall of Fame.
Beyond that, they couldn't be more different as players and personalities.
Bryant, aka "The Black Mamba," will be remembered lovingly by fans in highlight reels; Duncan, aka "The Big Fundamental," will be revered by coaches in instructional videos.
Bryant, 37, announced last week that he would retire from the L.A. Lakers after the season.
He is much like any other fading Hollywood star: He increasingly bumbles his lines but still demands top billing in the production.
Kobe is awkwardly struggling to put a bow on his 20th season, shooting 30 percent and launching air-balls.
He is unapologetically taking bad shots to the detriment of a young Lakers team that should be carving out a future instead of kowtowing to Bryant's walk-off whims. Five championships should afford him some leeway, but no pitch count? Really?
Duncan is quietly approaching the finish line the way he left the starting blocks 19 years ago. He is emphasizing quality over quantity and sacrifice over selfishness, unwittingly displaying the stark contrast between his NBA stay and Kobe's.
All the way to the end, Duncan is still playing with uncommon efficiency – the hallmark of his brilliant career as the NBA's all-time greatest power forward.
He's averaging 9.9 points, 9.1 rebounds and 1.7 blocks, but the numbers are coming in a tidy 27 minutes per game.
And he can turn back the clock at any time, not surprisingly. Duncan recently became the fourth player 39 or older to finish a game with at least 18 rebounds, joining Dikembe Mutumbo, Karl Malone and Robert Parish.
"That's something he can do: go into a game and get 20 [points and] 20 [rebounds]," Spurs forward Boris Diaw told reporters. "He still can do that any given night; probably not every night."
Unlike Kobe, Duncan has the future of the franchise in mind, preferring to defer and delegate as a decorated veteran. He's trying to help new teammate LaMarcus Aldridge – his heir apparent as the Spurs' best big man – fit into the offense.
Wednesday night, in a win over the Milwaukee Bucks, Duncan scored 16 points and had 10 rebounds in just 20 minutes. Ho-hum.
"Probably the only person you can compare him to is Kareem [Abdul-Jabbar], playing 20 years and still being that effective," Spurs small forward Kawhi Leonard said. "He's one of a kind."
A pro's prose
L.A. Lakers star Kobe Bryant broke news that he was retiring after the season with a farewell poem on the Players Tribune website.
In that literary spirit, I have written a poem bidding farewell to the Magic's near obsession with the NBA Draft Lottery. The way the 11-8 Magic are winning so far – still in the playoff hunt in December! – they have finally pushed the draft in the background.
***
Upon seasons of misery
There was hope of recovery
Through a league mystery
Known as the draft lottery
***
The Magic lost night after night
With no real end in sight
Trying to make things right
Looking for life after Dwight
***
The hope was to find a star
The kind who could take you far
Because on the surface
All this losing on purpose
Went together like Shaq and a book
It sure had a funny look
***
As hard as they tried to tank
The Magic couldn't give thanks
They got Victor, Aaron and to be fair
The Payton kid with the wild hair
But when ping-pong balls settled down
There was no Wiggins, Parker or Towns
***
The Magic landed Super Mario
And moved on to another scenario
They couldn't count on the lottery
So they reached back in their history
**
The Magic hired coach Skiles
They've already come miles
No longer does everyone mock
The team once led by Jacque
***
More wins are finally arriving
Skiles has the same players thriving
He's ordered them to share shots
It's a plan Kobe wouldn't like a lot
***
What has made the most sense
Is the concept of playing defense
Everyone is in, from Vooch to Frye
With Skiles no excuses will fly
***
Fans will most certainly have to wait
For the Magic to become Golden State
But no more are they losing a ton
Why, this winning thing is quite fun
***
I'm sure every fan will agree
That no one will miss you, lottery
No more following other teams
College, prep players to fulfill our dreams
***
Kids from Kentucky leave us star struck
But the Magic must make their own luck
This is now and that was then
We won't keep tabs on Simmons, Ben
***
'Tis a season not focusing on a draft
And for that Magic fans can laugh
Because it could get very silly
Have you seen what it's done to Philly?