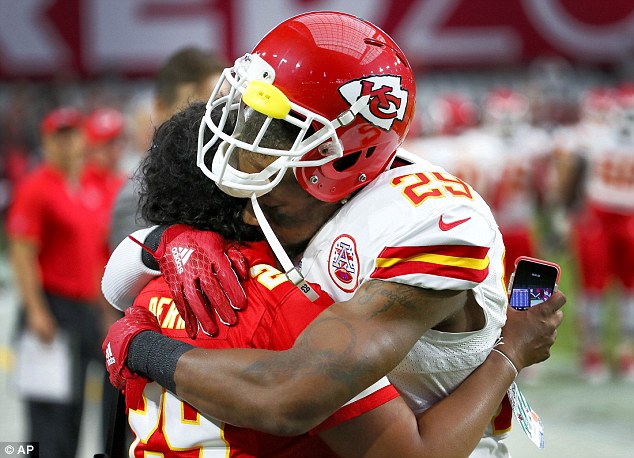 The Kansas City Chiefs' Eric Berry made an emotional return to professional football on Saturday, hugging his mom before he headed in to his first game since beating a rare cancer.
The safety, who was diagnosed with Hodgkin's lymphoma in December, embraced his mother Carol before a preseason game where his team defeated the Cardinals Arizona.
Carol was in tears as her 26-year-old son's journey back to full health and fitness concluded, two months after he learned that chemotherapy had been successful and he is cancer-free.
Berry did not play a large part in the game, but was selected as a Chiefs captain for the coin toss.
He told reporters that he and his mother, who he called his emotional rock, had discussed what it would be like if he was able to return to playing in the NFL, according to ESPN.
'That's something we talked about when I was laying in the hospital bed or I was in her room at 4 o'clock in the morning and she was just telling me everything would be OK because I just couldn't stop crying,' Berry said.
The Georgia native was diagnosed with Hodgkin lymphoma, a rare cancer that starts in white blood cells, last year after a game against the Oakland Raiders when a lump was discovered in his chest.
He underwent chemotherapy but came out of the draining treatment a pound heavier after using IVs so he could keep working out, according to the Chiefs' reporter Pete Sweeney.
His struggle against the disease was taken up by the teams players and fans last year, who would wear t-shirts with the slogan 'Be Bold, Be Brave, Be Berry'.
The three-time Pro Bowler was told he was cancer free in late June, and cleared to practice with the Chiefs in late July ahead of training camp.
Besides his mother, Berry also thanked nurse Stephanie Jones at Emory University Hospital in Atlanta for helping get through his medical treatments.
She's 'the real MVP. Of all. Of everything,' he said, according to KCTV.
Berry said that he has been contacted by people afflicted with cancer who aren't interested in football but have been inspired by his story.
He says that their support gives him strength. 'So I've got to go hard. I've got to give everything I've got'
Chiefs Coach Andy Reid said of his defensive back making an exceptional return: 'He's like a little kid out here playing, he's having fun and he's appreciative of everything and everybody that has been with him throughout this whole ordeal.'
'He's loving life right now and it shows on the field too.'