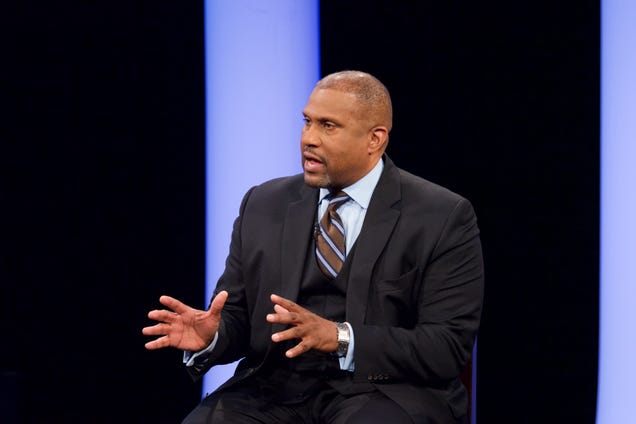 Production on late-night PBS show Tavis Smiley has been suspended indefinitely amid "credible" allegations that its host and namesake has engaged in "conduct that is inconsistent with the values and standards of PBS."
In an exclusive report, Variety published the following statement from the network:
Effective today, PBS has indefinitely suspended distribution of "Tavis Smiley," produced by TS Media, an independent production company. PBS engaged an outside law firm to conduct an investigation immediately after learning of troubling allegations regarding Mr. Smiley. This investigation included interviews with witnesses as well as with Mr. Smiley. The inquiry uncovered multiple, credible allegations of conduct that is inconsistent with the values and standards of PBS, and the totality of this information led to today's decision.
Sources told Variety that an investigation into the allegations against Smiley was overseen by Sarah Taylor Wirtz, an attorney with the firm MSK. The firm reportedly took statements from 10 witnesses, mostly former staffers of the Tavis Smiley show. The witnesses were men and women of different races and employment levels from within Smiley's organization.
The investigation found allegations that Smiley had sexual relationships with multiple subordinates to be credible. There were witnesses who reportedly felt that their employment status was dependent on the status of their sexual relationship with Smiley. Smiley was said to have created an environment that was verbally abusive and threatening—more than what would normally be expected in a high-pressure work environment. Some of the witnesses also expressed concerns about retaliation.
Smiley has hosted the 30-minute interview program, which airs weeknights on PBS member stations, since 2004. While PBS distributes the show, neither Smiley nor any of his staff are PBS employees. PBS also does not finance any aspect of the show, which is underwritten by sponsors such as Walmart.
The suspension of Smiley's show comes weeks after PBS suspended host Charlie Rose's show amid allegations of sexual harassment against him, too.