Thomas Eric Duncan, the first person to die of Ebola on U.S. soil, succumbed slowly and painfully to the disease, losing bodily functions and eventually the ability even to move.
The day after Duncan, a Liberian who flew to Texas, had been admitted to hospital with the deadly disease he begged staff to wrap a diaper round him because he was too exhausted to make it to the toilet.
By the time the Liberian national, 45, had been settled down in a hospital bed at Texas Health Presbyterian hospital, Dallas, he was projectile vomiting and suffering explosive diarrhea.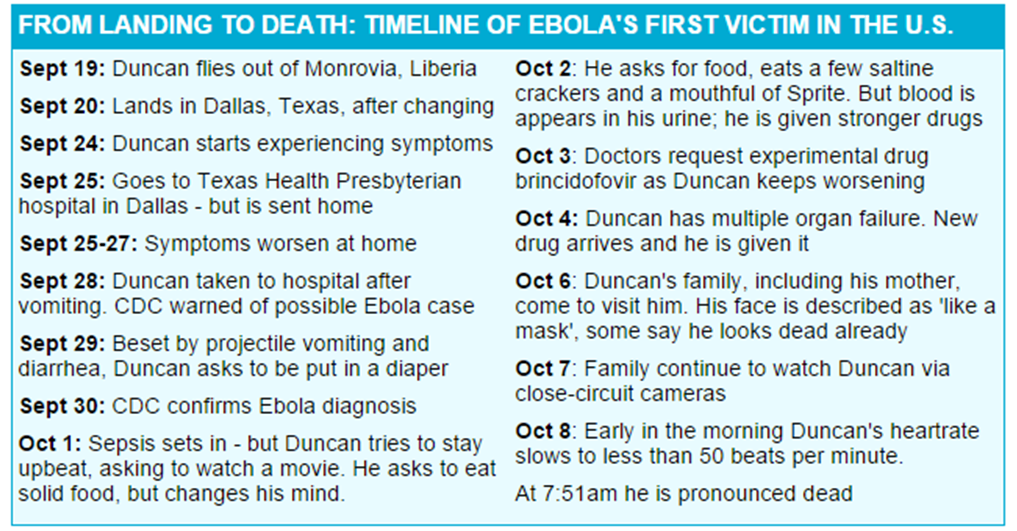 Family who came to visit him in his final days said that he looked dead already.
The harrowing details of how the deadly Ebola virus ravaged Duncan's body were revealed by his 1,400-page medical documents, which his family released to the media.
They also reveal small signs of hope Duncan showed before his body began to shutdown. One entry tells how Duncan was 'feeling better' and asked to watch an action movie.
Another shows him regaining the semblance of an appetite, managing to eat a few saltine crackers and drink a mouthful of Sprite.
But despite attempts to 'stay strong' as he fought the disease, all the signs showed Duncan's body shutting down in the face of Ebola's relentless attacks on his organs.
At the end, despite a last-minute dose of experimental drugs, his heart rate slowed and eventually vanished. He was pronounced dead at 7:51am on October 8.
Grieving and angry family members wonder whether Duncan, whom they called Eric, might have survived had he not been sent home when he first went to hospital on September 25 with early symptoms.
More at The DailyMail.