"My wearing my hair in locks on an Oscar red carpet was to showcase them in a positive light, to remind people of color that our hair is good enough." – Zendaya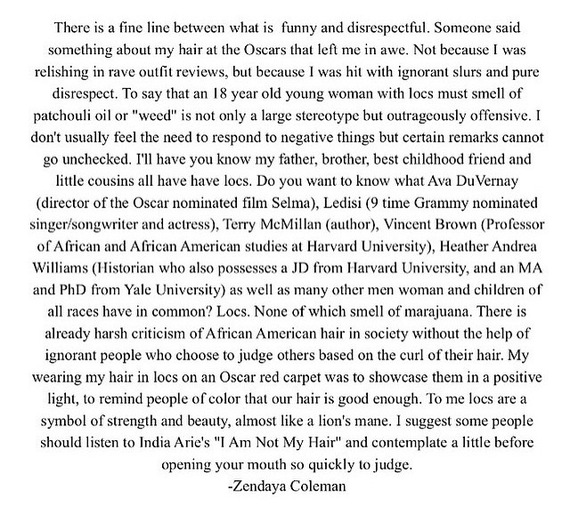 I loved the response that Zendaya gave to the ignorant comments offered my Giuliana Rancic in regards to her wearing her hair in locs on the red carpet. For those of you who missed it here are her words…
"smells like patchouli oil … or maybe weed."
Those who have been following me on the blog, or other natural hair publications know that I am passionate about natural hair, simply put, because I grew up hating the hair I did not understand. I grew up with relaxers in my hair, because it was easier to maintain that way.
After becoming the mother to three extraordinary brown girls, I wanted to do a little more research on natural hair vs relaxed hair. The affects of these products on our health, and the benefits of learning to maintain my natural locs, for my daughters' sakes as well as my own. In trying to maintain a healthier lifestyle, and to teach my girls to love everything about themselves, including their hair, which society has taught us in many ways defines who we are, I have fallen in love with my own hair, and the process of learning how to maintain it.
Natural hair has been a topic for debate not only in the black community but beyond. From a woman of color being discharged from the Navy because she refused to cut her natural locks, to workplace conflict and even the inability to wear certaing hair styles for job interviews.
I was truly disappointed to see that a woman could go out of her way to say something so ignorant about another woman, especially one who has experienced body shaming, like Giuliana Rancic. I would hope that a woman who has been given a platform where she can speak her mind would want to use that platform to empower women not tear them down.
Natural Hair on the Red Carpet
Despite the ignorant view point of few among us, many celebrities rocked their natural do's at the Oscars this year, and they looked amazing. My favorite being the gorgeous Lupita Nyong'o, does she ever fail to impress?
The gorgeous Oscar winner rocked a cropped look, and had by far the best gown, in my opinion. She makes me want to take the plunge and skip and transition all together!
Bringing back the '70s and making us covet a classic look, Solange knew what she was doing when she stole the spotlight on the red carpet with this classic look.
My favorite TV Diva did what only she knows how to, and took control! Viola Davis looked stunning with another fabulous short look.
I am glad to see so many black celebrities representing the natural hair diva's at events like the Oscars. It goes to show, that although there will always be people who don't know better, hopefully it will help to shift the definition of beauty, in order to help young black girls understand that they do not have to accept the media's definition of beauty.