Carolina Panthers quarterback Cam Newton was branded a 'sore loser' after storming out of a post-game press conference following his team's defeat by the Denver Broncos in Super Bowl 50.
Newton managed a single complete answer before resorting to one-word replies during the interview, then abruptly walked out in silence.
His sulky demeanor led to many on social media criticizing the 26-year-old's unsportsmanlike attitude.
But it appears that his stony-faced exit was prompted by taunts from Denver cornerback Chris Harris, who was giving a separate interview nearby.
The New York Daily News reports that Harris used his presser to trash-talk the Panthers, who lost 24-10 to the Broncos on Sunday.
He can be heard during Newton's brief interview saying: 'Load the box, force y'all to throw the ball. Can you throw the football? That was the gameplan.'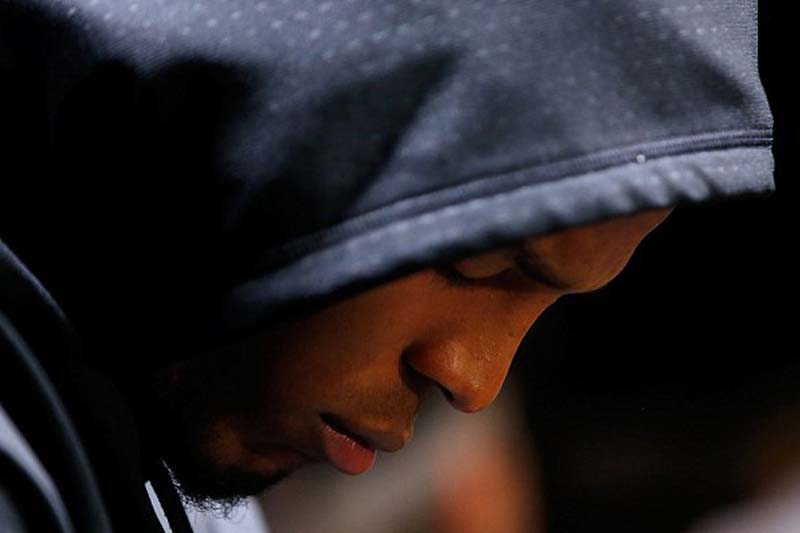 At that point, Newton shakes his head and sits in silence for a few moments before walking out of his press conference.
And Harris wasn't the only Bronco to taunt Newton after his unexpected loss.
Quarterback Peyton Manning, on the other hand, told NBC's Today show on Monday morning that Newton displayed great humility when they came together at the end.
'Cam couldn't have been nicer to me. He was extremely humble,' Manning said.
However, Newton's underwhelming responses followed a series of on-field tantrums after it became clear the Panthers were heading for a loss.
One came early in the fourth quarter when Newton found himself taking a big hit inside his own end zone after throwing the ball away under pressure from a rampant Broncos defensive unit.
After tumbling to the floor he looked at match officials hoping for a 'roughing the passer' call, and when he didn't get it he threw himself around, before storming off with his teeth gritted.
The next sulk came towards the end of the fourth when the Broncos managed to sack Newton for the seventh time during the game, stripping the ball from his hand.
Manning's team collected the ball within the 5-yard line, and moments later were celebrating their second touchdown of the game – both of which came after strip-sacks.
One man not celebrating, however, was Newton who was captured standing on the sidelines before collapsing backwards on to the turf, knowing he had lost.
Later, when asked how it felt to walk away second place having been widely tipped as favorites, Newton said: 'They just played better than us. I don't know what you want me to say. They made more plays than us, and that's what it came down to.'
Pushed on how the team was taking the defeat and to put his disappointment into words, he simply responded : 'We lost.'

Making reference to the quarterback's nickname, Broncos cornerback Aqib Talib quipped: 'There ain't no Easter Bunny, there ain't no Santa Claus, there ain't no Superman.'
Linebacker Danny Trevathan added that Newton was 'playing for himself' and 'that's the way he is.'
The Panthers' 14-point loss marked a remarkable upset in a near-perfect season that saw them go 15-1 in regular games before beating the Seahawks and cruising past the Arizona Cardinals with a record-breaking Championship score.
For Newton, the disappointment came just a day after he was named NFL Most Valuable Player by a landslide vote.
A nationwide panel of 50 sports writers and broadcasters who regularly cover the league were asked to name the recipient of the award, with 48 voting for Newton.
Accepting the award, he said: 'It means so much, but not just for myself. To be the first person in Panthers history to win it – that's what I'm most proud about.