Millie McCoy and Christine McCoy (July 11, 1851 – October 8, 1912) were African American conjoined twins who went by the stage names "The Carolina Twins", "The Two-Headed Nightingale" and "The Eighth Wonder of the World."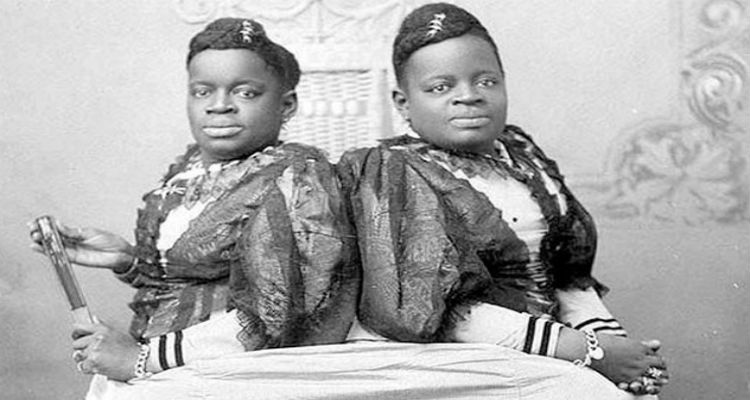 Millie and Christine were born on July 11, 1851, to Jacob and Monemia McKoy who were enslaved by a North Carolina blacksmith, Jabez McKay. The McKay farm was near the town of Whiteville, North Carolina, which resulted in the girls being referred to as The Carolina Twins. Prior to the sisters' birth, their mother had borne seven other children, five boys and two girls, all of ordinary size and form. Both girls were remarkably healthy although Millie would always remain slightly smaller. Each sister had two arms and two legs, but they were connected at the lower spine and shared one pelvis. Between the ages of 10 months and 6 years of age, the twins were sold at least three times (legally and illegally) and exhibited throughout the United States and England.
McKay, who was concerned whether the twin sisters would be productive and frustrated when visitors flooded his farm to view their unusual anatomy, eventually sold Millie and Christine for $1,000 to a showman interested in exhibiting them. Millie and Christine ended up in the possession of Joseph Pearson Smith, who hired them out to various road shows. Millie and Christine also appeared in P.T. Barnum's famed American Museum in New York City. The twins were kidnapped and taken to England by one of the men responsible for exhibiting them, but Smith eventually found the girls and, with their mother, sued to regain custody. He won this suit, and the twins returned to North Carolina.
Smith's wife taught Millie and Christine how to read, write, sing, dance, and play the piano; she also taught them to deliver recitations in German and French. The sisters became fluent in five languages and were accomplished pianists, singers, and dancers. They were frequently billed as "The Two-Headed Nightingale" after their beautiful singing voices.
After the Civil War, the twins decided to remain with the Smiths. They continued to appear widely for nearly thirty years, even returning to England in 1871, where they performed for Queen Victoria. In 1869, a biography on the twins, titled History and Medical Description of the Two-Headed Girl, was sold during their public appearances. In the 1880s, the sisters joined Barnum's traveling circus. After a successful thirty-plus year career, the sisters stopped performing in shows and moved back to the farm where they were born, which their father had bought from Jabez McKay and left to them.
Throughout their career and retirement, Millie and Christine gave financial support to Black schools and churches.
On October 8, 1912, Millie died of tuberculosis. Doctors gave Christine morphine to help end her life quickly and painlessly and she died 12 hours after her sister. They were buried in unmarked graves but in 1969 they were moved to a cemetery in Whiteville.