SAO PAULO, Brazil — Brazilian Samba legend Elza Soares once said that "the cheapest meat in the market is the black one." This same 'meat', once beaten and rejected, was the person who brought Brazil its first gold medal of the 2016 Olympic Games in Rio de Janeiro.
It is a medal Brazil does not deserve, and one that came from a struggle that started much earlier than the judo match that happened Monday, August 8th.
It was a win like no other.
Rafaela Silva is a black woman born in the Cidade de Deus (City of God), a favela located in western Rio de Janeiro. She is part of the most marginalized group in the Brazilian population. She is an inspiration for all those girls and boys who always heard "no" as the first response and understood their lack of opportunities as an absolute and inviolable rule in Brazil.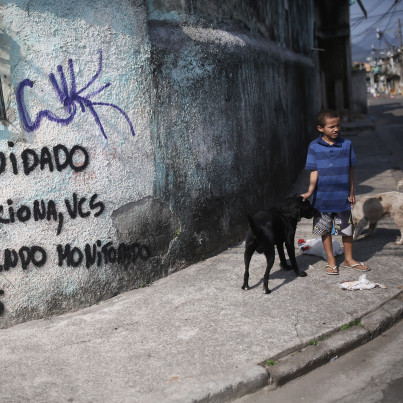 City of God, a favela in western Rio de Janeiro, has been marred by crime, violence and drugs.
Born in 1992, Rafaela was raised in a favela, she first showed interest in soccer, yet sexism was the chief obstacle that would stop her from practicing the sport, as there were only soccer classes for boys in her community.
Concerned about her future and understanding their daughter's passion for sports, her parents enrolled her, along with her sister, in judo classes at the Instituto Reação — a project created in the City of God by former judo athlete Flávio Canto.
It was there that Rafaela found her gift for judo. To improve her skills in judo, Rafaela had to resort to Bolsa Pódio, the federal government program that encourages athletic participation with a monthly salary. At the same time, she joined the Brazilian Navy and she is now a Third Sergeant.
She has faced countless obstacles, injustices, and oppression in her young life. But the judo athlete showed incredible courage to overcome everything on her way to a win gold in her hometown's Olympic Games.
In 2008, when Rafaela was just 16, she won one of the stages of the Judo World Cup and became the Under-20 World Champion. Three years later she won a silver medal at the Pan American Games in Mexico. But what really changed Rafaela's life was an episode that took place in 2012 during the London Olympics. She was disqualified for an illegal hold during her second round match.
She not only had to deal with her own frustration, but she also suffered racist and sexist attacks from Brazilians at the time, which impacted her psychological health.
After that episode, Rafaela suffered from depression and even thought about quitting judo entirely. For months she didn't leave her bed.
With the help and support of her family, her partner and her coach, Geraldo Bernardes, the athlete overcame her obstacles. She beat her trauma and kept fighting, improving her skills. It didn't take too long for the results to come, in April 2013 she won gold at the Pan American Judo championship and four months later Rafaela became the first Brazilian to be the world champion of the sport.
In the 2016 Olympics, Rafaela showed her strength once more, with determination and confidence alongside her fellow female Brazilian athletes. Proving once and for all that our female athletes deserve our attention and respect.
Enough with the argument that there is no place for women in sports. Enough with the idea that poor people cannot be Olympic champions. Enough with racism that says some sports are not for black people.
Rafaela Silva changed history with her historic victory. In the final match, she beat Sumiya Dorjsuren from Mongolia, the world's No. 1 ranked fighter in their weight class.

And who was watching her at the Olympic Arena? Sadly the audience was not filled with her fellow residents from the City of God favela. Instead, the people in attendance were part of a privileged class, those who can afford expensive tickets to watch the Olympic Games live, those who are part of the elite and the white middle class of Brazil.
In order to have a few family members attending the event and supporting her, Rafaela paid for the tickets on her own. Her family had to take a bus that transported them from the fringes of society to the city's center stage.
The people cheering for her may have been predominantly white, but the strength and brilliance she exemplified in the arena was born out of her blackness.
To be specific: a black, gay woman, i.e. an outsider in everyday Brazilian life. These three characteristics have brought many challenges to this amazing athlete's doorstep, especially in an unequal and oppressive society like Brazil.
Rafaela Silva reminds us that young, poor people need help and public policies that look after them. We should take care of them, encourage them and open doors for them.
She also reminds us that the favelas exist with incredible people so often forgotten.
She had the chance to win a gold medal in her hometown. The same place from which many sought to humiliate her in 2012, when she was viciously called "monkey," in an act of pure racism.
Apologies will never be enough, but today Brazil bows to her strength and unique ability.
She is a force that gives us a sip of life, a breath of fresh air, and new hope for those who see themselves in her radiance.
Rafaela's Olympic victory shows us how to overcome hatred, and how to follow our path even if the world says that this is not our place. With her struggle, Rafaela tells us: "Keep resisting, don't give up."
Source: Huffington Post