First Black Child to Integrate Her New Orleans School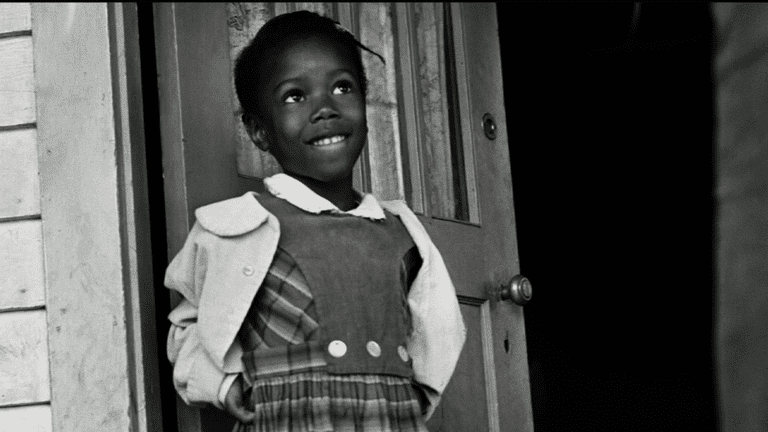 Ruby Bridges, the subject of an iconic painting by Norman Rockwell, was only six years old when she received national attention for bravely desegregating an elementary school in New Orleans, Louisiana, becoming a civil rights hero as a very young child.
FIRST YEARS
Ruby Nell Bridges was born in a cabin in Tylertown, Mississippi, on September 8, 1954. Ruby Bridges' mother, Lucille Bridges, was the daughter of sharecroppers, and had little education because she needed to work in the fields.
She had worked in the fields with her husband, Abon Bridges, and father-in-law, until the family moved to New Orleans. Lucille worked night shifts so she could take care of her family during the day. Abon Bridges worked as a gas station attendant.
DESEGREGATION
In 1954, just four months before Ruby was born, the Supreme Court held that segregation by law in public schools was a violation of the Fourteenth Amendment, and thus unconstitutional. The decision, Brown v. Board of Education, didn't mean immediate change. Schools in those states – mostly the South – where segregation was enforced by law, often resisted integration. New Orleans was no different.
Ruby Bridges had attended an all-black school for kindergarten, but as the next school year began, the New Orleans schools were being forced to admit black students to formerly all-white schools. Ruby was one of six black girls in kindergarten who were chosen to be the first such students.
The students had been given both educational and psychological tests to be sure that they could succeed.
Her family was not sure that they wanted their daughter to be subjected to the response that was clearly going to happen upon Ruby's entering an otherwise all-white school. Her mother became convinced that it would improve her educational achievement, and talked Ruby's father into taking the risk, not only for Ruby, but "for all black children."
REACTION
On that November morning in 1960, Ruby was the only black child assigned to the William Frantz Elementary School. The first day, a crowd shouting angrily surrounded the school. Ruby and her mother entered the school, with the help of four federal marshals. The two of them sat in the principal's office all day.
By the second day, all the white families with children in that first grade class had pulled their children from the school. After Ruby's mother and the four marshals escorted Ruby into the school again, Ruby's teacher brought her into the otherwise-empty classroom.
The teacher who was supposed to teach the first grade class Ruby would enter had resigned rather than teach an African American child. Barbara Henry had been called to take over the class; though she did not know that her class would be one that was integrated, she supported that action.
The third day, Ruby's mother had to return to work, so Ruby came to school with the marshals. Barbara Henry, that day and the rest of the year, taught Ruby as a class of one. She did not allow Ruby to play on the playground, out of fear for her safety. She did not allow Ruby to eat in the cafeteria, for fear she'd be poisoned.
In later years, one of the marshals would remember "she showed a lot of courage. She never cried. She didn't whimper. She just marched along like a little soldier."
The reaction went beyond the school. Ruby's father was fired after the white community threatened to stop giving the station their business, and was mostly without work for five years. Her paternal grandparents were forced off their farm. Ruby's parents divorced when she was twelve. The African American community stepped in to support the Bridges family, finding a new job for Ruby's father and finding babysitters for the four younger siblings.
Ruby found a supportive counselor in child psychologist Robert Coles. He had seen the news coverage and admired her courage, and arranged to interview her and include her in a study of the children who were the first African Americans to desegregate schools.
He became a long-term counselor, mentor, and friend. Her story was included in his 1964 classic Children of Crises: A Study of Courage and Fear and his 1986 book The Moral Life of Children.
National press and television covered the event, bringing the image of the little girl with federal marshals into public consciousness. Norman Rockwell created an illustration of that moment for a 1964 Look magazine cover, titling it "The Problem We All Live With."
LATER SCHOOL YEARS
The following year, more protests started again. More African American students started attending William Frantz Elementary, and white students returned. Barbara Henry, Ruby's first grade teacher, was asked to leave the school, and she moved to Boston. Otherwise, Ruby found the rest of her school years, in integrated schools, far less dramatic.
ADULT YEARS
Bridges graduated from an integrated high school. She went to work as a travel agent. She married Malcolm Hall, and they had four sons.
When her youngest brother was killed in 1993 in a shooting, Ruby took care of his four girls. By that time, with neighborhood change and white flight, the neighborhood around William Frantz school was mostly African American, and the school had become segregated again, poor and black. Because her nieces attended that school, Ruby returned as a volunteer, and then founded the Ruby Bridges Foundation to help involve parents in their children's education.
Ruby wrote of her own experiences in 1999 in Through My Eyes and in 2009 in I Am Ruby Bridges. She won the Carter G. Woodson Book Award for Through My Eyes.
In 1995, Robert Coles wrote a biography of Ruby for children, The Story of Ruby Bridges, and this brought Bridges back into the public eye. Reunited with Barbara Henry in 1995 on the Oprah Winfrey Show, Ruby included Henry in her foundation work and in joint speaking appearances.
Ruby reflected on the role that Henry played in her life, and Henry on the role Ruby played in hers, calling each other a hero. Ruby modeled courage, while Henry gave support and taught reading, a lifelong love of Ruby's.
Henry had been an important counterbalance to the other white people outside the school.
In 2001, Ruby Bridges was honored with a Presidential Citizens Medal. In 2010, the U.S. House of Representatives honored her courage with a resolution celebrating the 50th anniversary of her first grade integration. In 2001, she visited the White House and President Obama, where she saw the prominent display of Norman Rockwell's painting The Problem We All Live With, which had so long before been featured on Look magazine. President Obama told her "I probably wouldn't be here" without actions that she and others had taken in the civil rights era.
She remained a believer in the value of integrated education and in working to end racism.