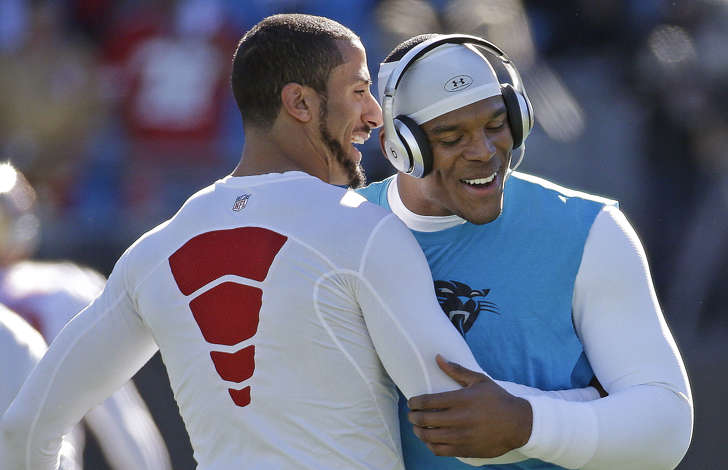 © John Bazemore/AP San Francisco 49ers quarterback Colin Kaepernick, left and Carolina Panthers quarterback Cam Newton embrace before the first half of a divisional playoff NFL football game, Sunday, Jan. 12, 2014, in Charlotte, N.C.
I may not think Cam Newton is an MVP candidate, but I certainly think he's better thanColin Kaepernick. No, I know he's better than Colin Kaepernick.
If you were on Twitter yesterday, you may have seen an image comparing the two quarterbacks based on standard box score statistics. If you missed it, you can peep it below.
One's an MVP candidate. The other is benched. I'm just gonna leave this right here. pic.twitter.com/D6oRLkv3vf

— Marc Istook (@MarcIstookNFL) November 3, 2015
Marc Istook, who sent the initial tweet out with this image, said nothing regarding whether or not Newton was as "bad" as Kaepernick, or if Kaepernick was as "good" as Newton. And those are two very different things. But the juxtaposition here tells us that the two are being compared in some way, when they shouldn't be.
The reason I'm even writing about this is because we talk about this topic over and over again on numberFire: box score statistics can, and often times will, be misleading. That's why we use Net Expected Points (NEP), which measures what happens on the field based on field position and down-and-distance scenarios. After all, a 15-yard gain on 3rd-and-10 is much different than a 15-yard gain on 3rd-and-20. One results in a first down, while the other results in a field goal or punt.
The graphic above is actually really interesting at face value, especially considering we live in a world where the most accepted way of viewing quarterback statistics is through the lens of yards, touchdowns, and interceptions. The immediate issue, though, is that Newton has played one fewer game than Kaepernick this season, meaning those cumulative numbers — yards and interceptions — are skewed based on an additional game being played.
Even still, Kaepernick has the higher quarterback rating, per the graphic, and a higher completion percentage. Is there a case that he's the better quarterback?
No, there's not. Pinpointing individual statistic to latch onto is fun and all, but it doesn't give you a comprehensive look at what's going on. And I'm not even talking about personnel (yet), I'm simply speaking to how these numbers are being accumulated, and how these individual performances are impacting team play.
According to our Passing Net Expected Points metric, Cam Newton has a 16.36 total this season, which ranks 20th of the 33 quarterbacks with 100 or more drop backs. On a per drop back basis, he ranks 19th. At a high level, this is a key reason I don't see him as an MVP candidate, but that's beside the point.
Newton also has a Success Rate — or percentage of positive plays made through the air — of 43.67%, which is fifth worst among the 33 passers in the subset.
To say Newton has posted good passing numbers would be foolish. But to think Kaepernick's are on the same level would be, too.
This season, Kap has a better Passing NEP than only Ryan Mallett — who's not even on a team anymore — and Nick Foles. And within the 33 quarterbacks mentioned above, Kaepernick's 39.1% Success Rate ranks ahead of only those two passers as well.
This rate really isn't good. Since 2000, we've seen 673 instances where a quarterback dropped back to pass at least 100 times. A 39.1% Success Rate ranks in the 11th percentile, and that's during a pass-friendly era.
So while Newton hasn't had a stellar passing campaign, let's not pretend he's on the same level as Kaepernick.
And that doesn't even factor in rushing, where Newton has added more than four points over what Kaepernick has with his legs, something that's significant when you consider running the ball is far less effective compared to passing it. On a per rush basis, too, despite any yards per carry stat you may find, Newton is adding 0.04 points more with his legs with each tote versus Kaepernick. In 2015 running back terms, that's the difference between a healthy Le'Veon Bell and Carlos Hyde.
Like I said, this doesn't even factor in personnel. The fact that Newton has his offense ranked 11th in schedule-adjusted NEP when Ted Ginn Jr. and Philly Brown are his top wideouts is impressive. Kaepernick has Anquan Boldin and Torrey Smith, and his offense ranks 27th in schedule-adjusted NEP. The Panthers' passing offense is 20th, while the 49ers' ranks 26th.
Whether or not Kaepernick deserved to be benched is up for debate. What's not up for debate is whether Cam Newton has played similarly. Because he hasn't.