Clark Kent. Bruce Wayne. Peter Parker. Steve Rogers. Tony Stark.
T'Challa.
That final name, the one not like the others, belongs to Black Panther, a scene-stealing new addition to Marvel's movies, star of this year's biggest-selling comic book and, of course, the first mainstream black superhero.
He's also a big part of a concerted effort by comic book companies to better reflect the times and their increasingly diverse fans.
"It may be that a majority of superheroes are white males but that's because they used to all be white males." — Neal Adams.
Created by legends Stan Lee and Jack Kirby back in 1966 – a few months before the Black Panther Party was founded – T'Challa was both a costumed superhero and king of the technologically advanced, tribally structured African nation of Wakanda.
The first issue of the character's 50th anniversary relaunch sold out its initial 300,000 copies within days of its April debut, doubling the sales of a typical chart-topper.

What helped Black Panther fly off the shelves was that it marked the debut of journalist and author Ta-Nehisi Coates, who has joked about following up his National Book Award and MacArthur Genius Grant for Between the World and Meby writing a Marvel comic.
Landing Coates, a lifelong Marvel fan, was a coup as the revered black intellectual laid some solid comic book groundwork for actor Chadwick Boseman's acclaimed cinematic debut as the character in "Captain America: Civil War." He also features in the eventual 2018 solo film, which boasts a majority black cast including Michael B. Jordan and Lupita Nyong'o.
Alongside Black Panther, the X-Men were another Stan Lee/Jack Kirby creation to arrive during the 1960s civil rights era, and were also a reaction to this early societal push for progress. The 1963-created comic's hero and anti-hero, Professor X and Magneto, were (very) rough analogues to Martin Luther King and Malcolm X, respectively, and the treatment of mutants was informed by the racial discrimination of the time.
When a second lineup was launched a few years later, it introduced Storm, a Kenyan mutant who could control the weather. She would become the team's mohawk-adorned leader and one of the Marvel's most beloved characters, as well as its most prominent woman of colour.
"I wanted them to be diverse," Stan Lee told a crowd at a 2013 comic convention. "The whole underlying principal of the X-Men was to try to be an anti-bigotry story to show there's good in every person."
Half a century later — as "X-Men: Apocalypse" enters movie theatres starring Storm, Japanese ninja Psylocke, Chinese-American teen Jubilee and two dudes covered in blue fur — they remain the most racially and gender balanced superhero team on film or the printed page.
But now they're no longer fighting alone as the current push for diversity — a hot-button issue everywhere from board rooms and police forces to video games andHollywood — has reached the superhero sphere.
The comic-based genre may define post-millennial pop culture but it was born between the 1930s and 1960s when nobody questioned why there weren't more female or minority characters.
"It may be that a majority of superheroes are white males," 74-year-old comic legend Neal Adams points out to The Huffington Post Canada during a break from signing his artwork at Toronto's Fan Expo comic convention. "But that's because they used toall be white males, except for Wonder Woman and Black Canary, and maybe one or two others. Now there are Spanish, Puerto Rican comic book superheroes, black superheroes, and women superheroes."

Since the successful 2011 launch of "ultimate" Spider-Man Miles Morales, a half-black, half-Hispanic teen who took up the Spidey mantle in an alternate universe, Marvel has been rectifying the diversity imbalance that comes from using decades-old characters that were mostly straight, white males.
Last year, African-American superhero Wilson, who Marvel movie fans know as Falcon, took on the role of the new Captain America while Jane Foster, Thor's long-running love interest, became the new Asgardian Thunder God when she proved worthy enough to pick up that mystical hammer.
And then the cover of All-New, All Different Avengers #4 even featured the pair making out in mid-air.

There was, of course, online backlash from readers opposed to any change, especially "politically correct" change driven by "social-justice warriors." The folks at Fox News took particular offense to the progressive politics fueling last fall's relaunch of "Captain America: Sam Wilson."
'Captain America is targeting conservatives': Fox News
Though the "Civil War" comic and film both feature the white Captain America, Steve Rogers, in literal rebellion against the United States government, what proved too much for the hosts of "Fox & Friends" was the comic with Sam Wilson battling anti-immigrant vigilantes spouting Trump-inspired talk of a "mighty wall" while kidnapping and murdering Mexican border-crossers.
"Instead of going against Hydra and the typical Captain America villains," groused co-host Clayton Morris, "he's going up against conservatives. That's his new enemy!"
In response, the comic book's writer Nick Spencer tweeted:
More than anything I'm just amazed how certain media coverage of Sam Wilson: Captain America #1 directly mirrors what we showed in the book.

— Nick Spencer (@nickspencer) October 19, 2015
Earlier this year, Miles Morales finally became a full-fledged webslinger in the main Marvel universe, even joining the Avengers, while Peter Parker acts as his mentor.
"This is the first time the public will have known that this new Spider-Man has brown skin. And the reaction to that will be something that Miles deals with," the character's creator Brian Michael Bendis, who is white with two black children, told Entertainment Weekly in February.
"I have children of colour and I see what they watch and I see what they read and I see how difficult it is for them to find something that isn't the sassy best friend on some Nick show or something. I made a determination to add positively into that part of our culture for little kids and adults and teenagers. There's stuff that isn't represented at all. I'm happy to be part of fixing that as much as I can, when the story allows."
Moving beyond nerdbros
"If you go to conventions and comic book stores, more and more female readers are emerging. They are starved for content and looking for content they can relate to," Axel Alonso, Marvel's editor-in-chief, told the Washington Post in 2014.
The interview was part of an initiative to promote female superheroes who "are not the big-breasted, scantily clad women that perhaps have become the comic-book cliché. They are women with rich interior lives, interesting careers and complicated families who are defined by many things — least of all their looks."

At the time, Nate Silver's stats site FiveThirtyEight.com reported that only about one-quarter of comic book characters were female and that the rise of digital comics is attracting more women readers who may have been intimidated by the nerdbro vibe of comic book stores.
"There is still a weird vibe when a woman walks into a comic shop. I have experienced it," a female fan told The Establishment in a feature headlined "Women Are The Changing Face Of Comic Fandom."
"The people who work there are usually men and tend to think women don't know what they're looking for, or are just picking up something for a guy. It's changing, but slowly."
The effort to appeal to this growing demo has been paying off. The new Thor has beenoutselling the previous male version while lashing out at anti-feminist trolls in the book itself.
The current issues are even dealing with the character's battle with breast cancer while the new Spider-Woman series is about a superhero-as-single mom. The progress from this controversial sexist cover in 2014…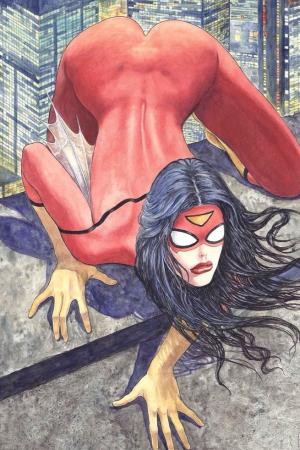 …to this more recent cover from last fall of Spider-Woman pregnant is, to pardon the pun, overdue.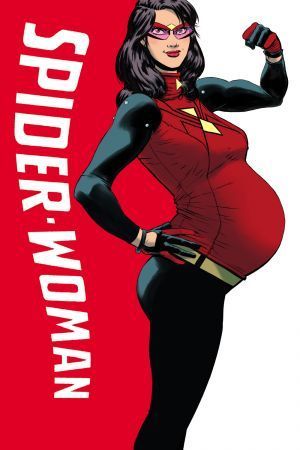 Marvel also launched all-female X-Men and Avengers teams a couple years back, and after rebooting all their books last fall, Vice reported 15 of the 45 initial new covers featured a woman or a person of color. Female characters X-23 and Kate Bishop have now stepped into the roles of Wolverine and Hawkeye, respectively, while Korean-American teen Amadeus Cho replaced Bruce Banner as the Hulk.
"Women are just as badass as men."
— Emily Wright
Meanwhile, DC's Bombshells, set in the Second World War and helmed by a female creative team and starring Batwoman, Wonder Woman and Supergirl, has been a high-flying hit that inspired this year's launches of new series headlined by Poison Ivy and Raven alongside ongoing Harley Quinn, Batgirl, Black Canary and Catwoman comics.
"At the end of the day, [diversity] was just critical for us," DC co-publisher Jim Lee told Vox. "This is something that we've been working on for years. We acknowledged that it was an issue. We could be doing a better job of it, and this is the first step toward that eventual goal."
More female characters bring in more female readers
"Women being in comics, oh my God it's empowering," explains Emily Wright, a Fan Expo attendee dressed as Poison Ivy. "Women are just as badass as men."
Proving Wright's point is Kamala Khan, the best new character to come out of this push. The Pakistani-American teen from New Jersey became Ms. Marvel and the first Muslim superhero to headline a book. (The first non-headlining character was Monet St. Croix, or M, a Bosnian Muslim member of the X-Men created in 1994.)
Ms. Marvel won a 2015 Hugo Award for best graphic story as well as the distinction of being the only comic at the time by Marvel or DC headlined by a woman of colour. It has continued racking up awards this year, including The Dwayne McDuffie Award for Diversity in Comics and "best series" at the 2016 Angouleme International Comic Book Festival, known as the Cannes of Comics.
"It's important to have a different viewpoint for each character so other people can relate to it. Even if it's something that you are not, you can see how another person had different experiences growing up, and it's a good way to understand someone else's culture," says Ian Herring, a Toronto-based colourist on Ms. Marvel, helmed by female Muslim scribe G. Willow Wilson.
"She's just portrayed as a fun-loving, easy-going normal person, and that's usually what most people are. So it's a lot easier to understand that rather than coming at it from a stereotypical point of view."
Herring says the series has an early Spider-Man vibe, with Khan as a geeky outsider who finds self-confidence in becoming a superhero.
"It's important to have a different viewpoint for each character so other people can relate to it … and it's a good way to understand someone else's culture."
— Ian Herring
The book has mass appeal, he says, but it's also joining an increasingly long list of comic books that are now speaking directly to female and minority readers who have too often been ignored in favour of appealing to white males.
"They're better reflecting the world that we live in. We're in Toronto, one of the most diverse cities on earth and now you're seeing comics reflecting that. It's just normal now. I think it feels like more of a legitimate movement than a one-off, and when people see it happening more and more places we can push it even further."
"It'll take a while for movies to catch up," he adds, "but I don't think they'll be too far behind as long as they're proven that they're successful and they have fans."
Marvel's movies not as progressive (yet)
Indeed, these issues persist in the Marvel Cinematic Universe. Black Widow continues to lack an announced solo film despite pivotal roles in the "Avengers" and "Captain America" movies — not to mention being played by superstar Scarlett Johansson. Though the protest flashmobs and hashtags have at least pushed Marvel movie boss Kevin Feige to declare he is "creatively and emotionally" committed to making one.
In the meantime, the company's first solo female movie will be "Captain Marvel" in 2019, making it the 21st MCU film. "Kevin Feige fought a mighty fight to get her on the schedule. So it's a start. You could say that should be a middle, but it's a start," "Avengers" director Joss Whedon recently told The Wrap, hinting he'd return to Marvel to helm a female superhero film like A-Force.
TV has been somewhat better on this front. While "Daredevil," "Flash" and "Arrow" are still dominated by dudes, "Agents of S.H.I.E.L.D." is balanced and "Jessica Jones," "Agent Carter" and "Supergirl" all tell uniquely female stories that deal with issues like systemic sexism and sexual abuse as well as ass-kicking.
But there is a reason why this has been an uphill battle despite women being half the population.
"A lot of these characters, especially the superheroes, were created around wartime and a lot of our wartime heroes were male dominated. No women in the army," says Marcus To, a freelance Toronto artist best known for his work on DC's Batman family of books like "Red Robin," "The Huntress" and "Batwing."
He adds that the company's were also making what they thought would be popular.
"There are a lot of preconceived notions that we still have to this day that girls have to like pink stuff and boys like blue stuff. And that goes along with comic books, [the idea] that girls don't like comic books, only boys like comic books," he says. "But there are communities of people that are demanding stuff now, so we just have to make stuff for them."

To's presence on Artist Alley, the section of Fan Expo where creators engage with fans, reveals that the diversity problem is not only on the printed page. Most of the creators are still white males, and it will take more hires like Coates, Wilson and To to ensure that diverse artists, writers and editors are making the comics, too.
Bleedingcool.com reported in 2014 that 79 per cent of comic book creatives were white and 5.6 per cent were female. By the following year, white folks had only ticked down a couple per cent but female creators actually reached new heights this spring, reaching 18 per cent at Marvel and 13 per cent at DC.
The pale, maleness of comic book creation is a state of affairs that goes back to the beginning as the industry was developed by white males for white males because that's who could afford to buy their wares.
"At the time, white America was the only group that had as much disposable income as it did," To adds. "Now that the wages have started to level off, and people are starting to make equal money — obviously, not everybody but starting to — women, immigrants and other types of people have disposable income they can spend on these types of things so I do think there's a big demand for other types of heroes."
Neal Adams has seen this growth first-hand, and has been pivotal in promoting that progressive change by co-creating John Stewart, a black Green Lantern who became the back-up for Hal Jordan.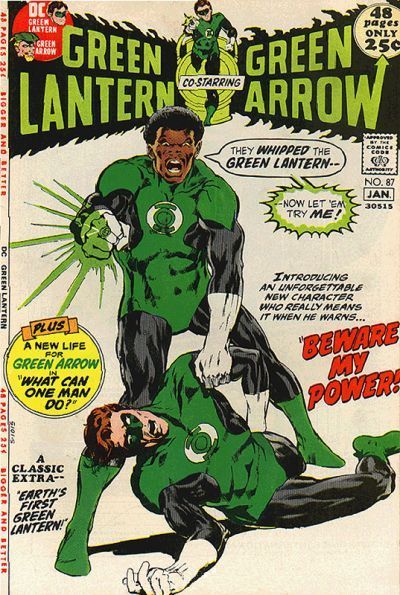 "I created the first black superhero who was not a gangbanger or an African chief but was rather a college graduate and a professional, which I think is a big accomplishment," Adams says, throwing some shade at Luke Cage, a blaxploitation-era superhero who will be starring in his own Netflix series in September, and in Black Panther.
Race drove the plot from day one, with Jordan initially objecting because of John Stewart's alleged anti-authority attitude and because being black in America meant he "obviously would have a chip on his shoulder bigger than the rock of Gibraltar."
"There's a bad thing that we have an America and that is a slow, sticky way that we get out of prejudice, we get out of it very very slowly," Adams says. "It's like walking through tar. But we're getting out, things are changing. John Stewart is an example of that."
Stewart was the Green Lantern from the 2000s "Justice League" cartoons, meaning he's the default for younger generations. Same goes for Nick Fury, a white character dating back to WWII who was reimagined as Samuel L. Jackson in the movies.
"Right now they're still trying to introduce LGBT superheroes into the comic books," points out Fan Expo attendee Gemini Lam. "Iceman, he was predominantly into women but now in this era he came out as a gay character which was quite interesting from my standpoint. I never read the old comics so him coming out as a gay character opened up new options for him, it made him more interesting compared to what he was before."
These waters were tested back in 2003 when Iceman "came out" as a mutant in the movie "X2" — highlighting the metaphor, his parents even asked "have you tried notbeing a mutant?" — but as Entertainment Weekly reported in their recent "#SuperheroesSoStraight" feature, that's the close as superhero films have gotten to including LGBT characters.
TV shows, like "Arrow," "The Flash" and "Jessica Jones," have been more inclusive but are still far behind the progress happening on the printed page.
The comic world's first openly gay character was Northstar, a member of the Canadian superhero team Alpha Fight who was created in 1979, came out in 1992 and married his husband Kyle Jinadu in a landmark Astonishing X-Men comic in 2012.
That year also saw another Green Lantern, Alan Scott, kissing his boyfriend. "He's very much the character he was. He's still the pinnacle of bravery and idealism," writer James Robinson told the New York Post at the time. "He's also gay."
More recently DC's Catwoman came out as bisexual, Batwoman is a lesbian and Lord Fanny is a trans woman while Midnighter became the first gay superhero to headline his own book. Meanwhile, Marvel introduced a trans female angel named Sera, Deadpool is famously "pansexual," Hulkling and Wiccan are teen boys in love and the plot of the new Black Panther is fueled in large part by a lesbian romance.
And, in perhaps the most obvious reveal of all time, the April-released Wonder Woman: Earth One reboots her origin story, giving the Amazonian princess a female lover, which just makes. As Wonder Woman pointed out to Superman whenofficiating a same-sex marriage in a 2015 comic: "Clark, my country is all women. To us, it's not 'gay' marriage. It's just marriage."
"Times have changed," Adams says with a grin, looking around at the comic book fans of every race, gender, identity and orientation all crowded onto the Fan Expo convention floor by the tens of thousands.
"And as the audience changes, so do the superheroes."