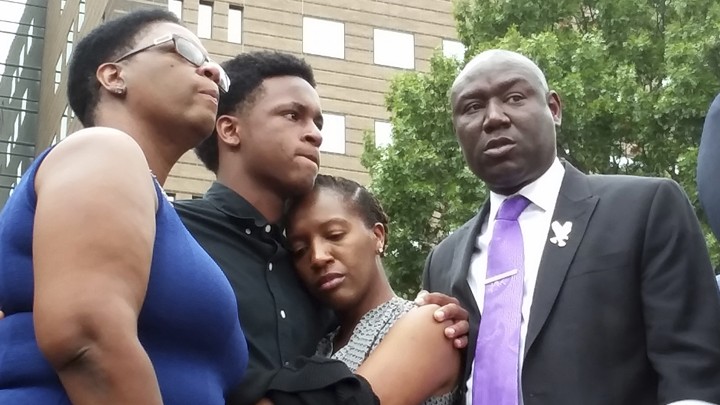 The grieving family of Botham Jean, flanked on the right by its lawyer, Benjamin Crump, in Dallas on September 10, 2018
The city of Dallas, Texas, has been rocked by news of an off-duty police officer shooting a black man in his own apartment. On September 6, the off-duty police officer Amber Guyger entered Botham Jean's apartment and shot him dead. She has since claimed—after a number of shifting accounts—that she mistakenly thought she was entering her own apartment and believed it was being burglarized.
Most people reacted to the news of the shooting with outrage—regardless of the circumstances, shooting an innocent man dead in his own home is a horrible tragedy. Conservatives such as National Review's David French have arguedthat Guyger "committed a crime by forcing open Jean's door, deliberately took aim, and killed him." Commentary's Sohrab Ahmari observed, "Even within the four walls of his castle, his home, Jean was not safe from undue police violence."
The National Rifle Association's spokesperson sees the incident a bit differently. Dana Loesch argued that Jean would still be alive had he been armed and shot Guyger instead. "I don't think there's any context that the actions would have been justified," Loesch acknowledged, but asserted that "this could have been very different if Botham Jean had been, say he was a law-abiding gun owner and he saw somebody coming into his apartment." At a time when many conservative writers were expressing empathy for Jean and hoping that justice would be served, Loesch's disciplined adherence to the NRA's bottom line stands out.