Who knew that one of the hardest parenting tests is trying to get through the grocery store line without being pressured to buy candy from a seven year-old? In today's culture, it is easy to believe that the more we spend on our children, the more we show our love. But, believe it or not, out of 6000 parents recently surveyed, 60 percent feel their kids are "a little" or "a lot"spoiled.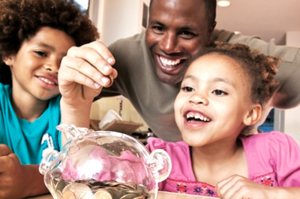 Here are some tips to help parents cut back spending, while still showing the love:
Take advantage of free activities in your community: Go to a park with a great play structure; regularly visit your library; attend your local "Free Movies or Concerts in the Park;" take a stroll through your local farmers' market; take advantage of street festivals; go on a hike or bike ride.

Dress kids in second-hand clothing or do a clothing swap: Kids grow fast so consider visiting your local consignment shops or trading clothes with other families. Saving a few dollars here can leave you with more money to spend on important safety products such as car seats and cribs.

Don't overspend on toys and trinkets: Kids often get bored or easily forget about toys they own. Buy toys at a garage sale or wait to make purchases only at birthdays and holidays.

Cut your child's hair: It's scary the first time, but you can easily learn how to cut your child's hair when they are young. They will probably request a salon cut as they get older.

Get creative: A "Family Night In" can range from a living room picnic in front of the television to camping in the backyard. Make "Movie Night" special with homemade seasoned popcornor a meal to match the movie's theme. Throw a Family Dance or Game Night and invite a handful of other families to join in some potluck fun.

Bring your own food and snacks: Never leave home without a bag of goodies and drinks for your kids. Pack some fruit, cookies, crackers and water. Not only will this save you money, but it's a good way to keep them eating healthy.

Set an example: Comparison shop with your kids; save loose change in a fish bowl; show restrain when making purchases; live within your means.

Just say "no:" As painful as this may feel, get into the habit of saying "no" when your child asks for something. Initially, it will be a war of wills. But, after some time, your child will learn that they cannot get everything they ask for.

Talk to your kids about money: Make talking about money an easy, everyday conversation. Kids tend to tune out heavy-handed, serious lectures. Instead, consider raising their money "awareness" by: pointing out prices on a menu; comparing prices at a supermarket; educating them about the "costs of living" such as paying for a house, car, and utilities;negotiating an allowance; writing a family budget; or planning a vacation together.
If you've ever wondered how much it costs to raise a child until they are 18, check out thiscalculator.