Thousands of police officers in Baltimore, Maryland threw tear gas and fired rubber bullets as they marched on about 100 defiant protesters who refused to go home and heed a city-wide curfew Tuesday night.
Maryland Governor Larry Hogan ordered 2,000 National Guardsmen and 1,000 law enforcement officers onto the streets to head off a repeat of the violence that erupted Monday night in some of the city's poorest neighborhoods in response to the death 25-year-old local man Freddie Gray.
About twenty minutes after curfew, a line of police in riot armor started slowing marching on the remaining protesters, who responded by throwing plastic and glass bottles and laying down in the street to block the cops in a show of civil disobedience.
'This combined force will not tolerate violence or looting,' Governor Hogan warned.
The small crowd started to disperse though when police began throwing smoke bombs and firing rubber batons. When a few of the protesters still refused to move, police fired a volley of at least four cans of tear gas into the crowd. An ABC reporter was engulfed by a cloud of gas and had to be told to run as tears streamed from her face.
By midnight, the streets were mostly cleared when Baltimore Police Commissioner Anthony Batts held a press conference. Batts said that 10 people had been arrested that day – two for looting, one for disorderly conduct and seven for violating curfew. Batts went on to say that the relatively low amount of arrests were evidence that the curfew worked.
'One of the biggest thing is citizens are safe, the city is stable and we hope to keep it that way,' Batts said.
The only people in Baltimore allowed to be out on the streets Tuesday night were members of the media, and those going to work or experiencing a medical emergency.
Shortly after curfew Tuesday night, a group of about 100 protesters and a large number of journalists remained in the streets.
Law enforcement gave the group 20 extra minutes to leave the area, but when they refused to move, the officers started moving in a line, directing them out of the area.
At first, the officers shot smoke canisters which proved ineffective in the wind and due to protesters throwing them right back at their ranks.
One protester accidentally started a small fire when he threw a cannister back at police and it hit a tree outside a public library.
Luckily the flames were put out quickly and the library will be open tomorrow.
When the small contingent of protesters still remained in the street, officers started throwing tear gas and pelting protesters with rubber bullets and pellets filled with pepper spray – which seemed to disperse the remaining rioters from the street.
In a separate incident in south Baltimore, a small group of protesters injured a police officer by throwing a rock and they were promptly taken into custody.
Before curfew, locals tried to calm down some of the more agitated residents and send them home. A local pastor took to a loudspeaker and told the crowds to clear the street so they could 'show the world' the real Baltimore.
'Let's show them we can disperse in peace. Let's continue to move towards home. Respect your brothers and sisters asking you to leave,' she said.
Just before the 10pm curfew Fox News host Geraldo Rivera walked into the crowd and was surrounded by angry protesters – in the middle of a live broadcast.
One young man got right in Rivera's face and told him: 'I want you to get out of Baltimore. You're not here for the death of Freddie Gray!'
The man, who was wearing a black hoodie, continued shouting at Rivera and refused to get out of his way.
Another woman shouted out: 'Stop making money from exploiting black people!'
Rivera had to walk out to the side of the crowd where he continued his broadcast.
Baltimore police spokesman Captain Eric Kowalczyk said police were using a variety of measures to inform the public about the curfew.
Shortly before the curfew was to go into effect he said that police in cruisers were driving through neighborhoods using their cars' public address systems to notify residents of the 10pm curfew. He said police were also broadcasting the message using a police helicopter. Kowalczyk said the city was also using its Reverse 911 system to notify residents of the curfew.
In a measure of how tense things were on Monday, the city was under a 10pm-5am emergency curfew. All public schools were closed. And the Baltimore Orioles canceled Tuesday night's game at Camden Yards and – in what may be a first in baseball's 145-year history – announced that Wednesday's game will be closed to the public.
The looting and rock and bottle-throwing by mostly black rioters broke out just hours after the funeral of Freddie Gray, a 25-year-old black man who suffered a fatal spinal cord injury while in police custody. It was the worst such violence in the U.S. since the unrest that erupted last year over the death of Michael Brown, the unarmed black 18-year-old shot by a white police officer in Ferguson, Missouri.
Political leaders and residents called the violence a tragedy for the city and lamented the damage done by the rioters to their own neighborhoods.
'The same community they say they care about, they're destroying. You can't have it both ways,' Mayor Stephanie Rawlings-Blake said.
Baltimore Police Commissioner Anthony Batts said: 'I had officers come up to me and say: "I was born and raised in this city. This makes me cry".'
But the rioting also brought out a sense of civic pride and responsibility in many Baltimore residents, with hundreds of volunteers turning out to sweep the streets of glass and other debris with brooms and trash bags donated by hardware stores.
Blanca Tapahuasco brought her three sons, ages 2 to 8, from another part of the city to help clean up the brick-and-pavement courtyard outside a looted CVS pharmacy in the hard-hit neighborhood where Gray was arrested.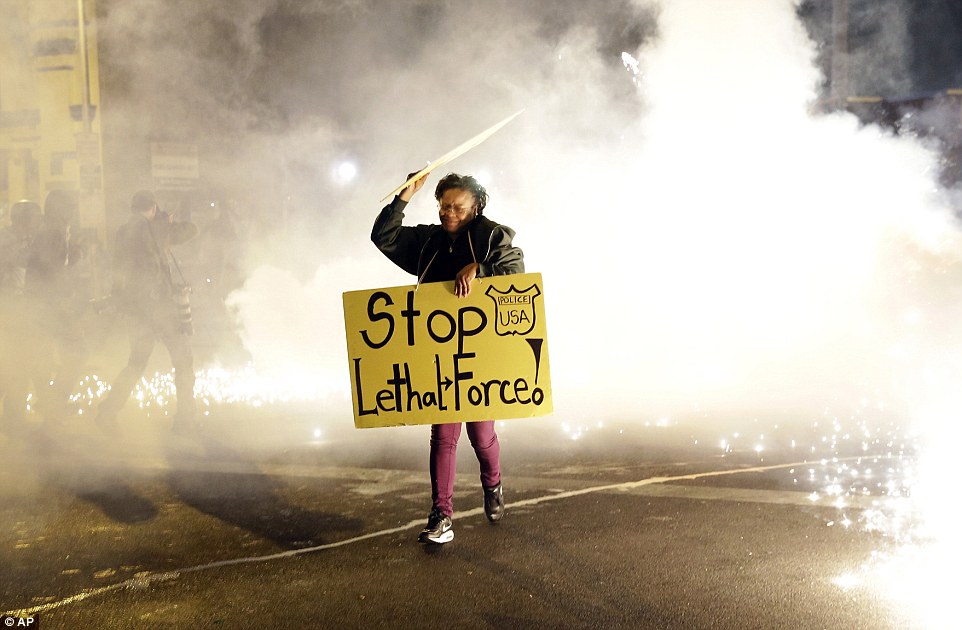 'We're helping the neighborhood build back up,' she said. 'This is an encouragement to them to know the rest of the city is not just looking on and wondering what to do.'
CVS store manager Haywood McMorris said the destruction didn't make sense: 'We work here, man. This is where we stand, and this is where people actually make a living.'
As the day wore on, police fielded rumors of would-be rioters gathering at various places in and around Baltimore, but as of late afternoon, only a few scattered arrests were reported.
The street corner where some of the worst violence occurred resembled a street festival. Musicians played in the intersection, surrounded by an appreciative crowd, street vendors hawked bottles of water, and the crowd largely ignored the line of police in riot gear stretched across West North Avenue.
Several hundred demonstrators also marched through the streets toward downtown Baltimore as the curfew drew near.