'The 24th' is based on the true story of a deadly 1917 race riot in Houston.
By Dwight Brown, NNPA News Wire Film Critic
Audiences can learn so much from historical events that are inspiring and sometimes just profound. When filmmakers choose the latter and decide to recreate a tragedy, it's a risky endeavor that doesn't always reward its audience.
The third Battalion of the all-Black Twenty-fourth United States Infantry Regiment consists of 156 soldiers stationed in Houston in 1917 during WWI. The troops are often harassed by bigoted white locals and even the Houston police. After a mishap and miscommunication, there is a riot. Four soldiers and 16 civilians are killed. A military trial ensues, 19 soldiers from the battalion are executed, and 41 receive life sentences.
Audiences looking for the next The Tuskegee Airmen or Red Tails should look elsewhere. This film's premise is filled with a despair that overpowers every other aspect. Thus, the onus is on the writers and director to bring this historical incident to life in an enlightening way that will hold an audience's attention. Oscar-winning screenwriter Kevin Willmott (BlacKkKlansman, Da 5 Bloods) and co-writer and lead actor Trai Byers jump into the deep end. They retell and film a very depressing event that goes from grim to grimmer to grimmest.
William Boston (Trai Byers, Empire) is a light-skinned, highly educated, and dapper-looking soldier, who is befriended by some of his fellow enlistees, like Big Joe (Bashir Salahuddin, GLOW). Others, however, envy him to the point of hate. A Private Walker (Mo McRae, Lee Daniels' The Butler) finds ways to pick fights with him. Even his sergeant Hayes (Mykelti Williamson, Fences) taunts him and is mercilessly vicious. The vitriol among the men puts them in a dubious place as they face the biggest crisis of their lives.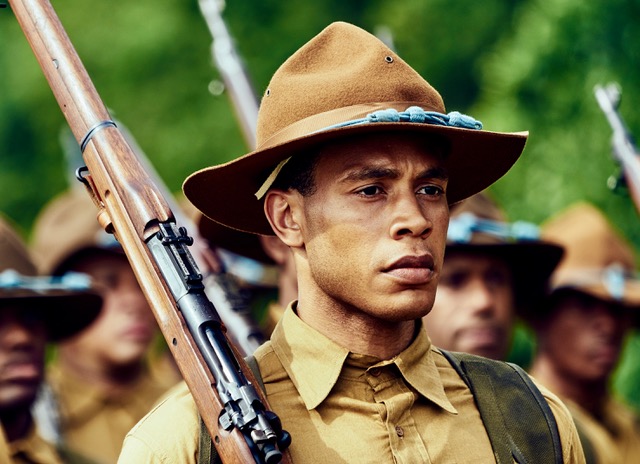 Empire star Trai Byers leads timely new film The 24th
There are two shining lights in Boston's life that provide a reprieve from taunts and misery: 1. His desire to make his people proud. Boston to his white commanding officer Col.Norton (Thomas Haden Church, Sideways): "I want to serve my country and raise the image of the colored man." 2. He falls in love with a local preacher's daughter named Marie (Aja Naomi King, The Birth of a Nation).
Back in the day, white people demeaning black people, or specifically back soldiers in the South, was a regular occurrence. Knowing that doesn't make witnessing it any less repulsive. Watching black soldiers humiliate each other, ignites a higher level of disgust. Their racial slurs and vindictiveness go on for way too long in this movie. So much so that it feels like the script is rubbing viewers' noses in hate speech and cruelty just for effect. It's a device that could make some audiences switch channels or turn off their TVs.
Also, if viewers have read any promotional info about the film, even just in TV promotional listings, they know things will not end well. Will they stick with this true tale? Was there another less revolting way to tell this story without being unfaithful to the real-life ordeal? That's up for debate.
Yes, there are parallels between what went on in 1917 and what's going on in 2020. But was this the best example? Yes, the men who died should not be forgotten, but was this the best vehicle?
And, if there is a lesson to be learned from the film, besides the sadistic racism heaped on black soldiers in the Jim Crow South, then it may be lost on most viewers. BlacKkKlansman was pretty sobering too. The language alone was disgusting, but in the end, you knew the Black man was getting over on the white racist, and you didn't have to watch Black people mistreat each other. Writer/director Nate Parker made a similar gamble with The Birth of a Nation, which chronicled the Nat Turner rebellion, also a tragedy. However, audiences walked away from that movie galvanized by the bravery of those in that conflict. The word galvanizing will likely never be associated with The 24th.
Director Willmott and cinematographer Brett Pawlak put the camera in the right places and light the subjects well. But not much more. Most scenes seem staged, stilted and posed. There is no fluid camera movement. That disappointment is offset by the handsome earth tones (art director Chuck Bludsworth) on view that stick to a palette of tan, brown, olive and greens, which complements the cast's complexions. Every actor looks good. The sets, from houses to tents to jails, are fine too (production designer Jonathan A. Carlson; set decorator Barbee S. Livingston). Ditto the costumes (Michael T. Boyd).
Overall the ensemble does a decent job, though some like to chew up the scenery (Williamson as the belligerent Sgt.; Tony Demil as one of the racists). The actors do as well as they can with a dialogue-heavy script. But try as they may, it feels like you're watching them in a soap opera with very few sets and little movement. Or a filmed theater piece that doesn't know how to become cinematic.
Too many characters talk about places, traumas and anecdotes from their pasts. Their recollections slow momentum and stymie the pacing (editor Mollie Goldstein) of a 1h 41min movie that tends to drag. If the viewer just witnessed a scene, the character doesn't have to regurgitate it in dialogue: Boston: "If you keep pushing people down, they will rise up." He says this not before the riot as a warning but after it's over. As if the character he's talking to and the audience couldn't figure that out.
Three moments stand out and leave a clue that Willmott may have some promise as a director: 1. Boston's confrontation with Sgt. Hayes is the film's best dramatic moment. 2. When the regiment spontaneously breaks into singing "Over There," it's heartwarming. 3. The very haunting, overhead visual shot of 12 open caskets with 12 dead soldiers is emotionally devastating. Bravo.
The tragic 1917 incident in Houston is a worthy subject that has substantial racial/social implications. It's a story that deserves to be told. But it deserves to be told well.
Available on Virtual Cinema, VOD or Digital.
Visit NNPA News Wire Film Critic Dwight Brown at DwightBrownInk.com and BlackPressUSA.com.