Classic hip hop this Saturday, Aug. 20, at the Urban Drinkery, 2184 9th Ave. S,  Ste. B, St. Petersburg, from 7-11 p.m.
BY J.A. JONES, Staff Writer
ST. PETERSBURG – Classic hip hop is on the menu at Urban Drinkery this Saturday, Aug. 20, as Black & Brown Productions presents "Elements of Hip Hop 2" with 4HMDJS, aka the Four Horsemen, a quartet of seasoned DJs playing old-school classics, house, and nonstop party hits.
The evening will feature music by the four masters of the wheels of steel: Ricardo Grant (DJR1), Prince Sherwood (DJ Grand Groove), Jerome Pittman (DJ Rome P) and David Ranger (DJ Supa Dave).
There will be performances by DJ Donnie Luv, Paxi Moore, DJ FABE, O.G. The Originaal, Hyfa Tha Prospect, and special guests such as Bruce Almighty. Sound set up for the event is provided by Groove Entertainment LLC. Urban Drinkery serves an assortment of delicious concoctions and provides a sophisticated open-air atmosphere perfect for sultry summer night enjoyment.
This is the second of what will be a series of musical events. "Elements of Hip Hop" is designed for the enjoyment of hip hop connoisseurs as well as up-and-coming students of the genre. Chris Milner of Black & Brown Productions and Ranger, aka DJ Supa Dave, shared about the event's mission and what attendees can look forward to.
"The Elements are peace, love, happiness, unity, and having fun," noted Ranger. "Old school hip hop incorporated [topics] about social injustice; we want to bring that back and preserve the culture and serve our economics."
'Essentials 1' featured Kalib Music, Nico Sweet, Paxi Moore, DJ Fab Rock, O.G. the Orginaal, and from Tampa, El Presidente, and Hyfa Tha Prospect. Ranger and Milner shared excitement that the Tampa artists brought residents from the city out with them and hope this will be the beginning of including more Tampa hip-hop fans and artists in the events.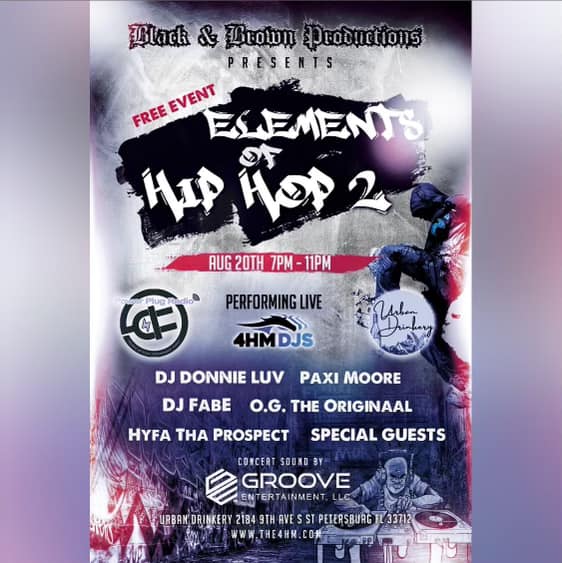 "More people are seeing the vision and want to be a part," stated Ranger. "We're giving everybody a little taste of what we grew up on because a lot of people get a different understanding of what hip hop is."
Ranger noted that the younger generation of hip hop listeners often only understand the culture as being what they watch in music videos. But, he added, "It wasn't just about the gangs, drugs, the shooting, and killing, and I got money and all of that. That wasn't what hip hop is. And that means a lot to me because for me seeing it at its early stages, I knew what it meant."
Ranger was born in New York City but has been in St. Pete long enough to remember when there was a lively and fun early hip hop scene in the city.
"Everybody came out. St. Petersburg used to have one of the biggest hip hop connections," he noted, recalling events in Bartlett Park, Childs Park, and Wildwood. "Thousands of people were out there playing music, enjoying ourselves. Everybody coming together. So, that's why this is what we want to bring back."
Milner of Black and Brown Productions added, "We want to bring back the fun aspect."  He recalled growing up in an area with similar urban problems to St. Pete, with the same elements as any city's Black hip hop culture, including graffiti, break-dancers and drug dealers. But events they were throwing back then were free parties for the community's enjoyment.
Milner spent some of his formative years in Philadelphia and recalled going back and forth, bringing some of the music culture with him as he traveled. He also spent time in Miami, working with artists like O.G. the Originaal, and ultimately was able to create a melting pot of influences in St. Pete.
"I see beauty in all hip hop," he added, noting the Ghetto (now Geto) Boys as an early example of southern hip hop that influenced him.
He gave props to the talent that came out of the west coast, ranging from NWA to the Pharcyde. Ranger was also adamant about acknowledging the inclusion of rap artists from all over the country, recalling the importance of Andre3000 of Outkast, stating in 1995 at the Source awards, "The South got something to say," which became one of the most memorable forecasts of the genre's future, along with the talent that blossomed from below the Mason-Dixon soon after.
"Outkast changed everything," he acknowledged, adding that soon after, the North was listening to the South "more than the South was listening to the South."
Black & Brown Productions and the 4 Horsemen plan on doing monthly "Elements of Hip Hop" shows and other cultural events that mix the art, fashion, and dance aspects of original hip hop culture.
Their goal is to preserve the essential connections between the pioneers of hip hop and b-boy and b-girl culture – as well as to honor and educate this generation on the musical geniuses whose work has influenced and been sampled by hip hop artists and producers repeatedly during the 40 plus year evolution of the genre.
"Hip Hop didn't start just with one thing in mind. It had a whole cultural thing: the way you dressed, the way you act, and you'd hear it in a song — whatever is inside is going to come out, no matter where you're from," noted Ranger.
Milner added that a key aspect of older hip-hop creators was respect and honoring the musical genius and traditions of the artists that came before – from James Brown to jazz artists. Both are concerned that today's youth have lost the importance of understanding and respecting how and why the culture got its start.
They hope their work to bring back the critical, restorative, and joyful "elements" that made the genre explode in popularity will help restore unity and empowerment among today's generation.
Visit Elements of Hip Hop on Facebook, and check out the 4 Horseman daily on Power Plug Radio from 1 to 5 p.m.