Ocoee, Fla., had many prominent Black residents before the Nov. 2, 1920 massacre. Not a single African-American dared live in Ocoee for 60 years until 1981.
 The Ocoee Massacre considered the "single bloodiest day in modern American political history," was a violent race riot that broke out on November 2, 1920. African-American-owned buildings and residences in northern Ocoee, a city in Orange County, Fla., were burned to the ground. The African-Americans residing in Ocoee who were not direct victims of the race riot were later driven out by threats or force. A total of 330 acres plus 48 city lots owned by 18 Black families living in Ocoee, Florida, were lost. In 2001, the land lost by the 18 Ocoee families, not including buildings now on it, is assessed by tax officials at more than $4.2 million, according to the AP report. Ocoee would then become an all-white town and remain as such "until sixty-one years later in 1981."
Ocoee was founded in the 1850s as a camp for laborers working the farms around the southern shores of Lake Apopka. By 1920, there were just over 1,000 residents, and almost half of them were African Americans. Two distinct Black communities developed in Ocoee. The southern Black community — known locally as the Baptist Quarters, which sprung up around the Friendship Baptist Church — was founded in 1896. The northern Black community is commonly known as the Methodist Quarters. Its namesake, Ocoee African Methodist Episcopal Church, held its first services in 1890.
Julius "July" Perry was a well-respected godfather of the northern Black community who served as a deacon in the church and the local labor leader. It was said that anyone seeking to employ Black laborers needed to speak with him first. Perry, an admired civil rights leader, encouraged young Blacks to be educated and stand up for themselves as first-class citizens.
Mose Norman was a well-known and prosperous man. Norman and wife Elisa owned a 100-acre family orange grove. It was said that he was once offered $10,000 for his groves — a huge sum for the time — but refused to take it.
Orange County, as well as the rest of Florida, was originally "politically dominated by Southern white Democrats." However, in the weeks leading up to the presidential election of 1920, African Americans throughout the South were registering to vote in record numbers. Judge John Moses Cheney, a Republican running for the Florida Senate, started a voter registration campaign to register African Americans to vote in Florida. July Perry and Mose Norman led the local voter registration efforts in Orange County, even paying the poll tax for those who could not afford it.
However, the mass registration coincided with the resurgence of the Ku Klux Klan in the early twentieth century, providing a tense racial and political climate. Before the election, the Klan sent threatening letters to Cheney and other Republican leaders, ordering them to stop the voter registration campaign or face the consequences. The KKK held rallies in the streets of cities like Orlando, Daytona, Miami, and Jacksonville in an attempt to intimidate any Blacks from voting.
On November 1st, the day before the election, with robes and crosses, the Klan paraded through the streets of the two Black communities in Ocoee late into the night. With megaphones, they warned that "not a single [African American] will be permitted to vote," and if any of them dared to do so, there would be dire consequences.
On election day, African Americans were met with resistance from the white community when they attempted to vote. Black voters were turned away either by threats of violence or by poll workers who found their names "mysteriously" absent from the voter registration rolls.
Mose Norman, who would not be deterred. After being prevented from voting, Norman rode to Orlando to seek the counsel of Judge Cheney, who told him that interference with voting is illegal and instructed him to take down the names of all of the African Americans who were denied their constitutional rights, as well as the names of the whites who were violating them.
Norman returned to Ocoee with these instructions, along with a handful of Black citizens seeking to vote. After again being forcibly turned away, he demanded the poll workers' names and exclaimed: "We will vote, by God!" At the time, Norman had a loaded shotgun (either on his person or in his car), and an altercation ensued. Overpowered and beaten by the butt of his own gun, he was driven away by whites.
The white community then began to form a mob and paraded up and down the streets, growing "more disorderly and unmanageable." The rest of the African Americans gave up on trying to vote and left the polling place. Later during the evening, Sam Salisbury, a white leader of the town who was a native-New Yorker as well as former chief of police of Orlando, is called upon to lead a lynch mob to "find and punish Mose Norman."
The white mob was marching to Mose Norman's home when someone informed them that Norman had been seen visiting the home of July Perry. The mob, which numbered about one hundred men, arrived at Perry's house, demanding that Perry and Norman surrender themselves. They received no answer and attempted to break down the front door. Perry, who had been warned about the mob in advance, fired gunshots from inside the home in self-defense.
The Perry family so valiantly defended their home that some were convinced there was a large group inside. The whites estimated that there were several armed African Americans, while Zora Neale Hurston writes that Perry defended his home alone. Sam Salisbury got shot in the arm, becoming the first white casualty. Two of Salisbury's men were killed when they tried to storm the house by kicking in the backdoor. Their bodies would be found in the backyard hours later.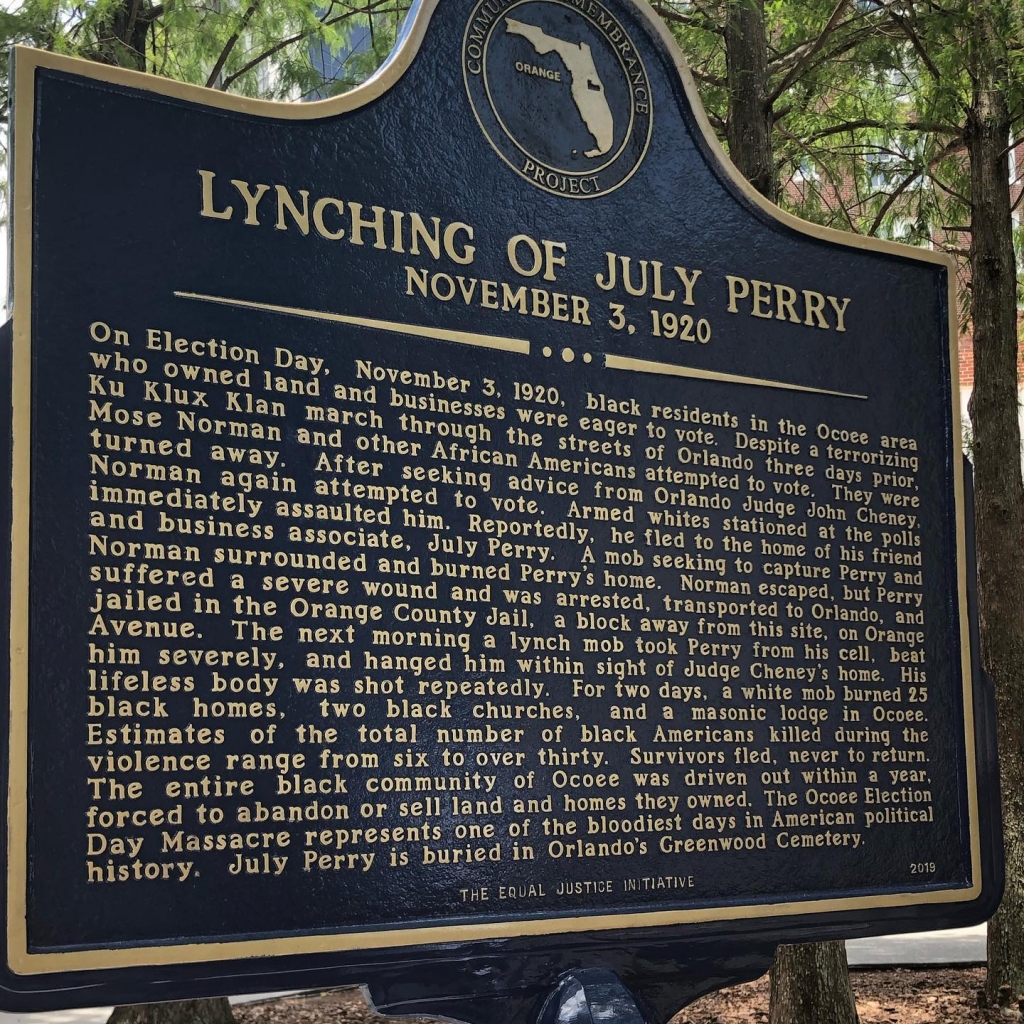 Defeated, the mob retreated temporarily to get reinforcements and additional manpower from Klan members in surrounding cities. The Perry family used the two or three-hour respite to escape the house. Perry had been seriously wounded during the incident and fled, with the help of his wife, into a nearby sugar cane patch. His daughter, Coretha, remained alone in the house to tend to her injuries while his two young sons hid in the barn.
Around 50 cars full of Klan members flooded into Ocoee from towns such as Winter Garden, Orlando, and Sanford. Finding only 22-year-old Coretha in the house, a manhunt ensued, and Perry was later found by the Whyte mob at dawn and arrested. After being taken to Orlando General Hospital on Kuhl Avenue for treatment of the gunshot wound to his arm, Perry was released into sheriff's custody and taken to the jail in Orlando that night, probably near the old courthouse at Central and Magnolia.
A lynch mob descended upon the jail to which Sheriff Frank Gordon handed over the keys to Perry's cell. They wasted no time in seizing and beating Perry. They dragged him through the streets behind a car before arriving at the entrance to Orlando Country Club near Lake Concord, where Judge Cheney's home stood.
The mob strung up the by now near-dead Perry to a telephone pole along the highway. His hanging body was riddled with bullets. This gruesome scene was left there as a warning both to Cheney and African Americans, with a chilling note saying, "This is what we do to niggers who try to vote."
Sometime later, Perry was cut down by Black undertaker Edward Stone — against the wishes of the KKK, who threatened Stone afterward — and brought to Greenwood Cemetery, south of Orlando, where his body was buried in the Black section of the graveyard. He remained in an unmarked grave until November 2002, when a movement led to locating his gravesite and adding a headstone to memorialize him.
A local photographer took photos of Perry and sold them for 25 cents each; several stores placed the photo on exhibition by their windows. The men who killed Perry were not arrested. Perry's wife and their daughter survived the massacre, and the authorities sent them to Tampa for treatment and "to avoid further disturbance."
After the white mob lynched Perry, their vengeful lust spread to the rest of the African-American Ocoee community. The mob surrounded the northern Ocoee black community and laid siege to it." Fire was set to whole rows of African-American houses; those who were inside were forced to flee and get shot by the white mob. At least 20 buildings were burned in total, including every African-American church, schoolhouse and lodge room in the vicinity. African-American residents fought back in an evening-long gunfight lasting until as late as 4:45 a.m.; their firearms were later found in the ruins after the massacre ended. Eventually, the residents were driven into the nearby orange groves and swamps forced to retreat until they were entirely driven out of town.
The siege of Ocoee claimed numerous African-American victims. Langmaid, an African-American carpenter, was beaten and castrated. One mother, named Maggie Genlack, died with her pregnant daughter while hiding in her home; their bodies were found partially burned under their home. Roosevelt Barton, an African-American hiding in July Perry's barn, was shot after the mob set fire to the barn and forced him to flee. Hattie Smith was visiting her pregnant sister-in-law in Ocoee when her sister-in-law's home was set on fire. Smith fled, but her sister-in-law's family was killed while they hid and waited for help that would never come.
The African-American residents of southern Ocoee, the Baptist Quarters, while not direct victims of the massacre, were later threatened away. J. H. Hamiter, an African-American woman residing in southern Ocoee, suspected that the massacre was planned so that whites could seize prosperous African-American homes for nothing. According to Hamiter, people to the south were coerced with the threat of being shot and burned if they did not "sell out and leave." About 500 African-Americans in total were driven out of Ocoee, making Ocoee a practically all-white town. Whyte citizens would later have to harvest the citrus crop in Ocoee themselves due to the lack of African-American labor.
Walter White, the African-American civil rights activist who led the National Association for the Advancement of Colored People, arrived in Orange County a few days after the event. White used his light complexion (he had blonde hair and blue eyes) to work undercover as a white northerner interested in buying orange grove property in Orange County. He found that the whites there were "still giddy with victory." While talking to a local real estate agent and a taxi cab driver, White learned that about 56 African Americans were killed in the massacre. The exact number could never be determined because some of the victims had been burned to death. He also learned that the massacre may have been precipitated by the white community's jealousy of the prosperous African-American landowners, including Mose Norman and July Perry.
Mose Norman escaped the massacre. He never returned to Florida. After visiting with friends in Apopka and Stuckey on November 3–4, 1920, he left town for New York City (presumably with his wife), where he lived out the rest of his life until his death in 1949.
For nearly a week after the incident, KKK troops set up an embargo around the town. No one was permitted to enter or leave without their permission. Specifically, they sought to keep the now homeless African Americans from entering Orlando to the east and Winter Garden to the west.
The third of Ocoee's black population who owned their own land were never able to return to their properties. Those who were offered any compensation at all were forced to sell their land for pennies on the dollar.
Within weeks of the incident, only two African Americans remained in town. And by the 1930 census, there were none. In fact, not a single African-American dared live in Ocoee for 60 years until 1981. The city didn't hire its first black worker until 1986. And for 18 years following the 1920 massacre, not a single black vote was cast in all of Orange County.