BY RAVEN JOY SHONEL, Staff Writer
ST. PETERSBURG – Eighteen young ladies from five area elementary schools—Campbell Park, Lakewood, Maximo, Fairmount Park and Melrose Elementary Schools, as well as Academy Prep—were treated as if they were royalty on the weekend of Dec. 2.
Terri Lipsey Scott, executive director of the Carter G. Woodson African American History Museum, had a vision for little girls in south St. Pete who do not necessarily experience the silver spoon treatment in their lives to get a chance to do just that.
Four years ago, she created the Silver Spoon Tea Party Weekend where every day little girls are transformed into princesses–with royal courtiers to boot–for one weekend during the holiday season.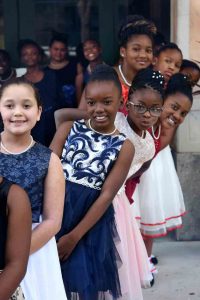 Scott's interaction with young girls in the public school system led her to create an opportunity that many of these children might not ever experience in their formative years.
"It was abundantly clear–and it remains abundantly clear–that our girls need something that's not their norm, placing them in environments and rewarding them with opportunities that they wouldn't necessarily be exposed to," explained Scott.
It was her hope to create a program that gave the young ladies some exposure to places they've never been and a desire beyond that weekend to want to experience more.
Each school identified three students to participate in this first-class weekend, which started bright and earlier Saturday morning at Pinellas Technical College (PTC) where the young ladies attended a pamper session.
Leading the charge was Frechette Bradley, who has styled the young ladies hair from the inception of the program. Starting last year, instructors and students from PTC were added to the mix to expedite the process. Now once the hair is perfectly coiffed, it was the nail technicians' turn to transform.
All 18 girls were serviced in less than four hours, and were whisked away for an afternoon at the cinema to watch "The Grinch."  After the theater, these pint-sized princesses headed to their luxury hotel in downtown St. Pete where they enjoyed a pizza and pajama party. They also worked on vision boards help facilitated by Manitia Moultrie, and of course, had a princess party dance-off.
Sunday morning, the young ladies had a crash etiquette lesson, enjoyed an arts and crafts session, showered and dressed for their photo session with professional photographer Rossie Newson.
The weekend's culmination came when Imperial One Limousine Services transported the precious cargo to the St. Petersburg Country Club where the young ladies finally got to spend time with their sponsors over tea. Many of these relationships will go far beyond the tea party.
"We have these girls for about 30 hours from early Saturday until Sunday evening when their parents pick them up from the tea party," said Scott. Most of them, trust me when I tell you, don't want to go. I've had parents who didn't even know their children. It was that kind of transformation."
And if that weekend was not enough, the pampered princesses played hostesses the next weekend at the Woodson Toy Drive, where each one was surprised with a tablet made possible by a police grant to assist with their studies.