Bonnie Johnson celebrated her second 104th birthday party at the Carter G. Woodson African American History Museum last Sunday, July 29. 
BY RAVEN JOY SHONEL, Staff Writer
ST. PETERSBURG – A black, stretch limousine pulled up to the Carter G. Woodson African American History Museum last Sunday afternoon. Out stepped the most elegant and regal woman with her handsome escort to walk the red carpet. Two beautiful little flowers girls led the way, strewing petals at her feet.
With a room packed tight with her closes friends and family, Bonnie Bell Johnson celebrated her 104th birthday to much fanfare. With one week to plan, Terri Lipsey Scott, director of the Woodson Museum, and Deborah Figgs Sanders, owner of Personal Agenda, LLC, charged the village with making Mrs. Bonnie's birthday an event to remember.
Answering the call, entertainer extraordinaire Shawn Brown serenaded the birthday girl, local poet C.C. Clark composed a poem for the occasion, the glamour squad of Arnett Murph and Frenchotte "Frenchy" Bradley readied her hair and nails, Sofia Forte Catering laid out a magnificent spread and the Woodson staff turned the museum into an elegant banquet hall.
Also answering the call was the production team of Boyzell Hosey, Raymond Sanderlin and Joyce Johnson who put together a pre-recorded interview for the occasion.
"Her strength, her stamina, her warmth, her grace–everything charmed me beyond measure," said Lipsey Scott. "Is there any place else in the world today you'd rather be than in the presence of Mrs. Johnson?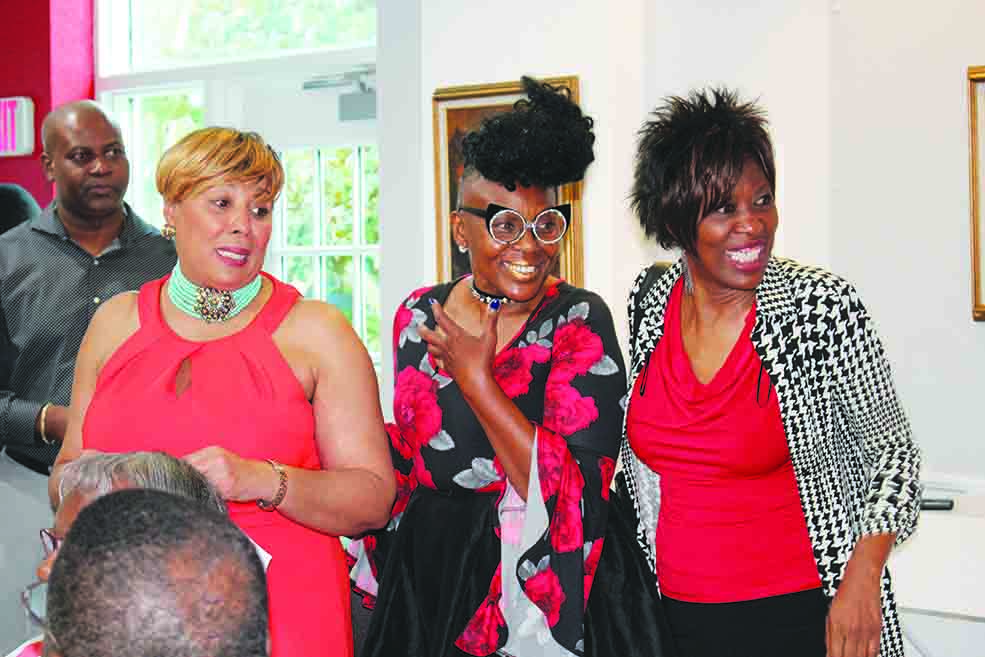 Mrs. Bonnie was born in Valdosta, Ga., on July 20, 1914, eight days before World War I broke out. As a small child, she moved with her parents, Lawson and Lessie Berrien, and siblings to Live Oak, Fla., where she was raised.
She moved to St. Pete in 1936 and married Rousey Johnson in 1945. To that union, three children were born: Doris, 86, Naom (deceased) and Rousey, Jr. (deceased). Mrs. Bonnie worked both inside and outside of the home. When her husband died at the age of 35 from a heart attack, she became the only breadwinner.
Mrs. Bonnie worked as a domestic, but always had time for her children.
"She was wonderful as a mother," said daughter Doris Mosely.
She had plenty of practice too. She raised her siblings after her mother died until she left and started a family of her own. Her only living sibling, Caroline Moody, 98, remembers those days well.
"She was a little rough on us at times, but she did the best she could," said the soon-to-be centenarian.
Mrs. Bonnie must have taken some of her disciplinary techniques from her mother.
"She was mean as she was; just as mean as a rattlesnake," said Mrs. Bonnie about her mother.
Although her mother didn't teach her to cook, "she sure made sure I learned how to clean. She was mean, I mean–mean!"
Missing her call as a comedian, Mrs. Bonnie had the whole room in stitches.
She spoke about her wild streak as a young lady.
"I was bad," she stated, adding that she turned her life over to the Lord. She advises everyone to follow in her footsteps.
"Clean up your life like I did. Throw away all the things that you used to do when you were a child. Forget about all of that," she said. "Throw it all away and start fresh."
Raised up in Trinity Presbyterian Church, Louis Williams has known Mrs. Bonnie all of his life. She was good friends with his mother, and he can attest to the former bad girl's wild side.
"She used to be in the streets, but she gave it all up and gave her life to God. She and her sister are there [church] every Sunday morning."
But don't think because she's a churchgoing centenarian that she won't rumble. With her cane always close by, she won't hesitate to use what she calls her "third leg."
"That is true. If I have to use my third leg, I'll use it if I have to."
Living through Jim Crow, Mrs. Bonnie didn't think she would have ever seen a black president. She said President Barrack Obama did an excellent job, and she wants Hillary Clinton in the White House next.
So how did Mrs. Bonnie make it to 104 years old?
"I had no idea that my Father would let me live this long. What caused me to come this far? I ask myself that every day."
There are a few rules she lives by: Put all of your trust in God, do your best in whatever you are doing and be careful.
"Watch your windows and doors. Don't open your door every time someone knocks or ring your doorbell," she warned.
Mrs. Bonnie's advice for the young ones?
"Obey your mother and father. Don't get into trouble and don't go around drugs," she advised, adding that children should stay in school and obey their teachers.
The room hung on to her every word. With her knowledge, wisdom and love of God, who else better to listen to? And if her years don't impress you, her third leg will teach you a lesson or two.
School Board Chair Rene Flowers, City Councilman Steve Kornell and Gubernatorial Candidate Chris King were all on hand to a wish happy birthday to Mrs. Bonnie. Senators Charlie Crist, Darryl Rouson, Commission Chair Ken Welch and City Council Chair Lisa Wheeler Bowman all sent greetings. And although Mayor Rick Kriseman's schedule did not permit, he sent a proclamation along with a key to the city.
Happy Birthday to the Queen, Mrs. Bonnie Bell Johnson!