Join Commissioner Rene Flowers, local, state, and federal officials Feb. 10-12 as they seek input from the community while presenting proposed solutions to the issues surrounding homeownership, rentals, leasing, and stock availability.
PINELLAS COUNTY – Pinellas County Commissioner Rene Flowers, along with several other community leaders, will host a three-day conference focused on sharing information and forming solutions relative to the housing crisis in Pinellas County Feb. 10-12.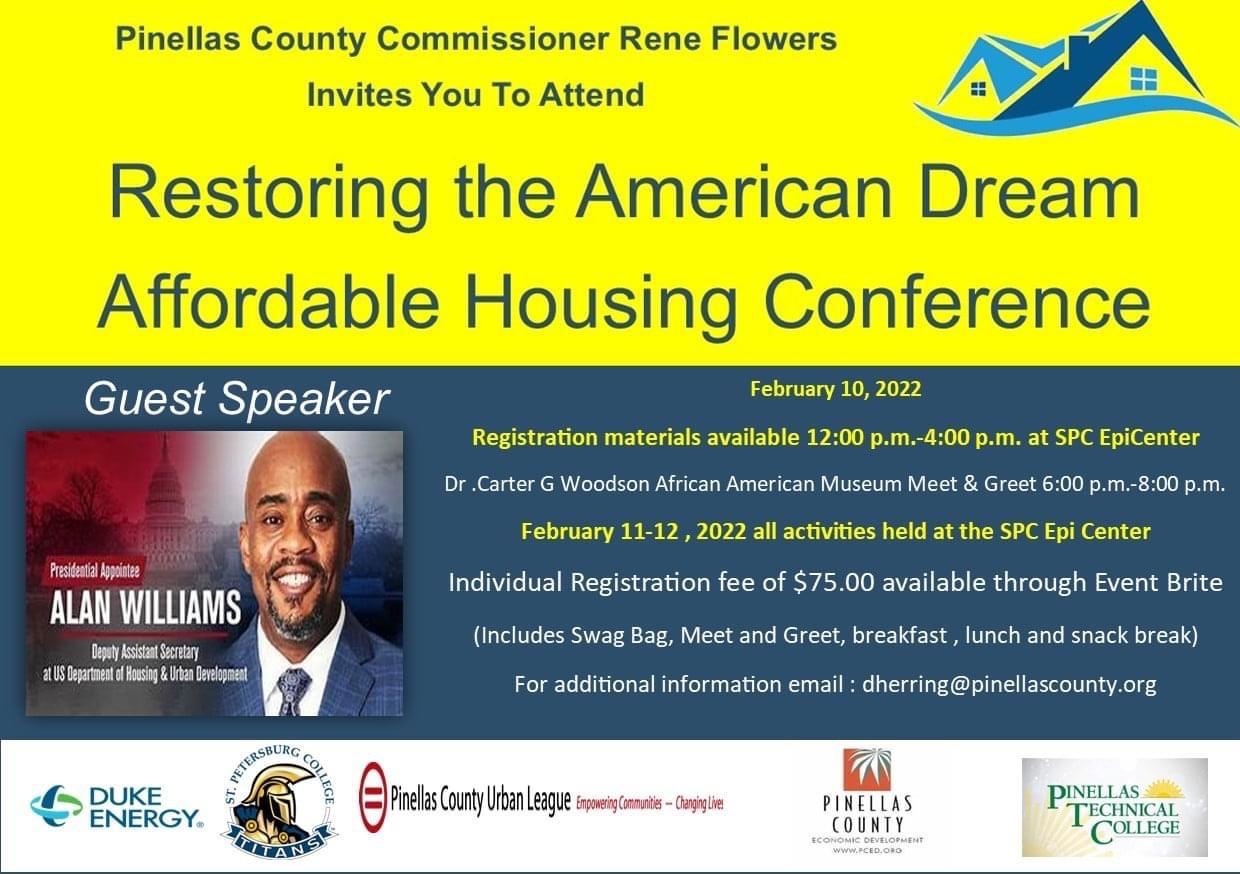 The Honorable Alan Williams, assistant deputy secretary to the U.S Department of Housing and Urban Development, will serve as the keynote speaker. A meet and greet is scheduled for Feb. 10 at the Dr. Carter G Woodson African American Museum, 2240 9th Ave. S, St. Petersburg, followed by two days of information sharing at the SPCEpi Center, 13805 58th St. N, Clearwater.
Breakout sessions and panel discussions will focus on financing affordable and workforce projects, qualifying for home loans, innovative housing programs and projects, veterans housing initiatives, and an update on legislative bills affecting housing opportunities.
Planning program members:
Commissioner Gwen Myers
Councilmember Deborah Figgs-Sanders
Gershom Faulkner, representing Congressman Crist
Gypsy Gallardo, CEO One Community Plan & managing member, Sankofa
Group
Tonjua Williams, SPC President
Cynthia Johnson, director, Pinellas County Economic Development Department
Ernest Coney, CDC of Tampa Bay
Sean King, Habitat for Humanity Pinellas/Pasco)
Joshua Johnson, St. Petersburg Housing Department
Tom DeYampert, Veteran Housing Landlord
Mike Jalazzo, PERC
Cheryl Schroeder, AFL-CIO
Mark Hunt, director, Career Technical and Adult Education
Click here to register and purchase individual tickets for $75.
Spaces are limited, and COVID-19 Protocols will be followed. For sponsorship opportunities, please email dherring@pinellascounty.org.