Doc's Place is located at the Skyway Marina Mall
BY ALLEN A. BUCHANAN, Staff Writer
ST. PETERSBURG – No longer will you have to jump in your ride, drive downtown and go around in circles until you find a parking space next time you'd like to hear some jazz. Steve "Doc" Burt and Tony "Big T" Clark teamed up last Sunday and Monday night to turn the stage lights back on for live music entertainment at Doc's Place, located at 4301 34th St S, in the Skyway Marina Mall.
The club presents a unique ambiance for the whole family.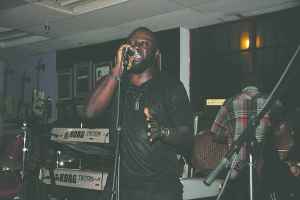 "A place where you can go and be comfortable and enjoy some sounds and not be stuffed or crowded into a place," said Clark.
Unlike the usual nightclubs crammed with small round cocktail tables to pack 'em in, Doc's Place provides a spacious nightclub atmosphere where you and your lovey dove can sink down into Lazy Boy style recliner chairs and fluffy cushioned sofas while sipping on a cocktail and grooving to jazz, blues, R&B and progressive rap music.
Burt stated that the idea for his place grew out of the desire to have a spot to play blues guitar when it struck him. Why not open up your own place. The new club actually sits where his liquidation business used to be.
"In the beginning, I just put some stage risers together and set up my guitar and amp, so when it was slow here I could play blues," said Burt.
As the saying goes, once a musician always a musician.
St. Petersburg has grown some of the highest caliber musicians on the planet. Thanks to Burt and Clark, the city's local musicians will be able to record, cut air quality demos and begin their national tours right here on the south side.
"We have a fully functional recording studio that is operational behind the club," said Burt.
Sure enough, if you walked to the very back of the club, you could look through a glass partition and see the digital studio recording setup.
The R&B duo Fanta-C (Tony and Ray Welch), Lomax, Big T and Joy Matthews performed along with other musicians opening weekend.
Joy Matthews performed a set of R&B/Jazz classics, but her steamy version of "I Want Your Love/I Need Your Love" set a romantic mood that made one yearn for his or her better half.
Representing the Urban/R&B and New Jack Swing grooves were Fanta-C and Lomax. At the age of 28, Lomax's performance covered a musical timeline that spanned 25 years from "Lomax and I'm Back Again" (based off of Boyz-2-Men's "New Jack Swing") to a sensual excursion with "Don't Be Nervous."
On Monday after the event, Lomax talked about the evolution of his sound to a tight, upbeat urban trap rap with clean powerful lyrics that are ready to hit the local and national airwaves at any second. It's just a matter of who will pick up on his talent.
And there goes another one! St. Pete seems to be a pipeline to stardom. It's been happening for years, and if Doc's vision comes to fruition, the Sunshine City could have its own local version of the Apollo Theatre just a few miles away from Gibbs High School.
"Six to eight months from now, we want to give people a place to think about wanting to go to," said Clark. Not a lot of people think about the south corridor. Everything is downtown."
If Burt's vision sees the light of day, St. Pete could become the "Motown of the south!"
"At some point out in this month, we're gonna go five nights a week. We're gonna start Wednesday with Karaoke. Then, we'll have blues, Smooth Jazz and Motown on Thursday, Friday and Saturday nights. Sunday will be our jam night where local band members are welcome to come in and jam with each other," said Burt.