ST. PETERSBURG — It's that time of year again; time to educate and empower our female youth with a vocation. We all have an opportunity to be a part of the rearing of our youth as a village by being a good influence and giving support.
Hair Braiding Starlets™ is asking for sponsors to help send inner-city youth to their eight-week program, which affords its participants the ability to earn a vocational license in hair braiding in the state of Florida. The camp will open doors to gainful employment and entrepreneurship for students who have an interest in owning a hair braiding business.
Young ladies between the ages of 9-17, and up to 22 years old if they are considered at-risk or ESE (exceptional student education), are encouraged to register.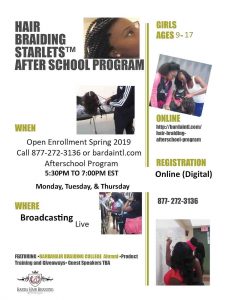 Hair Braiding Starlets™ is also looking for guest speakers to share information about their careers that will help participants become well-rounded citizens and business persons. Please email bardaintl@gmail.com if you'd like to share your story. The camp will be broadcasting many of the guest speakers live on various social media platforms.
The afterschool program begins March 18 and ends May 4. Onsite training will take place at 111 2nd Ave. NE #915, St. Petersburg. Broadcast classroom will receive passwords upon seat assignment.
Participants will also need to submit a 200 word essay that describes why they would like to work in the beauty industry. Please call or text 877-272-3136 for more information on registration and fees.