(Family Features) Keeping your heart in good shape starts at mealtime. Fortunately, there's no reason to skimp on flavor to spread the love to your heart.
For example, homegrown American Pecans are a naturally sweet, heart-smart ingredient you can add to salads, vegetable side dishes, oatmeal and other whole grains – or enjoy on their own as a snack. Their unique mix of "good" unsaturated fats, fiber, plant sterols and flavonoids add up to make pecans a powerful, heart-healthy food.
Each 1-ounce serving provides 18 grams of unsaturated fat with zero cholesterol or sodium. In fact, American Pecans are certified as a heart-healthy food by the American Heart Association's® Heart-Check Certification Program. According to the U.S. Food and Drug Administration, scientific evidence suggests but does not prove that eating 1.5 ounces per day of most nuts, such as pecans, as part of a diet low in saturated fat and cholesterol may reduce the risk of heart disease.
Try adding a colorful, flavorful twist to a simple salad by combining crunchy kale with fresh pecans, pomegranate seeds and pears for a tasty, heart-healthy meal you can feel good about.
For more recipes, nutrition information and cooking tips, visit americanpecan.com.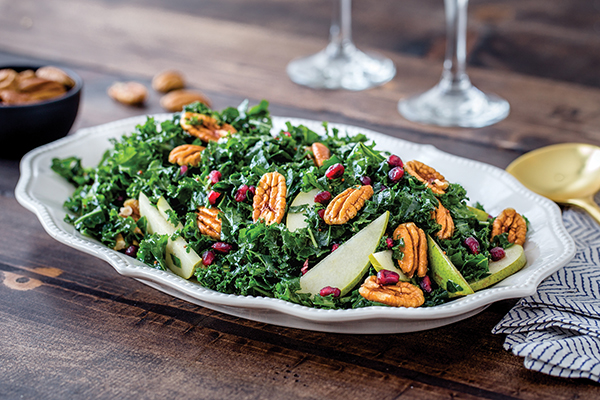 Pecan, Pear, Pomegranate Kale Salad
Prep time: 20 minutes
Servings: 8
1          bunch kale, stems removed

1/3       cup extra-virgin olive oil, plus 3 tablespoons, divided

2          small pears, sliced

3/4       cup fresh pecan halves

1/2       cup pomegranate seeds

1/3       cup apple cider vinegar

2          tablespoons course grain mustard

pinch of kosher salt

pinch of cracked black pepper
Chop or shred kale into small pieces and transfer to large bowl. Drizzle 3 tablespoons olive oil on kale. Massage kale about 3-5 minutes, or until kale becomes glossy, deep green and begins to tenderize.

Add pear slices, pecan halves and pomegranate seeds; toss with kale.

Add remaining olive oil, apple cider vinegar, mustard, salt and pepper to canning jar and secure lid. Shake for several seconds until dressing comes together. Drizzle over salad and toss to coat.

Serve immediately, or allow salad to marinate in dressing up to 30 minutes before serving.
Note: Heart-Check certification does not apply to recipes or information unless expressly stated.
Nutritional information per serving: 230 calories; 21 g fat; 2.5 g saturated fat; 75 mg sodium; 11 g carbohydrates; 3 g fiber; 2 g protein.
SOURCE:
American Pecan Council