By Allen A. Buchanan, Staff Writer
ST. PETERSBURG — The Lakewood High School Jazz Combo treated city council to one of the songs on their new CD earlier this month.
Councilmember Steve Kornell and Terri Lipsey Scott, chair of the executive board of the Carter G. Woodson African American History shared the news that the band received a formal invitation to perform at the historic Apollo Theater in Harlem next spring.
Matthew Sala (alto sax), John Lyles (trumpet), Michael Dodge (baritone sax), Eric Campbell (bassist) and Nicholas Love (drums) squeezed into a tight space to entertain council members.  The National Champions of Jazz for 2016 hope to take the Apollo stage by storm from April 6-9.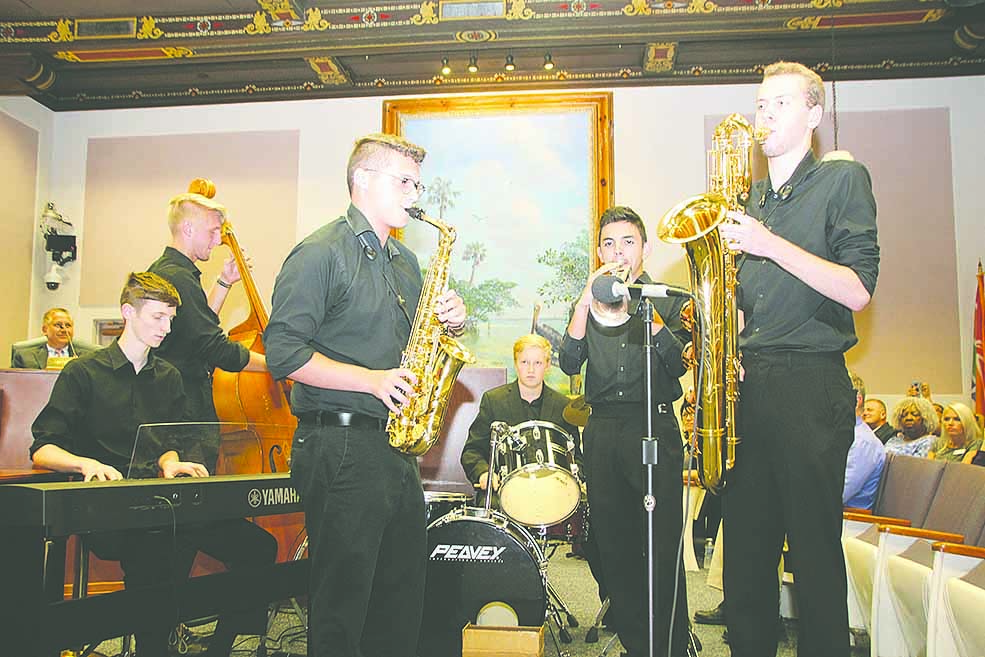 After band director Michael Kernodle and the ensemble found out that they were invited to play at the Apollo Theatre, Kornell approached Patrick Hernly, director of St. Petersburg College's MIRA (Music Industry and Recording Arts) program about providing the technical expertise to produce the band's first CD. The recording project was mixed by Tom Morris, a veteran award-winning sound engineer and professor in the MIRA program.
"The CD will be sold publicly to raise the $45,000 needed to fund the band's trip to the Apollo Theater," said Kornell.
Lipsey Scott reached out to Kornell when the band had to raise $9,000 in 10 days to make the trip to compete in Louisiana last year. The dynamic duo is on board once again to help the young men of Lakewood fulfill another dream and is asking the community for help.
"I am ecstatic to be in your presence today and to celebrate the extraordinary accomplishments of this exceptional merited band," she said.
For more information or to donate, contact band director Michael Kernodle at (727) 893-2916.