Omali Yeshitela protesting the TyRon Lewis outcome in 1996
BY AKILE Anai
ST. PETERSBURG — On Oct. 24, 1996, two St. Petersburg police officers shot and killed 18- year-old African TyRon Lewis. It was this murder that incited what has come to be known as the "Battle of St. Pete."
There was a fierce rebellion during this time, where the community rose up and took to the streets to fight back against the murder of our children by the state. However, the struggle did not begin or end that dark day. Following the non-guilty verdict of the two police officers released on Nov. 13, 1996, the state issued a blockage of roads so that the black community could not convene for what was then the Wednesday Weekly Meetings at the Uhuru House.
While people were in the building, the state warned that the people had five minutes to evacuate. It was less than 30 seconds after that warning when they began to shoot tear gas into the building, trapping children, pregnant women and the leadership of the Uhuru Movement, including Chairman Omali Yeshitela.
An error on their behalf had been that leaders of the Uhuru Movement had escaped the building and the people of the community weren't going anywhere. Members of our movement began to organize the masses as 300 police officers from neighboring cities encroached upon the African community.
A helicopter loomed above the area, the city used every ounce of teargas they had, they shot canisters into trees so that the building would catch on fire and the people courageously extinguished the flames.
Africans with bandanas over their mouths, to be later remembered as the Ghost Faces," engaged in armed struggle, using everything we had, bottles, bricks, knives and guns, eventually shooting down the police helicopter and causing the police to "pull back the troops."
Here we are 21 years after this murder, engaged in the same struggle. It may not have looked like fires blazing in the streets, but it did look like hundreds of people marching for reparations to African people.
As mentioned earlier, the struggle did not begin on Oct. 24, 1996. The precursor to that event was the grave economic conditions facing the African community. It was the destruction of the Gas Plant District. It was colonialism then and it's colonialism now.
Twenty-one years later, the African community is under an even more vicious assault and we have the responsibility to RESIST!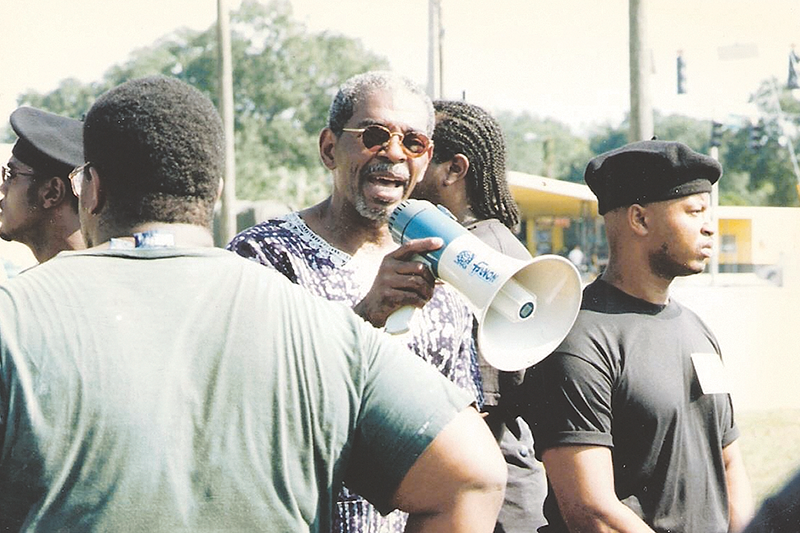 In honor of the memory of TyRon Lewis, an African teenager murdered by the police that the city determined should be left dead and forgotten, Communities United for Reparations and Economic Development partnered with the International People's Democratic Uhuru Movement is hosting the "Resistance March" to let the city know that TyRon Lewis will never be forgotten, the courageous fight of '96 will always be with us and this movement is alive and here to stay!
The march is to be held Nov, 13 from 6-8 p.m., starting from the St. Petersburg Police Station to 16th Street and 18th Avenue South, the location where Lewis was murdered!