BY J.A. JONES, Staff Writer
ST. PETERSBURG – When AMP Images, Inc.'s Audrey "Pat" McGhee thought of doing a holiday fashion show, the novelty of a fashion show for the youngest age group struck as an exciting idea.
"How many times do you see fashion shows that are just for kids," asked McGhee.
And when she says kids, she's not talking about teenagers. AMP Images will work with children ages 5-12, and every now and then they may have a four-year-old who's good with taking instructions to participate.
The Winter Wonderland for Tots Fashion Play started in 2015 at the Childs Park YMCA. "I had gotten so many great comments and reviews from the parents and the audience, it of course, encouraged me to have it again," shared McGhee.
But life got in the way, and two seasons passed by quickly without the fashion play. But when parents came back to her again this year, she agreed to make it happen.
This year's event took place Monday, Dec. 17, at John Hopkins All Children Hospital Conference center with the support of the Healthy Start Coalition of Pinellas County.
Attendees were asked to bring a new, unwrapped toy to donate to programs such as the Alpha Program of Pinellas County Schools.
As well as locating her child models from among community families, McGhee reached out to sororities, to Nancy Vaughn, executive producer of Tampa Bay's Fashion Week and to the National Council of Negro Women of St. Pete to spread the word. McGhee also thanked Deborah Figgs-Saunders of Personal Agenda, LLC, for her support and sponsorship.
Myra Gomez, who owns a modeling agency in Tampa, assisted with production elements and Clearwater costume rental store, the House of Make Believe, supplied decorations. Master of ceremonies Ricc Rollins of Ricc Rollins Media doubled as the Mayor of Who-ville and one of Santa's elves, complete with yellow tights and all.
When McGhee was informed that her former supplier wouldn't be offering the fashions for the children's holiday show, her show-must-go-on attitude inspired her to go in another direction.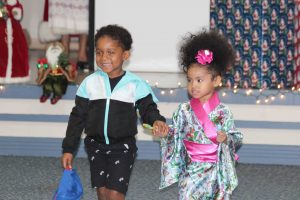 "This year, our little tots designed their own outfits with the help of their parents–they're their own little designers," she acknowledged.
McGhee said her way of working with the tiny fashion plates was to guide them more than force them to perform, because as she acknowledged, at that age, "you just don't know how much they will retain."
The more than 20 model-tots started practicing in Nov. twice a week to learn to master the runway. McGhee gave kudos to Lynette Eva and Erica Davis for helping during rehearsals.
After giving them the basics, McGhee said the pint-sized fashionistas added their own personalities, and for an audience of supportive and exciting family members, teachers and mentors, that was more than enough.
 To reach J.A. Jones, email jjones@theweeklychallenger.com