PETERSBURG — Congratulations are in order for Amari Nash who challenged herself to pass the Ready to Read series in her 10th-grade reading class at Lakewood High School. Her score of 100 percent earned her the position of being the first in Pinellas County to achieve "college level" in reading.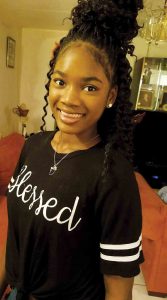 This young lady now has a 159 percent rating in her reading class. In addition, she is currently on the honor roll with five As and three Bs.
A representative from the school board came to Lakewood High School to announce Amari's accomplishment in front of her classmates. She was rewarded with a huge prize for her hard work.
This accomplishment is a proud moment for Amari and her family. Way to go Amari! Shine like the star you are.  You are a black girl that rocks!