Grab your family and plan a trip to the stunning 'Black Pioneers: Legacy in the American West' exhibit at The James Museum, which offers viewers a vibrant, powerful — and unexpected — way to view history. Pictured above is Wendy Kendrick and her quilt, 'Empowerment in a Tin.' Photos courtesy of Steven Le.
BY J.A. JONES, Staff Writer
ST. PETERSBURG – The James Museum exhibit "Black Pioneers: Legacy in the American West," a first-of-its-kind quilt-as-art-as-history exhibition, is on view until Jan. 8. A perfect family visit for the winter break, so grab your family and plan a trip to this stunning show, which offers viewers a vibrant, powerful — and unexpected — way to view history.
Curated by Dr. Carolyn L. Mazloomi, the 50 quilts — created by the Women of Color Quilters Network (WCQN) – cover the presence of Blacks in the U.S. territories of North America from as early as the 1500s.
Mazloomi has worked with these quilt artists in a variety of shows, both national and international, and the detail, skill and creative design applied to each of these works of storytelling-through-fabric manages to offer both history lessons and visual Black joy.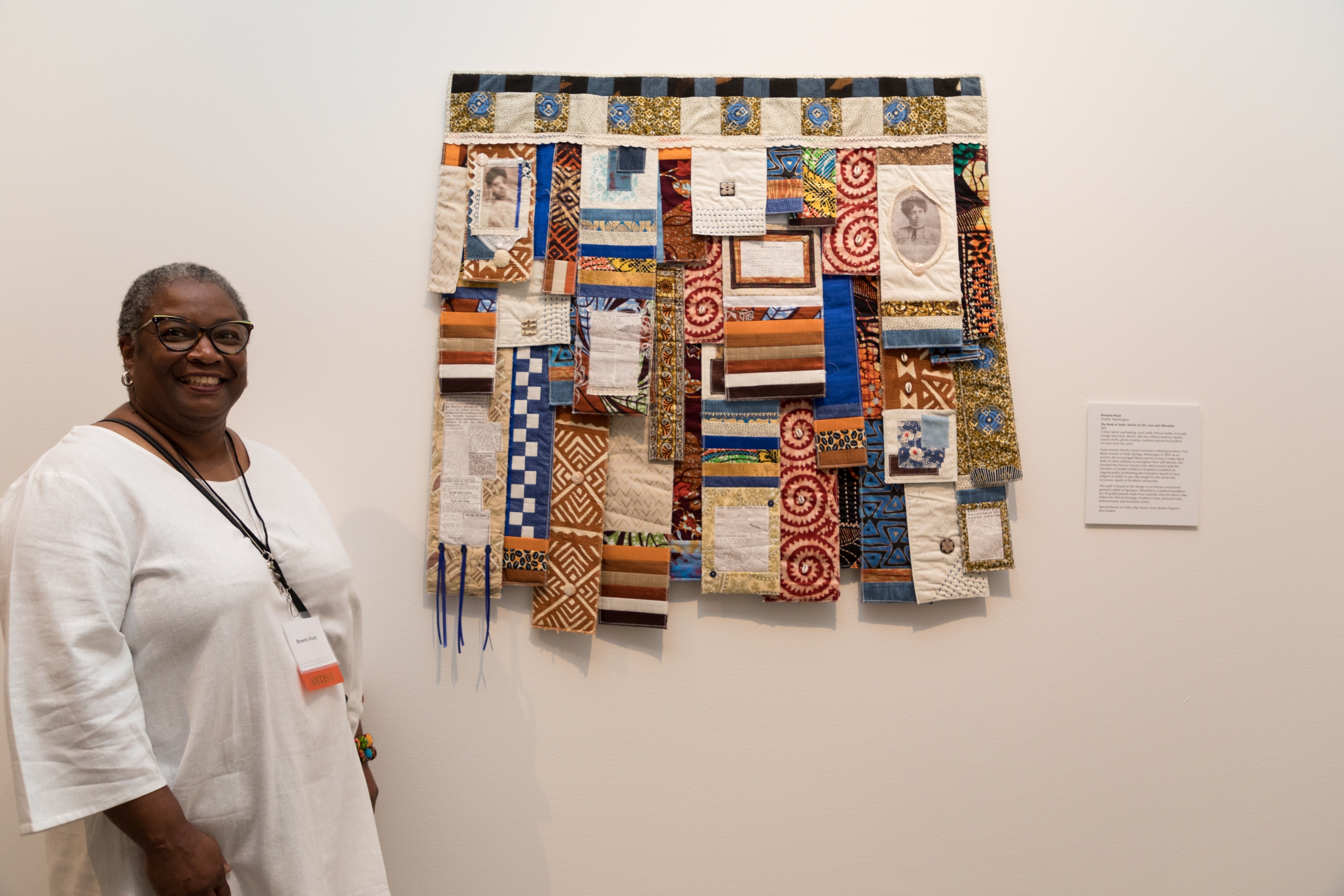 "Why quilts? Quilts and quilt making are important to America and Black culture in particular," noted Mazloomi in her curator's statement. Quilting provided practical benefits – warmth for beds and homes — as well as a way to wrap personal stories and ideas into the work.
Thought of as "women's work," quilting also allowed mothers and homemakers a way to produce quilts that could be sold or bartered for goods.
Mazloomi founded the nonprofit in 1985, and by 1991, she was working with the U.S. State Department. The master quilters earned designation as cultural envoys and began to exhibit and teach in Africa, South America and Europe.
WCQN's unique way of bringing art and educational projects by weaving creative expression into the process of quilt-making has touched audiences of all ages, backgrounds, incomes and learning abilities. Its work has been honored by the United Nations and Geneva's International Labour Department for bringing the craft of different countries and aiding the educational and economic outlook for the women and children in the communities it has worked within.
WCQN's "Visual Voices" project works with students throughout eight states, bringing a message of gaining self-esteem through creative expression as well as economic empowerment for those who sell and exhibit their work, and has received acclaim from the NEA, Girl Scouts of America and the National Arts Education Association.
Lauren Alisa Austin, a WCQN member who created the quilt "View from the Camp Table" for the James exhibit about the Buffalo soldiers, made her first quilt at age seven.
"I do learn a lot each time I make something," she acknowledged, even as she noted that, at this point, she makes a living from her quilt-making. "I did learn a lot about Buffalo Soldiers, which is the subject of my cloth," she relayed as she shared about the extensive research she immersed herself in before starting the quilt.
Having worked with Mazloomi in several shows, Austin added that she chose Buffalo Soldiers after being a part of another exhibit on a related subject.
"She gave us like a list of possible topics. And so I chose Buffalo Soldiers; I had actually done a piece before about Colonel Charles Young," noted Austin, speaking of the Black general in charge of ninth and 10th Cavalry's after the Civil War, those battalions sent to deal with the Indian Wars and to build the infrastructure for the national parks.
Austin's quilt weaves a historical photo of a Buffalo soldier with his family into the quilt, noting that she found it interesting that while photos of white soldiers were usually just the man in uniform, photos of Black soldiers were usually taken with their families. She also added muscadine grapes as a favorite snack the soldiers traveling in the West might have yearned for, as well as a period soldier's Smith and Wesson revolver.
Artist Carolyn Crump, who has multiple pieces in the exhibit, including the powerful "The Truth Hurts: Riches, Resentment, Revenge, RIOTS" focusing on the Tulsa tragedy, also spent a good amount of time researching her subject.
"I didn't know that much about Black Wall Street, actually before I started researching. So, since I didn't know that much about it, it took me a while," she shared, adding that she had to parse through many sources to determine "what was true and what was false."
Her piece is an incredibly intricate and multi-layered work. "On this piece, I really wanted to do something more than just the flat quilt. I'm a 3-D quilter, but a lot of times, they'll tell me, 'no, don't go that far on it because your quilts could be problematic in shipping and especially if they go to tour to show.' But they actually let me go full steam ahead on it."
Weaving in images of prosperous and proud Black businessmen, fires and burning buildings, dollar bills, a Western Union telegram, "The Tulsa Daily World" newspaper and more, it's a dense and stunning work that manages to relay the terrible history while softening the blunt force impact with its beauty.
A sixth-generation quilter, Crump's art also includes her work as a painter, which she began in grade school.
You can learn more about all of the artists in the exhibit at https://wcqn.org/, which is also full of resources on quilting, education, and more.
"Black Pioneers: Legacy In The American West" exhibition in on view through Jan. 8 at The James Museum of Western & Wildlife Art at 150 Central Avenue. Gallery hours are from 10-5 p.m. and Tuesdays from 10-8 p.m. For more information, call 727-892-4200 or visit thejamesmuseum.org.