Owner: Wilhelmenia Babcock
Years in Business: 20
Location: St. Pete
On Green Book: greenbooktampabay.org/listing/babcock-health-education-services/
---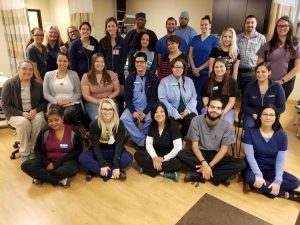 Babcock Healthcare Education Services is an American Heart Association National Training Center for BLS, ACLS, and PALS courses, enabling over 300 entrepreneurial training sites and affiliate instructors to operate nationwide.
The business headquarters is here in St. Petersburg, at 2622 5th Ave. N. According to the training center's website, "Saving a life is everyone's responsibility."
Owner Wilhelmenia Babcock shared, "I actively began my role as a volunteer with the American Heart Association in 1978. I established Babcock Healthcare in 2000, after retiring from an extensive career in critical care nursing and education."
She said that her passion for bringing high-quality, life-saving skills to healthcare professionals and laypersons blossomed into the largest American Heart Association entrepreneurial training center in Florida by 2010.
Today, Babcock Healthcare has multiple sites nationally and internationally, and is responsible for annually certifying over 85,000 healthcare professionals in Basic and Advanced Life Support continuing education.
Babcock, a registered nurse with a master's degree, acknowledged that AHA certification classes could often be intimidating and stressful. But, she said, at Babcock Healthcare Education Services, "our team of trainers are skilled at providing high-quality instruction in a relaxing, anxiety-free environment. You will leave with a smile."
She said another perk of her training center is that it not only equips students to become skilled instructors, but also enables them to "grow a successful CPR business.  Our team provides constant training, support, and mentorship for the entrepreneurs aligned with our Training Center."
For more information, visit www.babcockhealth.com.