(Family Features) Of the many challenges parents face daily, encouraging healthy eating habits for their children can be one of the most vexing. While the consumption of nutritious foods like vegetables is good for kids while they're young, it can also serve an important role in encouraging lifelong healthy habits.
One strategy for achieving that goal is to pair familiar foods with vegetables and prepare them in interesting ways. This tactic – pairing foods kids already enjoy with the foods you want them to start eating willingly – is called "associative conditioning," and can help encourage children to try the new food, according to research conducted by Elizabeth Capaldi-Phillips and Devina Wadhera and published in the "Journal of the Academy of Nutrition and Dietetics."
For example, prepared beef products like hot dogs, deli roast beef, salami and summer sausage provide sources of nutrients like protein, zinc and vitamin B12. In addition to the direct benefits, these meats can also be used in recipes like Green Bean Twists and Salami-Babs to help encourage the consumption of vegetables.
Easy-to-make recipes such as Jerky Trail Mix, Fried Bologna Cups and Beefy Lettuce Cups also provide simple snacking solutions for kids that include the nutritional benefits of both beef and veggies.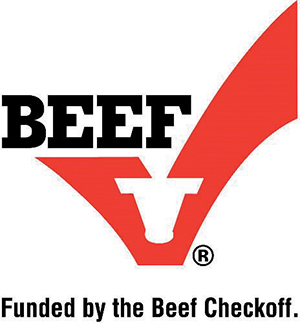 6 Strategies to Encourage Nutritious Snacking
With an abundance of prepared-in-advance snacks available that likely come along with unnecessary salts and sugars, it can be difficult to encourage kids to eat snacks with healthier ingredients.
Quick recipes that include beef and veggies may not be the first snack idea that comes to mind for kids (or parents), but it's not impossible to instill better decision-making in the kitchen. Skip the chips and improve your children's snack habits with these simple ideas for influencing healthier decisions:
Enhance the visual appeal of foods by piercing them with decorative toothpicks.

Offer a variety of colorful foods on a plate.

Create color contrasts with foods on a plate or in a bowl.

Arrange foods in an orderly way using a bento box or divided plate that helps keep them separate.

Involve kids in preparing their meals.

Pair nutritious foods, like fruits and vegetables, with well-liked or familiar foods.
Find more family-friendly recipes and tips to encourage nutritious eating habits from the North American Meat Institute, a contractor of The Beef Checkoff, at meatpoultrynutrition.org.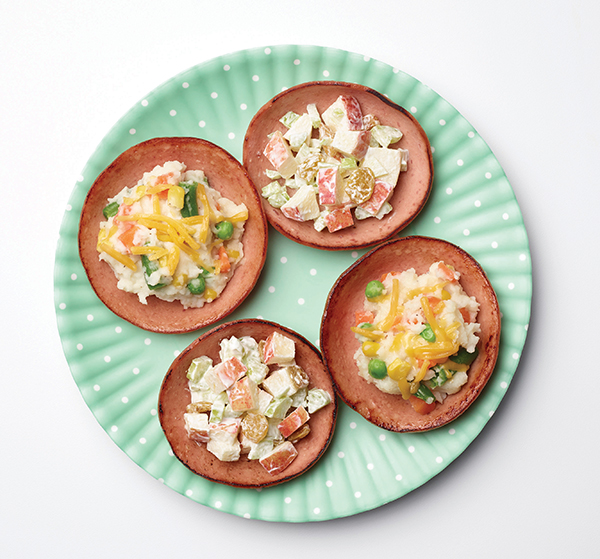 Fried Bologna Cups
Recipe courtesy of The Beef Checkoff
Yield: 8 bologna cups
Vegetable oil spray

8          slices beef bologna
Potato-Vegetable Filling (enough for one bologna cup):
1/4       cup mixed vegetables

1/4       cup mashed potatoes
tablespoon grated cheddar cheese
Apple Salad Filling (enough for one bologna cup):
3          tablespoons chopped apple

2          teaspoons minced celery

1          teaspoon golden raisins

2          teaspoons light mayonnaise
teaspoon plain, low-fat yogurt
Spray large, nonstick skillet with vegetable oil spray. Set skillet over medium heat and lay bologna slices in pan, as many as will fit in one layer. Let bologna fry until it cups. Transfer cups to serving plate and fry remaining bologna in same fashion.

To make Potato-Vegetable Filling: In small, microwave-safe bowl, stir together vegetables and potatoes; microwave until hot.

To make Apple Salad Filling: In small bowl, stir apple, celery, raisins, mayonnaise and yogurt.

Spoon desired filling into each cup. For cups with Potato-Vegetable Filling, top with grated cheese.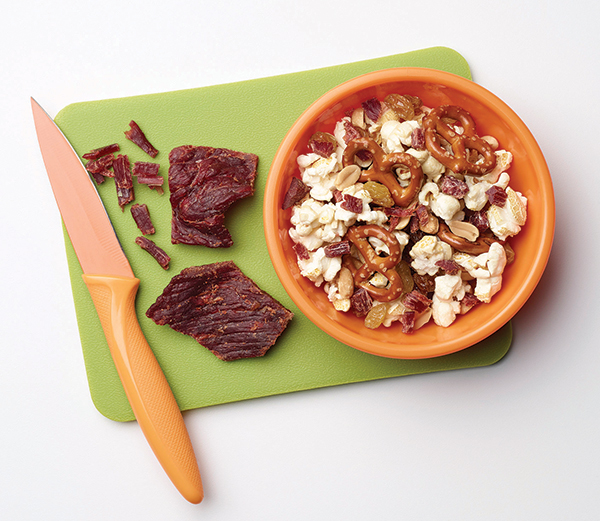 Jerky Trail Mix
Recipe courtesy of The Beef Checkoff
Yield: 4 cups
1 1/2    cups kettle corn with no added sugars

1          cup mini unsalted pretzels

1/2       cup unsalted, dry-roasted peanuts

1/2       cup beef jerky, broken or chopped into 1/4-inch bits

1/2       cup golden raisins
In large bowl, stir kettle corn, pretzels, peanuts, beef jerky and raisins together. Seal in sandwich bags or serve in bowl.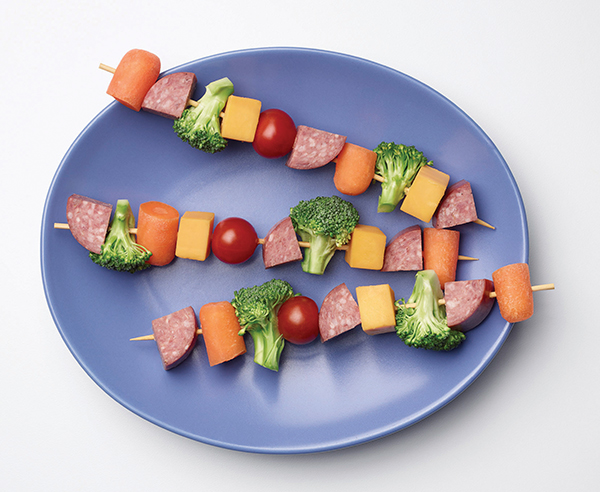 Salami-Babs
Recipe courtesy of The Beef Checkoff
Yield: 8 kebabs
6          ounces beef salami or summer sausage, cut into 3/4-inch chunks

8          bamboo skewers (8 inches long)

4          ounces cheese (cheddar or swiss), cut into 1/2-inch chunks

16        small broccoli florets

4          baby carrots, cut in half crosswise
Thread pieces of meat onto skewers, alternating with cheese, broccoli and carrots. Arrange on plate and serve.
Note: To prevent choking, children should be seated while eating, especially when a recipe involves toothpicks; encouraged to take their time and thoroughly chew their food; and should be carefully supervised. When serving young children, cut any circular-shaped foods like grapes, carrots or hot dogs into thin, coin-shaped slices or long, thin strips.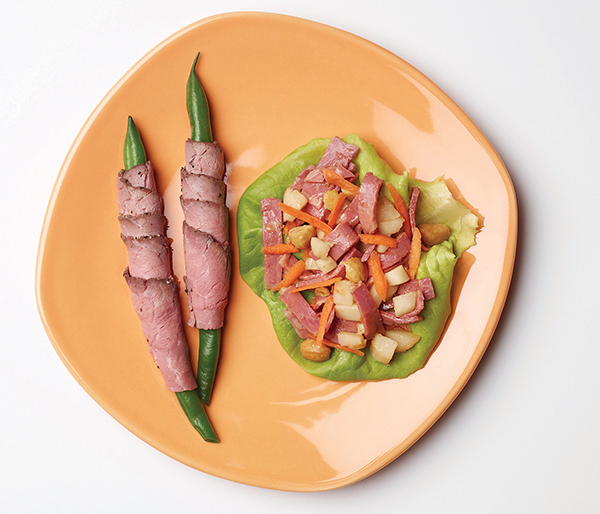 Green Bean Twists
Recipe courtesy of The Beef Checkoff
Yield: 16 twists
8          ultra-thin slices roast beef, about 2 ounces, cut in half lengthwise

16        green beans, trimmed, blanched and chilled
Wrap one slice roast beef around each bean, creating spiral, arrange on plate and serve.
Beefy Lettuce Cups
Recipe courtesy of The Beef Checkoff
Yield: 8 lettuce cups
8          ounces corned beef, chopped

1/2       cup shredded carrots

1/2       cup chopped water chestnuts

2          tablespoons unsalted, dry-roasted cashew pieces

2          tablespoons teriyaki sauce

8          butter lettuce leaves
In medium bowl, stir together corned beef, carrots, water chestnuts, cashew pieces and teriyaki sauce. Spoon onto lettuce leaves and serve.
SOURCE:
North American Meat Institute