David Davidson, Glenn Singleton, and Courtlandt Butts
BY J.A. JONES, Staff Writer
ST. PETERSBURG – Through the sponsorship of Foundation for a Healthy St. Petersburg, close to 400 leaders and employees in community-based, corporate, education, faith-based, government and health care organizations have experienced "Courageous Conversation About Race: Beyond Diversity" training over the last two years.
The brainchild of Glenn Singleton, a world-renowned expert on racial equity in education, the Foundation sponsored four Courageous Conversation trainings, attended by nearly 100 participants each.
The sessions were conducted by Singleton and Courtlandt Butts, along with St. Petersburg native David Davidson, who introduced events and assisted throughout the training.
"I've been delivering Beyond Diversity training since 1995," Singleton shared in a recent Speakers Who Inspire presentation after the fourth training held at Pinellas Technical College Feb 21. "It has been one of my greatest pleasures and delivering it down here in St. Pete has been a highlight for me."
Singleton credited David Davidson, special projects coordinator for his Pacific Education Group, with bringing him to St. Petersburg. He admitted that when Davidson shared information about his hometown, he wasn't at all familiar with the city — although he was more aware of Tampa. "I didn't know," he laughed.
Two years later, he now feels St. Pete offers a unique opportunity for investigating changing equity dynamics. "I have every interest in seeing the city lead the nation," he stated.
"There are going to be a handful of cities that are going to lead the country in eliminating racial disparity. St. Petersburg's journey is really important to us because it centers on this idea of health disparity. And we recognize that we need to be healthy to do all the things that we do."
With Foundation for a Healthy St. Petersburg about to open their health equity center in south St. Pete, Singleton said he's really looking forward to witnessing how the center can help bring about change through working with the community, bringing attention and solutions to the multitude of factors – including race and poverty – that impact health.
Singleton said the work that has become his passion originally started decades ago — by him talking about race in the classroom, even when his teachers didn't want him to. Ultimately, his interest and outspoken manner led him to be "admonished – I was punished." But it didn't deter him.
Since he began the training decades ago, he said he's been on a journey to share the work in a way that immediately convinces people that it's vital to the world and the times.
During the training, participants worked on exercises to identify their communication modes on a "compass" of quadrants that described how they might relate to uncomfortable conversations or episodes related to race. Participants were asked to consider whether they operated from their believing, thinking, feeling, or acting quadrants throughout the workshop.
The workshop also used "four agreements" to guide workshop interactions: 1. Stay Engaged, 2. Experience Discomfort, 3. Speak Your Truth and 4. Expect/Accept Non-Closure.
Participants worked in groups, couples and combinations, sometimes led by prompts that were designed to deepen the conversations. One of the most impactful exercises was when the facilitator read a list of "privileges" and asked people to line up around the room in relationship to which privileges they did or did not feel they were able to experience in day to day living.
The results were shocking, and clearly delineated the differences in racial privileges felt by those in the room.
Singleton's Pacific Education Group consulting firm has evolved from focusing on PreK-12 education equity to addressing race and equity in higher education, law enforcement, nonprofits and corporations throughout the U.S. and in Canada, New Zealand, and Australia.
Singleton said that the Courageous Conversation training accomplished something that rarely happens in our country.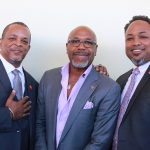 "We sat for two days and had continuous, interracial conversation about race."
While he said the picture that most people get in their minds about what that "sounds" like doesn't approach what really happens in the room, he's passionate about people experiencing it for themselves.
"The only thing I can say for everyone to actually understand the power of that experience– is to actually get in the room."
For more information, visit courageousconversation.com.
To reach J.A. Jones, email jjones@theweeklychallenger.com