John

Black opened Geech's in the 1930s and sold it in 1973.
By Gwendolyn Reese
John "Geech" Black was the owner of Geech's Bar-B-Q, the place to get a pig meat sandwich back in the day. Black opened Geech's in the 1930s and had several locations along the "Deuces" before he sold it in 1973. The new owner kept the name until it was finally closed in the early 1980s.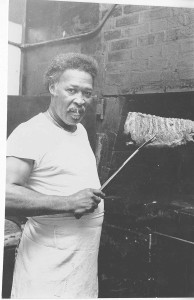 Black first started cooking barbeque in front of a grocery store he owned on Fairfield and 22nd Street. He later built his stand on the 800 block of 22nd Street. His barbeque, spiced with his trademark yellow (mustard) sauce was sought after by black and white customers alike.
He used oak to build his fire and many of us remember the large oak woodpile behind his barbeque stand. The spicy aroma of the barbeque and the smoky fragrance of burning oak permeated the Deuces and beyond.
It's said that Black never divulged his sauce recipe although a few people claimed to know it. My cousin, Albert Thornton, who worked at Geech's in the 1950s, would only smile when asked about the recipe.
Geech's catered to late-night crowds leaving the Manhattan Casino and it was also a favorite lunch spot. Students would often save their lunch money and stop by after school for some ribs or a ham sandwich.
Many times, we would risk slipping away from school for some Geech's. It wasn't unheard of for parents to pack up a slab or two of ribs and put it on a Greyhound or Trailways bus to send to a student at Bethune Cookman College (now University) or FAMU. People who moved away would always stop in at Geech's during visits home.
Geech's was one of the mainstays along the Deuces along with the Manhattan Casino, Sno-Peak, the Royal Theater, Buddy West's barbershop, Sidney Harden, and George Jones's state-of-the-art service station. John "Geech" Black and his barbeque bring back fond memories and still have a reputation for being one of a kind.
Ahhh, with just a little imagination I can smell it even now.