Jimmy Williams
BY FRANK DROUZAS, Staff Writer
ST. PETERSBURG – Standing by a corner booth at Johnny's Pizza and Restaurant on 28th Street South, I'm throwing crisp punches at a 90-year-old man—and he is only encouraging me.
Legendary boxing trainer Jimmy Williams—who has trained such champs as John "The Beast" Mugabi and Tampa's own Antonio Tarver—has positioned his open hands to absorb jabs, straight rights and uppercuts, and is calling out instructions to me like we're standing in a ring and not in a restaurant with curious and probably puzzled patrons looking on.
Ignoring them and focusing on the task at hand, he tells me to step into the combination. I dutifully whap at his huge opens hands as big as mitts and let him have it, one-two, one-two, several times in a row.
"Damn," he said, shaking his left hand after I stepped into it with a smashing right, "you got some power!"
In a flash, I feel prouder than I've ever felt; anywhere, and I can't squelch a grin. Then we switch and I hold up my hands as he smacks his huge fists into them to better show me the proper technique. Bap, bap! The blows sting my palms and it feels like he's whacking them with a ball-peen hammer.
I don't recall exactly why we put our conversation on hold at the pizza place where I met him so we could trade impromptu punches—perhaps it was because I told him I used to mess around at the 4th Street Boxing Club back in the day—but it was probably so Williams could show me firsthand the point he wanted to get across. A man who has spent seven decades in the fight game, Williams has built a career on showing and not merely telling.
"First of all, let me show you who I am," Williams declared when I sat across from him at his corner booth at Johnny's, where he is a regular.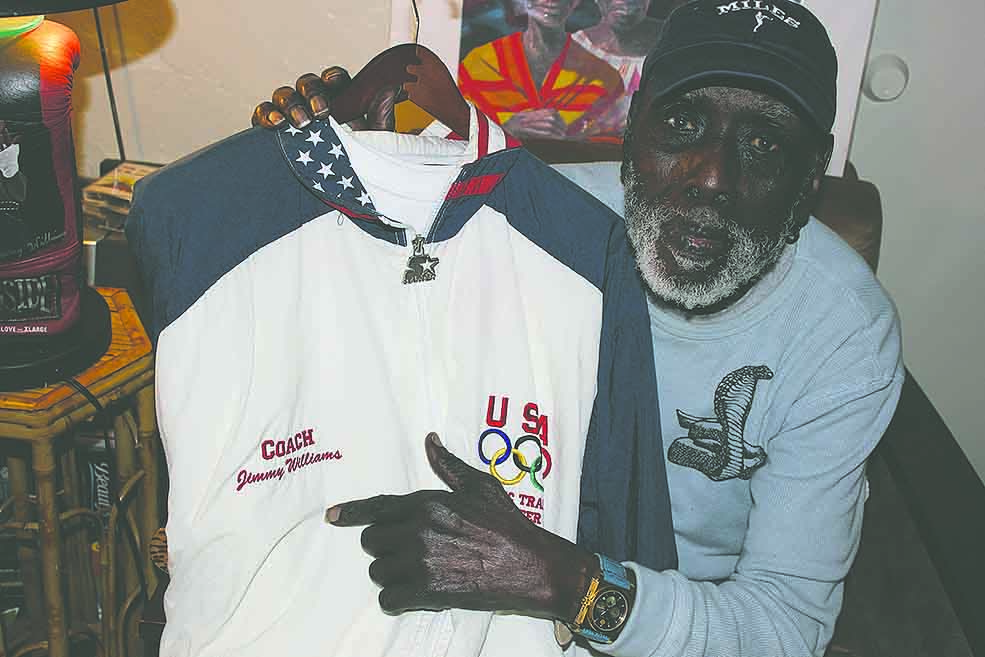 Wearing an "Australia" jacket he received while preparing Tarver for a bout in Sydney, jeans and a black ball cap, his wiry frame and alert eyes belie his 90 years on the planet.
Talking with Williams is unlike any other conversation you're likely to have, as he wants you to understand his own personal journey—one that he's more than willing to show you through old photos, newspaper clippings, yellowed pages containing snippets of wisdom, advice, philosophy and at least one Oscar Wilde quote. This journey covers the cultural landscape of our nation for half of the 20th century.
Williams commented as he handed each clipping and photo across the table to me, yet not one single time did he break eye contact while speaking. He locks you in his sights and doesn't relinquish that connection, the better to drive his point home. Some pictures include Williams with such recognizable faces as super promoter Don King and even Angelo Dundee, the legendary trainer of Muhammad Ali.
"I trained fighters for Angelo Dundee," he said.
Some of the photos are of Williams as a young man from his modeling and acting days in New York. Born in Leesburg, Fla., in 1927, Williams moved to Manhattan as a young teen with his family to find work.
He settled in Harlem and in time his artistic side broke through, as he became a professional dancer, model, drummer and choreographer. He walked confidently down runways and performed all sorts of dancing from ballroom to ethnic dancing at such famed venues as the Cotton Club and the Savoy. Boxing, in Williams's mind, was a natural progression from dancing.
He returned to Florida in the late 1960s and trained fighters in Orlando, where he was involved with the Police Athletic League CETA programs. It was there he helped young people turn their lives around. By helping many of them redirect their aggression and channel their energy into learning the sweet science, Williams has put many youngsters on a path that didn't include prison.
"I worked with the police department saving kids," he said. "These kids were going to go to jail. Instead of lockup, they sent them to me. If I couldn't handle them, they'd send them to lockup. Because I'm good with difficult people."
Skill will beat will, he taught his young fighters, and balance is one of the first things he taught them, he said.
"You build a house, the first thing you build is a foundation," he said. "You have to have balance!"
He even gave the young men lessons in etiquette, as he encouraged them to shake hands with their opponents, no matter the outcome of the contest. Above all, he helped countless young people realize their true potential and worth.
"What's in me is in you, only thing I do is help you find it in yourself," he said. "There's a doctor in you, there's a boxer in you. There's a lawyer in you, there's a baseball player in you, but you can't get it out of you. I can get it out of you. You have to give yourself to me."
Word got out of the good Williams was doing for young fighters in Orlando and he soon got a call from Alessi Promotions in Tampa, who wanted him on board as their head trainer.
Williams recalled Alessi Promotions reaching out to him and telling him: "'You're the missing link, we need you, Mr. Williams.'"
He became part of the Alessi team and in time his long service to the sport was recognized when he was inducted into the Florida Boxing Hall of Fame in Tampa in 2009. He was among an illustrious inaugural class that included legendary welterweight Luis Manuel Rodriguez, Ybor City's own Ferdie "The Fight Doctor" Pacheco, who was Muhammad Ali's personal physician, and Dundee.
"I've been around the world," he said proudly, adding that he has lived in England training such greats as welterweight champ Lloyd Honeyghan. Most notably, Williams has trained Tampa native and former champ Antonio Tarver, going back to when Tarver was just a boy.
"Ever since he was 11 years old," Williams stated.
Tarver was a member of the 1996 Olympic boxing team, which Williams also helped train. Making a strong showing in the Games, that team featured such future stars as Fernando Vargas, Floyd Mayweather and David Reid, who brought home a gold medal.
Tarver himself won gold at the 1995 Pan American Games and the U.S. National Championships that same year. And with the help of Williams' guidance, as a pro Tarver won the WBC and IBF light-heavyweight titles in 2004. He faced Roy Jones, Jr. three times in his career, taking two of the three bouts.
Williams produced a picture of Tarver after he had beaten Jones in Paradise, Nev., to win the light heavyweight titles. He also had pictures of Ugandan boxer John Mugabi, whom he trained as well. As his nickname "The Beast" implied, Mugabi was known as a ferocious boxer, won the WBC super-welterweight title in 1989. Williams, after all, is certainly a man who knows what it takes to be a champion.
"I can go inside," he explained. "I can see fear in a guy. I trained world champions. If you ain't got no heart, you can't be champion. I can see the talent of a person."
Wanting to show me his own personal surroundings, Williams took me to the apartment where he currently lives. The small space is crammed with boxing books, history books, black culture books, art books, posters, portraits, records by Miles Davis (whom Williams personally knew in New York), even more personal photos and more news clippings. It is nothing less than a man's lifetime in one room and a cornucopia of American history.
In the corner stood a large bongo drum and needing no encouragement, Williams launched into an impromptu performance. He slapped the drum skin fluidly, rhythmically and with an energy suitable for someone a third of his age.
He indeed channels a youthful energy, which no doubt suits him well as he keeps busy to this day training young fighters at the Main Event Boxing Club. He is confident he can tell when a fighter has something special.
"I know," he said firmly. "I know. I can feel your vibration and I look in your eyes. The eyes are the mirrors of the soul. You can't bluff me because that's what boxing's about. I know what's inside. I know human beings."
One of the fighters Williams trains goes by the name of Antonio Tarver, Jr.—son of the former champ. No doubt, Williams is instilling in young Tarver—who is undefeated in four fights as a pro—the same sort of ethic and proof-is-in-the-pudding credo he believes it takes not only to be a champ but to be a strong human being.
"If I tell you I can dance, I show it to you," he said. "If I tell you I can box, I show it to you. But then I ask you, 'Who are you?' Don't tell me who you are, show me who you are. I'm showing you who I am; I'm not telling you who I am. I'm showing you!"