Last year's MLK Day of Service event
BY JOYCE NANETTE JOHNSON, Staff Writer
ST. PETERSBURG — It was through her own personal health crisis with kidney disease that motivated Janice Starling-Williams to found the organization All Kidney Patients Support Group, which was established in 2009 and provides education and emotional support to patients dealing with chronic kidney disease.
As part of the nationwide MLK Day of Service, Starling-Williams' non-profit organization was awarded a grant and has established a one-day Community Medical Mall, which will be held at the Laos Multicultural Center, located at 1150 49th St. N on Jan. 12 from 11- 3 p.m.
The Community Medical Mall will have on-site medical testing, and medical professionals will be in attendance to present information about specific illnesses and also to answer any questions.
BayCare Wellness Services will have a testing area where they will perform blood pressure checks and measure Body Mass Index. Participants can also have their TC (total count of white blood cells), HDL (cholesterol) and glucose tested with a simple finger prick and results will be available immediately. Metro Health, Wellness & Community will also have a mobile HIV unit for testing on site.
Dr. Layal Abdel Rahman, nephrologist and director of Transplant Institute of Florida, will give a presentation, and Angela Loggins will speak from her personal experiences on how to understand and navigate the ins and out of the Medicare program.
Information booths will be set-up on several diseases that severely impact the black community, including heart disease, cancer, diabetes, and hypertension.  Other vendors include:
Hillary Miller, Oil Guru, Doterra Oil, Inc.
Laurie Laferty, Human Health Insurance
Mary Siegel, BSN, RN, CHFN, Heart Failure Disease Coordinator
Kidney Smart Classes Inc
Lynn DeCola, CPO/LPO, Lifelong Prosthetics, Inc.
Megan — Stretch-n-Grow St. Petersburg
Principal, Cooper Dawson, North Shore Elementary
Walter Evans, Shihan, School of Survival
Yolanda Johnson- Johnson Investment Agency
American Association of Kidney Patients
LifeLink
Zaneta Ellison, LMHC, Owner and operator of New Vision Behavioral Health Inc.
Monique Searight — S.O.U.L. Organization
Information will be available on obtaining low or zero cost medical services that are available in the area and the insurance options that are still available for economically stressed patients.
The Community Medical Mall will also partner with High Profile Motivational Services, Inc. who will be hosting "Transformed Community Unity Day," a day of family fun and entertainment outside of the Laos Multicultural Center facility on the same day.
According to the US Renal Data System 2015 Annual Data Report and the Centers for Medicare & Medicaid services, the annual Medicare spending to treat kidney failure in the U.S. is approximately $31 billion and over 89,000 people with end-stage renal disease (kidney failure) die annually.
Diagnosed in her mid-30s with renal disease, Starling-Williams' condition in part was due to the medication that she was taking due to her hypertension. She said hypertension and diabetes have been found to be two of the leading causes of kidney disease.
She endured a kidney transplant in 2013 and rounds of dialysis. Starling- Williams and her family are the owners of The Starling School and Day Care Center, and she continues to fight her own personal battles with health issues while advocating for better health for others through her organization.
Starling-Williams is encouraging the community to have annual physical checkups and tests performed to stay abreast of any possible health issues.
"You need to stay on track and get your lab work, ask specific questions including knowing your family history," she stated.
For women, she feels that a yearly mammogram and pap smear are a must and for men a prostate exam.  She also recommends that everyone should have a Comprehensive Metabolic Panel (CMP), which measures a broad spectrum of 14 different components including glucose, creatinine, potassium and a urinalysis.
If one does not have private insurance, there are other economical choices that are available throughout the city such as the St. Petersburg Free Clinic, the Public Health Department and the Johnnie Ruth Clarke Health Center.
Starling-Williams feels that it is fear of the unknown that immobilizes us to search for medical answers.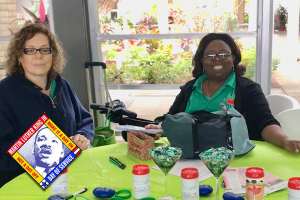 "We have to learn to love ourselves and our bodies," she shared. "For better quality of life when you get older, early detection is the key," she related.
Lunch and refreshments will be provided to those attending.  For more information, log on to AKPsupportgroup.org, email akpsg@earthlink.net or call 1-888-999-AKPS (2577).