Marsha Chaney
BY KARIN DAVIS-THOMPSON, Staff Writer
ST. PETERSBURG — The Harvest is Ripe Outreach Ministry began like many outreach organizations do – with a conversation among friends about a desire to want to do more.
For Marsha Chaney, the group's founder, the seed was planted after she and a friend had a conversation in her salon. Chaney is a hair stylist.
She said the conversation was almost like divine intervention.
"We just began to weep," she said. "I had been given the name many years before this but I just didn't know how to start."
As the two friends continued to talk, they formulated a plan and expressed their shared desire to help those less fortunate.
Ultimately, Chaney said she hopes the ministry will be able to provide transitional housing for women suffering from substance abuse allowing them to return to a normal life eventually. Additionally, they hope to be able to provide employment opportunities and drug counseling.
While Chaney works towards the organization's ultimate goal, she decided that there was a way they could begin to help right away.
Four years ago, she began the God's People Helping God's People project, providing non-perishable foods, hygiene products and blankets to try and meet some of the basic personal care needs of the homeless in the community.
Two years ago, she applied for an MLK Day of Service grant. She was awarded the grant, which is financed by the Florida Legislature and sponsored by St. Petersburg College, and is now in her second year as a grant recipient.
Chaney said she is always honored to be chosen because it gives her the opportunity to help a population that she can really relate to.
"Having been homeless for a time myself at a young age, I always want to give back," Chaney stated. "It's my passion to be able to help those that are in need."
As a recipient of the MLK service award, Chaney said she would be able to make care packages for the homeless community and provide information on how to contact her organization for additional assistance. She said she believes that everyone should remember that the MLK holiday is about service and not about just taking off a day from work.
"There are so many different projects that the people could benefit from so it's like shining a light over the city on this one special day," she said. "Dr. King was all about equality, unity and giving back."
Chaney said she is proud of how her project aligns with Dr. King's belief that everyone deserves to be treated with dignity and respect no matter the color of their skin.
"It is what our organization is all about," she said. "Everyone that is in need, no matter the color of their skin, deserves a helping hand."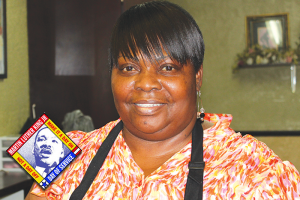 Volunteers will assist with assembling the care packages and passing them out in the community. With the help of the grant, Chaney and her volunteers will have the opportunity to introduce the outreach and the program to a broader audience and increase the number of lives they can touch.
"This project means the world to me," she said. "I can give back to the community and help those in need with the services we can provide."
To reach Karin Davis-Thompson, email kdavis-thompson@theweeklychallenger.com