BY JEFFREY ZANKER, Staff Writer
ST. PETERSBURG — The

Not My Son

campaign continues into its third year to promote anti-crime awareness among young African-American males, ages 12 to 24, and their families in the south St. Petersburg area during the summer.
In late 2015, an occurrence of multiple violent crimes took the lives of seven young men in less than two months. Rev. Kenny Irby, director of Community Intervention for the St. Petersburg Police Department and Mayor Rick Kriseman made a commitment to the community to "turn tragic situations like these around and bring positive opportunities to younger kids." Irby said.
Since 2016, the program starts its Safe Summer campaign beginning in June and continues every Friday until early August. The group is made up of police officers, city officials and residents. Each Friday, groups go door-to-door to a different area in south St. Pete to bring awareness of positive encouragement and action to help keep young adults and children safe.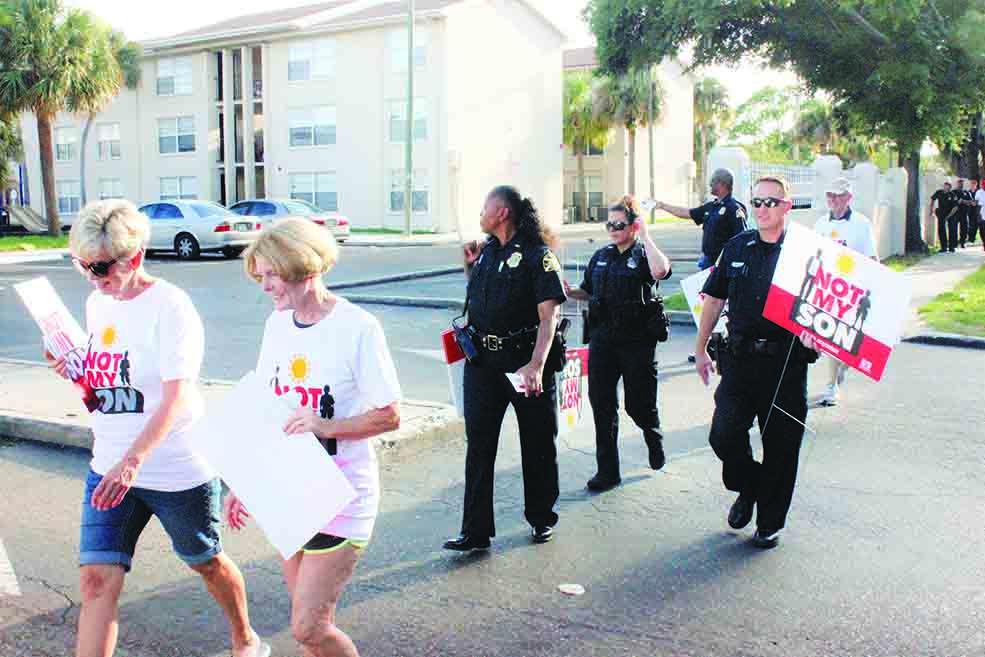 "The city cannot do it alone. It requires a team," said Mayor Kriseman at the canvassing event July 6 at Unity Temple of Truth Church near the Campbell Park neighborhood.
In addition to yard signs, the group hands out Not My Son pledge cards–one side for youths and the other for the parents–which, Irby said, "serve as the conversation starter for the parents and the children."
"Through our children, we can save future lives," said Thomas Richards, a local resident who volunteered his Friday.
Kriseman was joined by Police Chief Anthony Holloway, officers and volunteers as they walked the neighborhood to discuss issues and encourage improvement.
Irby has coordinated the campaign for two years, along with several youth outreach programs in the area. His primary focus for the campaign is "an opportunity to build relationships in the community…during times of calm."
The Not My Son campaign is the first part of the My Brother's and Sister's Keeper (MBSK) program, proposed by Mayor Kriseman in 2015 based on President Obama's initiative to help the youth find opportunities in education and the workforce.
Other MBSK programs include the Cohort of Champions youth training program, the My Sister's Keeper Just Girls Talk Conference and Youth Development Grants, which awards funding for local non-profit organizations that services at-risk youths.
According to city officials and police officers, activities such as Not My Son and Park, Walk and Talk have created better interactions within the community, along with lower crime rate, in the last few years.
"The best change is people expect us now," Irby said.  He noted that residents familiar with the campaign would ask for new yard signs or talk of enrolling their child in Cohorts of Champion program.
"This is an indicator of a growing relationship."
Officer Derrick Nelson, who has canvases several times, noted that through the program, residents, especially children, seem more warmed up to talk with the police.
"Open communication like this has helped us answer the community's questions," Chief Holloway said.
Irby stated that the visible presence of the city government helps to boost morale.
"Giving people opportunities is a positive thing and a necessary thing for our community to be all that it can be," Irby said.
The group's next canvassing event takes place July 13 at the historic Bethel AME Church, 912 Third Ave. N, at 6:30 p.m.