PINELLAS COUNTY — Last year threw everyone a curve, especially students and families who were required to transition to online learning. For one group of students who have been accepted into the Take Stock in Children program, this has also impacted their opportunity to meet with a mentor over their school lunch period.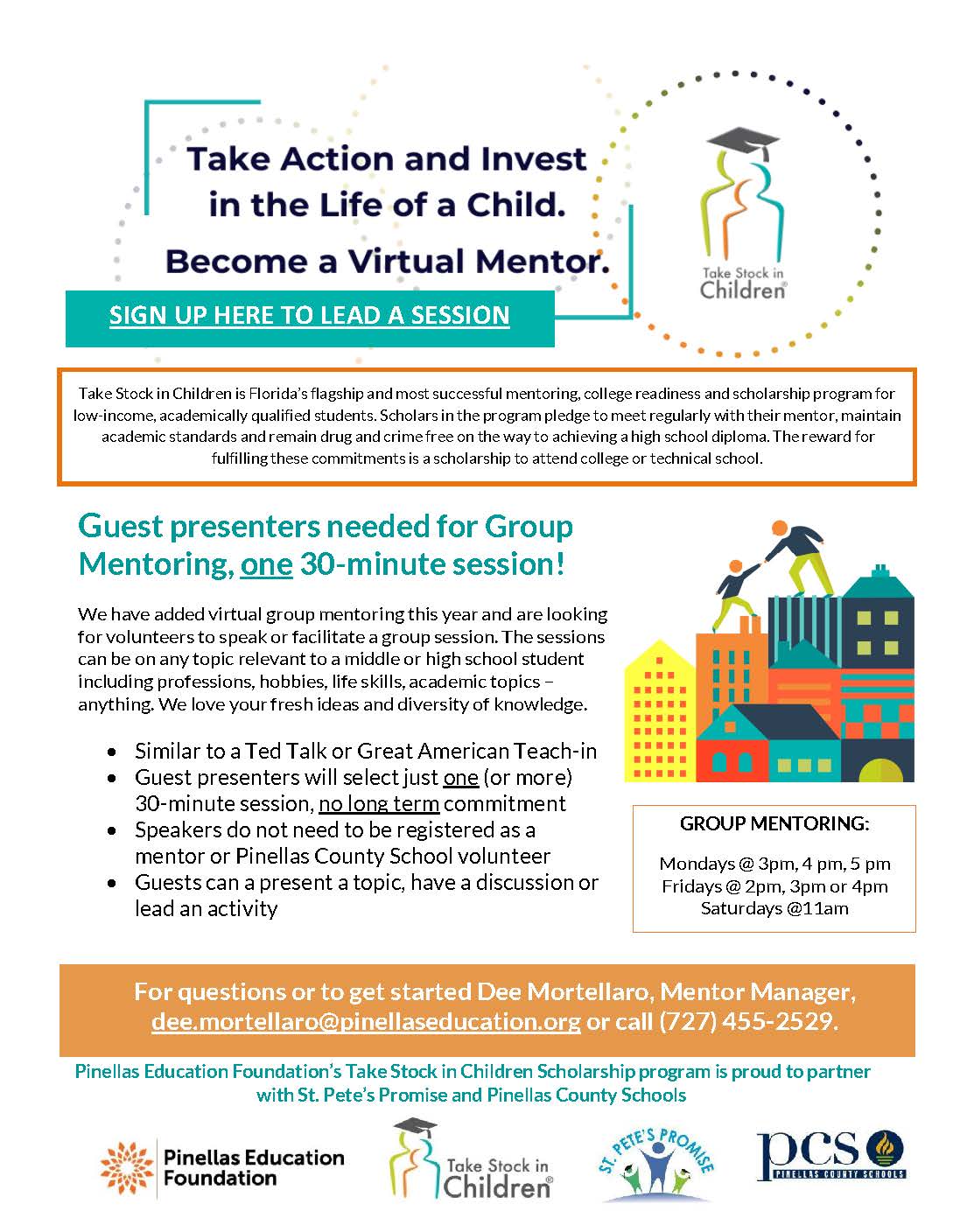 Each spring, the Pinellas Education Foundation approves approximately 250 applications from students in Pinellas County Schools, grades 6-9. Once accepted into the program, scholars pledge to be drug and crime-free, meet with a college success coach regularly, maintain good grades and most importantly — meet with a mentor weekly. These meetings typically would occur on school campuses at lunchtime, but this year, all mentoring is done virtually.
Like many other organizations, Take Stock in Children has worked to find innovative ways to adapt to provide increased virtual resources for students. This year, they launched "Take Stock Talks" group mentoring. Like a Ted Talk, these virtual sessions have brought in guest speakers to present topics that are relevant and interesting to teens. The sky is the limit for these topics, the more diverse, the better.
Guest speakers will simply commit to a one-time, 30-minute session and do not need to register through the school system in advance. If you have a career, hobby, life lesson or activity to share with a small group of middle or high school students, please contact Dee Mortellaro, mentor manager, at 727-455-2529 or dee.mortellaro@pinellaseducation.org.
The application is now open until Feb. 28 for new students in grades 6-9. Parents can visit the Pinellas Education Foundation website to obtain more information on eligibility and apply at www.pinellaseducation.org/tsic.