ST. PETERSBURG — The Poor People's Campaign St. Petersburg invites clergy, business, neighborhood and community leaders to participate in a community conversation focused on addressing issues related to the city charter.
The group of civic activists recently held a bi-partisan community discussion on the implementation of Amendment 4, which passed last Nov., restoring the voting rights of 1.4 million returning citizens in the state of Florida.
Now, the Poor People's Campaign is partnering with other local grassroots organizations to foster the dialogue, which will be held at 6 p.m. March 12 at the Enoch Davis Center, located at 1111 18th Ave. S, St. Petersburg.
The FREE event will include a question and answer session with the Deputy Legal Director of the Southern Poverty Law Center.
The organization is making its case for a need to correct issues regarding the St. Petersburg City Charter prior to city council redistricting in 2021. With so many new high-rise developments sprouting-up across the city, race demographics have indeed been skewed, thus diluting minority representation at the city level.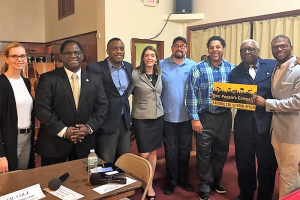 This is a direct violation of the Voting Rights Act of 1965 leading to the question: Do voters select their council members or do council members select their voters?
The forum will explore such topics as illegal gerrymandering, voter suppression and the concept of at-large city council districts. Light refreshments will also be provided. For more information, contact Corey Givens, Jr. at (727) 433-5477.