ST. PETERSBURG — On Saturday, Feb. 23, St. Petersburg College (SPC) hosted the seventh annual Keys to Manhood Seminar at the SPC Allstate Center. The seminar was free and open to the public and featured Dr. Koco Eaton, an orthopedic surgeon for the Tampa Bay Rays and University of South Florida faculty member.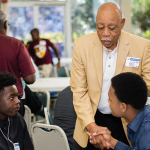 With attendees ranging from middle school to college, SPC was excited to have more than 100 students attend. Nine students won gift cards; two participants won a Microsoft Surface Pro computer, one participant won a Dell Laptop, and five high school seniors were awarded $1,000 SPC scholarships.
The Keys to Manhood Seminar featured a variety of breakout sessions that were designed to address issues that may inhibit academic success for male students.