L-R, Golden Monix, Milton Lilly and Troy Steward
BY RAVEN JOY SHONEL, Staff Writer
ST. PETERSBURG – Ladies, do not let your man tell you he can't cook. If he can burn half as well as the men who showed up and out for nearly a thousand people at the 23rd annual Dine With Men Who Cook event, you'll never have to set foot in the kitchen again.
This healthy competition between men wearing aprons started some two decades ago with co-chairs Lena Brown and Patricia Wright and became a part of Bethel's history when it was incorporated as a prelude to their 1996 Calendar Tea.
After 10 years, the baton was passed to Altamese Cannon and Suzanne Felton. Under their successful co-chairmanship, the event expanded to a new venue and grew by leaps and bounds.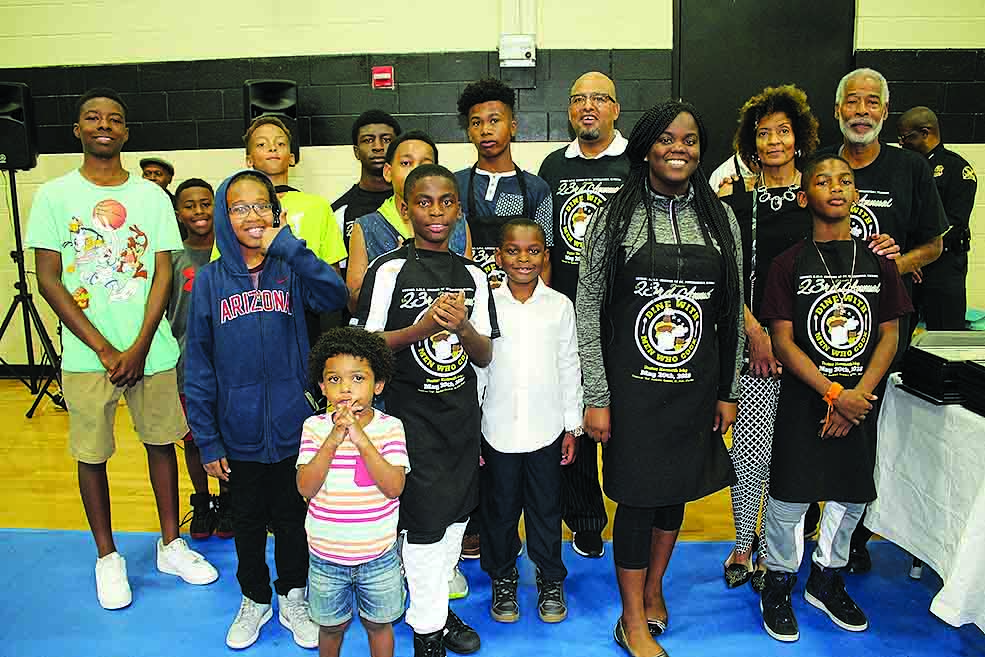 In 2010, Larry and Faith Walker took over the reins and added a competitive edge, a VIP component, a larger venue, celebrity judges and chefs and monetary prizes to name a few.
The NCAA sized basketball gym was transformed into a mega banquet hall, and surrounding the dining area were numbered chef tables. The cuisine ranged from soul food to gourmet to Caribbean fare. In addition to choosing foods from budding chefs, hungry patrons had a variety of decadent desserts to select from courtesy of Swinton's Bakery.
First-time competitor Samuel Grant brought a little Trinidad and Tobago to the competition. His kale rice and veggies with stewed curry chicken added some island flair.
Roland Wilson has entered the cook-off since its inception. He hasn't won yet, but he's not giving up on his stew. While Bernard King, who has also participated since the first competition, cooked a complete meal consisting of dirty rice, black beans, turkey wings and a chef salad.
This year's visiting chef was Bryon Landers from Washington, D.C. As a child, he watched his grandmother prepare delectable meals, and she instilled in him the importance of fresh ingredients by teaching him to garden.
Landers, who is the nephew of head chef and Bethel AME pastor

Rev. Kenny Irby

, prepared chicken and waffles, macaroni and cheese and pulled barbeque jerked chicken. The kicker was that the waffles were actually waffle ice cream cones, so the juxtaposition of the spicy chicken and the sweet waffle cone made your taste buds do backflips.
Father and son duo Sam Hemmingway Sr., 93, and junior, 68, have entered the competition for the last 23 years. They won a few years ago with a group of cooks, but this year they entered their cheesy and gooey, oh-so-delicious macaroni and cheese.
This year's celebrity judges,

St. Petersburg Police Chief Anthony Holloway

, Bay News 9 news anchor

Erica Riggins

and recent Dixie Hollins graduate

Eric Washington

, had the perfect excuse for stuffing their faces. Even though the competition was stiff, they were able to emerge with three winners:
1st Place – Golden Monix
2nd Place – Milton Lilly
3rd Place – Troy Steward
Steward's seasoned rice pilaf, tropical ribs with watermelon slices earned him $50. This year was his 12th year entering and the second year winning, earning the top prize a few years ago.
Lilly, who also won second place last year with the same dish, received $100 for his curry chicken, shrimp and cheesecake.
However, it was a newcomer to the competition and the area who outshined everyone this year to take home the top prize of $150. With his shrimp ceviche, lemon pound cake, Mediterranean chicken with romesco sauce and macaroni and cheese with four kinds of white cheeses, it was clear he was the top chef this year.
Monix first learned to cook from his mom and grandmother. After working at the Boys and Girls Club for 15 years, he decided to follow his dream of becoming a chef.  He attended Johnson and Wales Culinary School in Charlotte, N.C., and for the last three years has worked at Raymond James Financial's corporate headquarters as a catering chef.
Moving from Sarasota a year and a half ago, Monix is now a member of Bethel AME. So, it looks like the competition has been raised to another level. For all of you non-culinary art school graduates, you better start now preparing for next year's dish!
Congratulations to all who participated. You are all winners!